Introducing America's Sauce Bosses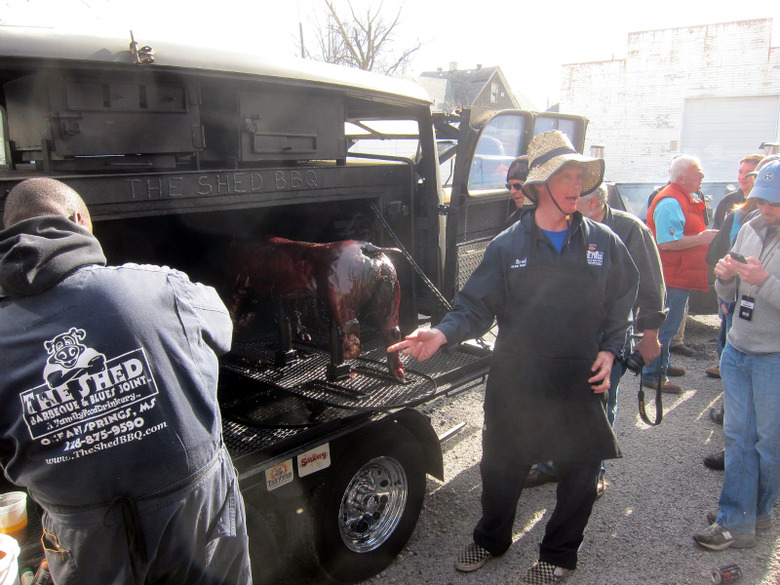 The topic of sauce is a controversial one among professional pitmasters. Properly smoked meat needs, at most, a kiss of sauce to accentuate the natural flavors imparted to the meat by burning of the wood. To purists, sauce should not be added before serving, but should be available at the table for a light-handed application by discerning diners.
However, not everyone has access to a gigantic metal smoker or brick barbecue pit, not to mention the 18+ hours necessary to allow the smoke to add its character to pork, beef or chicken. For the everyday consumer, bottled barbecue sauce is the savior that can make a crockpot pork shoulder taste like barbecue, instead of just a stringy, mushy roast.
The barbecue sauce industry has grown steadily over the past decade into a multimillion dollar market, with products taking up increasing shelf space in retail grocery stores and chalking up additional millions in online sales. The number of niche brands and flavors offered continues to increase yearly as more and more restaurants and entrepreneurs seek to enter this highly competitive space.
Yet, despite the crowded environment of the segment, there is still one undisputed Boss of the Sauce. He goes by the name of Sweet Baby Ray's.
Far from being a flamboyant spokesperson that you might imagine, Dave Raymond is a soft-spoken middle aged white guy from Chicago who earned his nickname playing basketball on the courts of his west side neighborhood during his youth. Starting with a sauce recipe that he developed along with his brother Larry, and which won 2nd place in the 1982 Mike Royko's Ribfest, Raymond built an empire that had grown to over $30 million in revenue when he sold the business seven years ago. Still a powerhouse brand, Sweet Baby Ray's sauces are available in a remarkable 98% of grocery stores in the country. Even though he is no longer the owner of the sauce company, Raymond operates two restaurants and a very successful catering business under the SBR brand.
Addressing a group of barbecue restaurant owners and enthusiasts recently, Raymond admitted that his sauce wasn't necessarily the most nuanced. "I know it's too sweet and the texture is too thick, but I turned a $2,000 investment into 21% total market share. Not bad for a white boy selling barbecue." Just about everyone in the audience was interested in getting into the sauce biz and had numerous questions about recipes and productions. Sweet Baby Ray politely shared the hard truth with them.
"If you like making sauce, don't get into the sauce business. You have to wear too many hats to actually cook anymore." Decisions about distribution and consumer preference and incentives to earn shelf space dominate the mind of a sauce CEO. Outsourcing production is sometimes the only way to ramp up as products become more popular, especially if the sauce entrepreneur is also trying to simultaneously operate a restaurant. But this adds costs and forces the inventor of the sauce to give up control of production and spend his time monitoring quality control.
Still, there's money to be made in the business and plenty of folks want to throw their sauce in the ring in local and regional competitions to determine who makes the best condiment. Raymond believes that these competitions are only marginally helpful to a larger company like his former venture, but that they can help create awareness for smaller brands. In the end, Raymond said that there are really only two flavors that sell widely on a national basis: Original and Sweet & Spicy. Any other esoteric flavors that might be put out by the big competitors like Kraft, Bull's Eye, or KC Masterpiece are generally defensive efforts to preserve precious retail shelf space for their flagship brands.
Internet sales are growing rapidly and represent an excellent way for consumers to access more challenging formulations and for smaller boutique sauce manufacturers to distribute their products. One sauce purveyor who started out small and grew big is The Shed Barbecue and Blue Joint based out of Ocean Springs, MS.
Proprietor Brad Orrison and his sister Brooke started their first barbecue restaurant literally in a shed that they constructed and furnished with reclaimed scrap materials. After perfecting his proprietary rub and sauces, Brad proceeded to grow a small barbecue empire that now includes five restaurant locations. He was a featured competitor on the Food Network's "Best in Smoke" series and his converted 1952 Willy's Jeep smoker became a star of the show in its own right.
As their dine-in business grew, the Orrisons began to market their sauces in the restaurants and eventually online. They offer six varieties of sauce including a Kinky Asian Marinade, Mississippi Classic Spicy Vinegar, a Spice it Up Mustard Sauce and a unique Lambda, Lambda Figgy Lamb Sauce. Their sauces took home 29 coveted "Scovie" awards at the Fiery Foods and BBQ Show, and sales took off to the point where the Shed could no longer keep up with demand in-house.
They turned to an outsource operation with Orrison creating the "cocktail" that was the base of the sauce recipes, but with final production and bottling done offsite. This strategy allowed for more rapid growth until the point where the Orrisons' father, Craig, decided he might like to get back on the payroll after a brief retirement.
Coming full circle, The Shed opened "The Saucery" in Ocean Springs with Craig as the magical "saucerer." A separate business with its own P & L, The Saucery now can not only provide all the production and fulfillment needs of The Shed's restaurant locations and online store, but they can also make sauce for other smaller barbecue entrepreneurs that find themselves in that stage between kitchen production and mass production in their growth cycle. This diversification of The Shed's revenue sources became even more critical recently when the original Ocean Springs location burned to the ground last February.
Thanks to the fact that the joint was so ramshackle to begin with. and with the help of friends from around the region, The Shed will quickly be "restored" to its former squalor. Because they started out in a tiny 330 square foot space, the restaurant was able to reopen working out of The Saucery and a rolling commissary kitchen within a week of the fire. Thanks to their contingency plans, The Shed which had survived a pounding by Hurricane Katrina was able to weather another storm. This is just another example of how important that the sauce business can be to small chains and huge corporations alike.