Eating In England: Cornish Pasty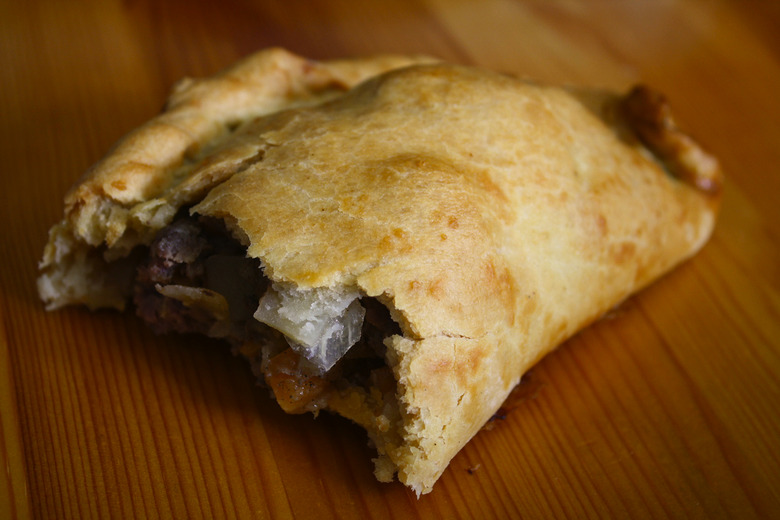 cornish pasty
Much like you can't get a half-decent chip butty in the States (if you can get one at all without someone calling Adult Protective Services), you can't get a Cornish pasty. This really is a sad thing, as meat pies have never been hotter. You can order any number of authentic British-style pies online — the better to drink you with, my beer. Exotic curry and short rib-filled empanadas have even set up shop in Times Square. But the Cornish pasty remains in Cornwall, like any good food with Protected Geographical Status.
Yes, like Champagne and Stilton, pasties cannot be referred to as Cornish unless they really truly are. Here are some facts separating this lucky pie from its delicious imposter brothers, straight from the Official Journal of the European Union:
Meat content of the pasty must not be less than 12.5 %
Pasties are D-shaped and pastry edges are crimped either by hand or mechanically to one side, and never on top.
The whole pasty is slow-baked to ensure that flavours from the raw ingredients are maximised.
Cornish Pasties must be free from artificial colours, flavours and preservatives.
(now we get serious)
There is a wealth of historical evidence confirming the importance of the Cornish Pasty as part of the county's culinary heritage. The pasty became commonplace in the 16th and 17th centuries and really attained its true Cornish identity during the last 200 years.
There are examples of Edwardian postcards dated approx. 1901-1910 showing Cornish Pasties and extracts from the cookery books 'Good Things in England.'
And would you believe it, the pastry crimp on the side of the pie was originally discarded. It was meant not only to keep the filling fresh, but to insulate it from the deadly arsenic residue all over the place when tin miners brought these for lunch. If that's not a tasty and encourgaing historical tidbit on one of England's most famous foods, I fold.