Distillery Visit: Plymouth Gin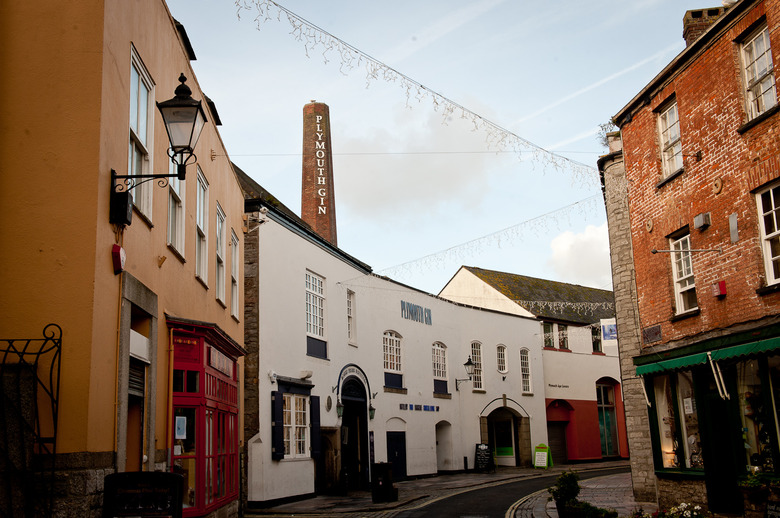 Sean Harrison came to the Black Friars Distillery — home of the iconic Plymouth Gin — in 1994. Fresh out of the Royal Navy, he decided to settle down with his family in Plymouth and applied for a job at the distillery on the administrative side. He got the job, but within a year Master Distiller Desmond Payne left for Beefeater and Harrison found himself promoted to the role of Master Distiller.
While Payne has all the delight of a mad scientist at play, Harrison has a more serious demeanor. Being the caretaker of a formula for gin that is over 200 years old is serious work. I went down to Plymouth — a beautiful three-hour train ride from London — to visit the distillery and meet with Harrison to talk gin and drinking in general. And to make my own gin — a dream come true.
"No one teaches you how to drink anymore," says Harrison, one of the first topics we touched upon. "When you're young, you want to drink a lot for very little money."
We both agree that attitude doesn't breed a very sophisticated cocktail culture. And because of its very distinctive juniper flavor, gin is usually not part of the equation for early drinking. But there are lots of indications that we are in the middle of a second Golden Age of cocktails. Since gin is the base spirit for so many classic cocktails, and people are once again interested in drinking well-made cocktails, gin's popularity is on the rise.
"Look at what they were doing at The Lab [in London] 20 years ago. Without it, cocktail culture would not be what it is today. And in New York, places like the Flatiron [Lounge] and all those wonderful New York bars," Harrison continues.
So, how does a man who makes gin like to drink gin the best? "My favorite gin cocktail is a French 75."
And how does he judge the kinds of bars he goes to? "When you go to a bar, look at the back bar and see what kind of spirits they're using and if they have a few interesting bottles, that generally means they'll know what they're doing behind the bar. I like to chat with a bartender for five minutes and let them tell me what I should be drinking. That's what bartending is."
The history of Plymouth Gin
The expansion of the British Empire, beginning around 1750, helped gin move out of Hogarth's "Gin Lane" to become the elegant spirit it is now. The Black Friars Distillery in Plymouth started producing Coates & Co. gin in 1793, in the backyard of the Royal Navy, and it was subsequently taken everywhere the Royal Navy went. It became a well-known brand throughout the British Empire. In 2004, Coates & Co. Gin was renamed Plymouth Gin. They've been using the same stills for over 150 years.
In 1850, Coates & Co. was supplying the Royal Navy with 1,000 barrels of Navy-strength gin a year. In 1882, the first Plymouth trademark was registered. It's the only gin in the UK to have a Protected Geographical Indication designation. We are all familiar with the idea that Champagne must be produced in Champagne. Similarly, Plymouth Gin may only be produced within the city limits of Plymouth. While the designation doesn't limit gin production within Plymouth, currently Black Friars is the only distillery left in town. Even more confusingly, Plymouth Gin actually meets all the criteria for a London Dry style. And by the early 1900's over 1,000 cases a week were going to New York alone.
Gin had its heyday between 1890 and World War II, and Plymouth was already a well-established brand. So it makes sense that Plymouth was at the forefront of cocktail making. In the legendary Savoy Cocktail Book it is called for by name in more cocktails than any other in the book, and the only gin called for that is still in production today. And in 1896, the first-ever printed recipe for a Dry Martini in Stuart's Fancy Drinks and How to Mix Them called for Plymouth Gin. "More people try to disprove that Plymouth was in the original dry martini, he says with a raised eyebrow. "It's difficult to make a bad cocktail with Plymouth."
"Between 1944 and 46 ,we couldn't get our ingredients that were sourced in Europe," Harrison says, as a beginning of the explanation for the decline of gin's popularity. Gin production in Plymouth was temporarily halted.
"Then vodka and the teenager happened, and they created their own culture. Teenagers didn't want to do what their parents did, and their parents drank gin. In fact, when Ian Fleming made James Bond drink a vodka martini, it was to make him trendy." And as all respectable cocktail-ians know, a real martini is a gin martini, stirred, not shaken, whatever 007 might like to drink. Today, Plymouth sells 500,000 bottles of gin a year.
What is Plymouth Gin?
Plymouth is made starting with a wheat-based neutral spirit, which is treated like a commodity at the distillery. They select a neutral grain spirit that has a buttery smell, but the grain and source can be different depending on market conditions, harvests and changing flavors. Currently, they are sourcing their base spirit from France. The distillate is then blended in Devon using local Dartmoor water, which some say contributes to Plymouth's distinctive smooth flavor.
"The older the gin, the fewer ingredients and the more European," says Harrison. Two hundred years ago it was easiest to get juniper from Italy, coriander from Eastern Europe and oranges from Spain, so these are the ingredients that were used in the older gin recipes. But as far as which, and how many, ingredients go in to Plymouth Gin, he doesn't say.
"As long as people are making gins, and making them wacky and talking about them, it's good for all of us."
Harrison doesn't really have an interest in creating his own gin. He says he has more fun with sloe gin, which is made from the sloe berry (a kind of unrefined plum). They're also making Damson Gin, with Damson plums, a more refined fruit with lots of pectin. At Black Friars, Harrison collaborated with master mixologist Wayne Collins on a Fruit Cup, the Plymouth version of Pimms.
In 2004, Harrison tried aging gin using single malt and bourbon barrels for 3 or 4 months. He found the result wasn't worth the work he put in. "It's nice that people play, but it's for geeks. I'm absolutely certain it's a geeky trend." One of the most interesting things we heard at Plymouth is that they make the gin to order, since there's no aging involved and it takes only about a day to distill a batch of gin. There's no need to do it any other way. There's no guesswork involved, no waste. The result is a bartender's favorite — a dusky, smooth gin, with a beautiful, long peppery finish.
The Bottle
The blue and silver Art Deco-styled bottle that Plymouth is currently known for was introduced in 2006, to reflect the brand's popularity during the era. A good marketing play, but wildly divergent with the bottle's historic design. Plymouth plans to go back to its historic look and reintroduce the original bottle with a slightly updated label in the US market later this year. The new (old) bottle is already available in the UK and the rest of Europe.
At Black Friars, the Refectory's signature cocktail is the Still House. Made with both Plymouth and Sloe Gins, with English apple juice, rosemary, lemon and sugar. Enjoy a cocktail in the distillery's lovely in-house bar, under the same roof that the Mayflower voyagers spent their last night on English soil.
You can make your own gin
If you find yourself in Plymouth while traveling through Devon and Cornwall, one of the best ways to occupy an afternoon is to drop by Black Friars and book the Master Distiller's Private Tour. In addition to touring the distillery, taking in a history lesson about the brand and a blind tasting of various gins, you will also have the chance to make your own gin. Although Sean Harrison warns ahead of time that making gin is relatively easy, making good gin is extremely tricky and only about 1 in 10 result in anything that might be drinkable.
With mine I went heavy on the coriander and the orange peel, and lighter on the juniper, remembering a recent pork roast I ruined by adding too many juniper berries. Sean shook his head at my reasoning. And maybe it was beginner's luck, but at a dinner party back in London the following evening my friends declared my original batch like "drinking a meadow" as we sipped our gin and tonics. I'll take that!
60 Southside Street
The Barbican
Plymouth, UK PL1 2LQ
01752 665292