An Italian Gentleman In London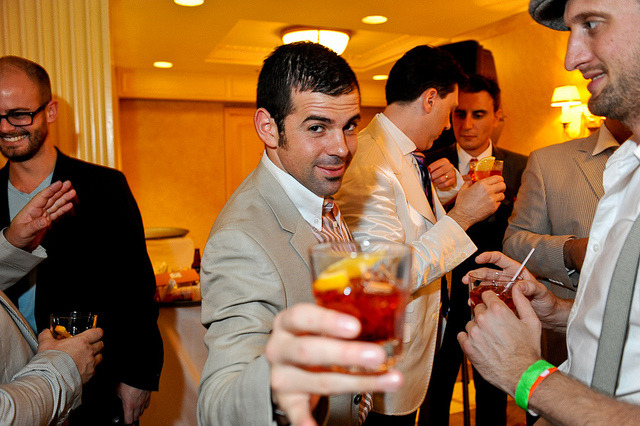 Ago Perrone is pure Italian gentleman living in an English gentleman's world as he serves his highly astute drinks at The Connaught Bar within the stately Connaught Hotel in the heart of Mayfair. Perrone is a legend in the game, having worked at hotspot Dusk and Montgomery Place in Notting Hill before taking charge at Connaught in 2008. He was named World's Best Bartender at the 2010 Tales of the Cocktail in New Orleans, a boozier version of the Oscars and one crazy huge honor.
Your list is partly about a reinterpretation of classics. What does that mean?
The common martini and the Bloody Mary are our signature cocktails. People know what know what they are. And take the apple sour. It's apple sour fortified with vodka and topped with fresh pistachio. This is our interpretation.
How do you come up with the new drinks? Do you have a method?
Sometimes you never know when inspiration will come. If you need to sit down and plan for the new menu, you plan it and say okay I need one long drink, one short, one fruity, one bitter and so forth. But most of the time inspiration will come up by experimentation or by reading a book or my walking in the park. You think about the market. Or in the shower. Inspiration is flying around. Whenever you get it, you get it. It's important to follow your own style and concepts.
In 2010 you won the world's best bartender title. What was that like?
It's hard to describe to be honest. My feeling to be on the stage and get the prize from Nick Strangeway. He was my inspiration. You feel so proud when you see all the crowd around, they are happy with your achievement, you big feel a big spiritual support.
Let's talk about spirits. Is there a great undiscovered spirit that's going to be pushing out onto lists?
Vermouth is really big now. The information about making liquors, spirits and the distillation process is vast. It's more approachable for us, trade people, who can go to distillery to personalize the gin or make our homemade bitters. I think the next step is going back to the discover the geometry of where ingredient come from. Lots of products you use them and you understand them, but you can't really imagine where it comes from. Imagine like a bottle of cognac or tequila. What characteristic ingredients are from that terroir? The next step is going back to the simplicity of the drink again.
What are some of your favorite bars around London?
I really like seeming friendly faces. Nightjar is one of my favorites at the moment. I like the drinks and the environment. I recently went to Zetter Townhouse and had a really great time — they are super friendly and serve great drinks. I fell in love with my Montgomery Place in Notting Hill. I really like the Hoxmoor and Hicks.
Being Italian, do you feel kinship with Italian spirits? Campari is blowing up in mixology in the States.
Of course, all different spirits. The history of our country, in that respect, is very good. Somebody says Campari changed the recipe. Somebody says Martini is not real vermouth anymore. Somebody says whatever they want. However, the spirits made the history of our country. They made the Italian bartender community huge around the globe. It made our profession fantastic, as well as ambassador of our country.
---
Getting Pissed In London Week is presented by our friends at Beefeater 24.