Top 10: Gastropubs In London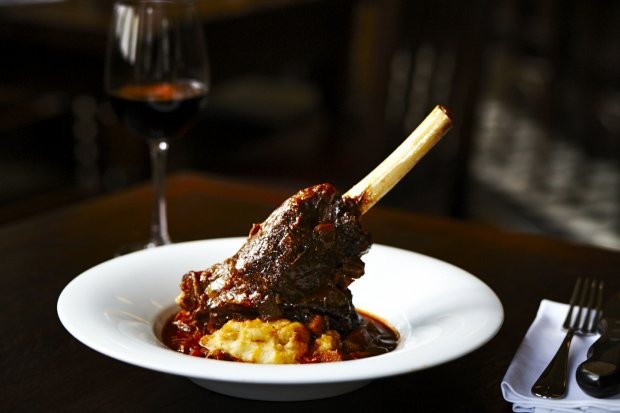 Lamb shank The Lady Ottoline
Any list of the 10 best gastropubs in London is obviously going to be immediate grounds for debate. It's like trying to pick the 10 best songs of all time. Impossible. So let the arguing begin! (Edit: You can hit us up on Twitter with your thoughts on the subject). Here are my 10 favorite new (or newish) gastropubs in the dining city that actually coined the term.
Photos:  Top 10 Gastropubs In London
1. Harwood Arms
Michelin-starred for good reason, deep into Chelsea. Roasted pigeon. Grilled ox tongue. Freshly shot wild game. Poached duck egg with chanterelles and bacon. 27 Walham Grove, +44 (0) 20-7386-1847
The newest gastro specialists to set up shop in Covent Garden. Pig head terrine, potted mackerel, steak and kidney pudding. Craft bottle beers. 58 St. Martens Lane, +44 (0) 20-7748-5244
3. Opera Tavern
Hot new spot in Covent Garden's theatre district. The brass door handles are shaped like pig's hooves — enough said. 23 Catherine St., +44 (0) 20-7836-3680
Posh newcomer in Notting Hill serving pot-roasted pheasant, roasted lamb rump and sticky toffee pudding. 123a Clarendon Road, Notting Hill , +44 (0) 20-7229-1500
5. The Portman
Tasty new entry in Portman Village/Marylebone from the folks behind The Only Running Footman (longtime fave in Mayfair). Fish 'n' chips, roasted partridge, pressed duck with rosemary kumquat confit. 51 Upper Berkeley St., +44 (0) 20-7723-8996
Recently revamped old dame. Flirty and delicious. Upstairs is for more serious eats; downstairs for house-made sausages, rabbit terrines, chicken liver parfaits and perfectly pulled pints. 11a Northington Street, +44 (0) 20-7831-0008
7. Bumpkin
Farm-focused two-story, food-and-beer hall in quite section of Notting Hill. Fancy upstairs; pub downstairs. Killer mac 'n' cheese made with sublime English Cheddar. 209 Westbourne Park Rd., +44 (0) 20-7243-9818
Hip basement pub focusing on cutting-edge cocktails. World-famous chef Raymond Blanc consulted on the bar snacks: spicy lamb kebabs, hush puppies, smoked bacon balls, hot buttered mushrooms on toast... 61 Goodge St, +44 (0) 20-7580-1960
9. The Cow
A Westminster classic worth revisiting. Perfect spot for a pint of Guinness and a dozen oysters, plus excellent mussel chowder and boiled ham. 89 Westbourne Park Rd., +44 (0) 20-7221-5400
10. The Mayor of Scaredy Cat Town
Clandestine bar hidden beneath The Breakfast Club in Spitalfields. Go to Breakfast Club; ask to see The Mayor, and you'll be shown the secret door. Artisanal cocktails. Classic British sammies. 12-16 Artillery Lane, +44 (0) 20-7078-9639
---
Getting Pissed In London Week is presented by our friends at Beefeater 24.