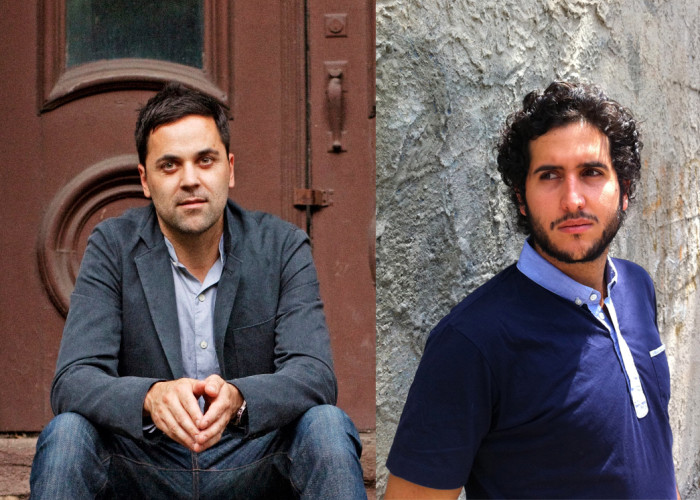 New York-based label Bespoken was started in the fall of 2008 by two sets of brothers. Liam, James and Sam Fayed and Paulo and Carlos Goncalves are all partners in the menswear brand that takes British craftsmanship and mixes it with a little rock and roll edge.
The two families met when Paulo was looking for a drummer for his band and Sam responded to a Craig'slist ad — and one creative outlet turned into another creative outlet. With an understanding of tailoring and the retail business — the Fayed family owns Turnbull & Asser, which includes famed London shopping mecca Harrod's — the friends launched Bespoken to offer a more contemporary point of view with a slimmer silhouette.
We sat down with Liam and Paulo in New York City to learn about how these stylish guys eat — and how they got the gig designing uniforms for New York City's hottest new restaurant, NoMad.
You guys travel a lot for work. What are some of your favorite places to eat?
Liam Fayed: In London, I hang out a lot at The Wolseley, which is in a very old space. It used to be a bank. Then it was a car dealership, and now it's a restaurant. To have the traditional English breakfast is always fun. Where else do we hang in London?
Paulo Goncalves: Prince Gardens.
LF: Prince Gardens is a good Chinese place. I've been going since I was two or three years old. Another favorite is Ranoush Juice on Edgware Road to get a shawarma. You can never get a good shawarma here in New York. Also, Sallos, which is a Pakistani restaurant in Knightsbridge.
PG: The Bumble Bee in Gloucester.
LF: I had many meals at the Bumble Bee. Our shirt factory is in Gloucester, two hours from London. The Bumble Bee really has a nice charm to it with an open flame fireplace. You would never see that in America because of a hundred different lawsuits. A lot of our factories are in Portugal. So I spend a lot of time in Portugal. Up until Bespoken I never really visited Portugal. It's beautiful.
PG: That's where my family is from.
LF: The food is amazing. I go there every single time and try some new dish or local fish. It's kind of a mix between Italian and Spanish food. It's amazing. I love going there.
Do either of you cook much?
PG: I cook a little, but my wife is a diehard foodie. She used to work at Gourmet and always exposes me to great food. I'm just like the guinea pig. She makes incredible dishes every night. I'm totally spoiled when it comes to that.
LF: I love to cook. It's one of those things where every time I do it, I really enjoy it. Whenever I'm on vacation or I have some free time I do it. I think here in New York, it's just a question of time. I'm usually behind my desk till 8 or 9 o'clock. The few meals that I cook, I'll do something with a bunch of friends on the weekend.
What are your eating habits while traveling?
LF: It's always tough. When I go on the factory trips, I end up eating a dodgy egg sandwich or something like that at the airport before my morning flight. And when I arrive at our shirt weaving facility in Bergamo, Italy, they usually take me out for an amazing meal that's heavy on the pasta dishes. It's not very healthy, but I'm one of those people—when it comes to food I really enjoy it. I'm gonna live it up. I'll balance it out when I come back to New York. It's tough to turn something down that you've never tried before.
What's in your fridge right now?
LF: Oh, I opened it this morning. My fridge is pretty stocked right now. (Laughs.) I have some slices of bread, Diet Coke, some cheese and eggs. What else did I have? Some salad, an apple and a yogurt.
PG: I'm a bit heavy on the dairy. Being Portuguese we love our cheese. I always have a block of cheese that comes from outside of Lisbon. It's called Estrela da Serra. It's phenomenal cheese. It's like the understated Manchego, but I feel it's much better. I love Whole Foods and go to stock up on yogurt and granola. That's my thing theses days. And I'm huge fruit fan. I have a 4-year-old son. I'm always getting fruit for him.
LF: You have a reason to stock your fridge. I just have the bare essentials.
PG: Exactly. Liam is a single guy. It's cool. I was there too. I'm in a very different place now.
How have your eating habits changed since you had your son?
PG: I'm so aware now. I'm always looking through the lens of him. I want to make sure he's getting the best out there and I don't want to contaminate his body with anything that's unnatural or feels augmented in the process.
Sweet or savory?
PG: Hmm, I'm more savory, for sure. I think you are too.
LF: Yeah, I'd say savory. But, certain desserts I have a weakness for.
What are some of your weaknesses?
LF: Sticky toffee pudding. I see it on a menu and I'll just order it. Automatic. I can decide that before I even get to the main course. I had it growing up as a kid.
PG: Every once in a while Liam will get a package of candies or confectionaries from London. Not too long ago there was a box. I was waiting on a shipment from our factory and I thought that was it. I opened it up and it's nothing but sweets. I looked at Liam and I'm like what the hell is this. But sure enough it was all the same stuff…caramel and toffee.
LF: But everyone eats it. My desk will accumulate with all kinds of interesting snacks. And people will say, "what's this" or "what's that?" And all of the sudden it'll be gone in a couple of days.
PG: We're huge espresso drinkers here too and we have the espresso machine constantly cranking. For some reason I can't drink the espresso without having a piece of dark chocolate.
We hear you are working with the NoMad. Tell us about that.
PG: We did a collaboration with the NoMad Hotel. It really started from a branding perspective and associating ourselves with the NoMad on other co-branded services for the guests. That snowballed into doing their wardrobe and led to doing the wardrobe for Eleven Madison Park. Everything has been very organic.
Have any favorite dishes at the NoMad?
LF: The beef tartar was amazing. Lobster was excellent. I had a fish, the halibut, which was really good. The bread they have is very good. It's a focaccia onion loaf. I went through about three of those.
PG: The scallops were delicious and the salad. They're doing a great job. It's the same people behind Eleven Madison Park. Like us, they are somewhat unconventional in their approach. Their end product speaks for itself. We're huge fans and we want to see them succeed. We know they will.
What's the best style advice you've been given?
LF: I think it's having the essentials in your wardrobe. Having the basic Bespoken navy blazer, the perfect oxford shirt, a nice crisp white rounded collar shirt, and a nice pair of denim. It's about having those key pieces that you can wear all year round, no matter where you are in the world. My Bespoken navy blazer has gone everywhere with me. It's a nice high-thread, high-twist yarn that doesn't get creased as easily. It's the perfect travel blazer.
PG: It's funny. Thinking about the advice part of it, my background is in advertising. David Ogilvy had a quote and it always stuck with me: "Keep it simple, stupid." It's about the idea that marketers and brands have a tendency to overcomplicate everything. Sometimes you've got to keep it extremely simple. And I think that goes for style as well. People think style is all about the flashiness, accessorizing, the label and standing out. For us it's about keeping it understated. It's all about the nuances and subtleties. It's not about announcing to the world that you possess a certain brand of clothing. It's more about having a discerning eye for style.
What's your theory on white shirts at Italian restaurants? Do you think that's asking for a marinara stain?
PG: (Laughs.) I don't know. Honestly, I'm the wrong guy to ask. I've yet to do it. I eat a lot of Italian and I'm always getting sauce splattered on my shirts. I'm that guy wearing the lobster bib in the corner of an Italian restaurant.
LF: Hey, if you can rock it and not spill anything on it, go for it. I don't think I'm that guy. Actually, every time I go to a restaurant I have a matching Bespoken bib in my back pocket.
---
More stylish men on Food Republic.