10 Great Kosher Wines To Drink Right Now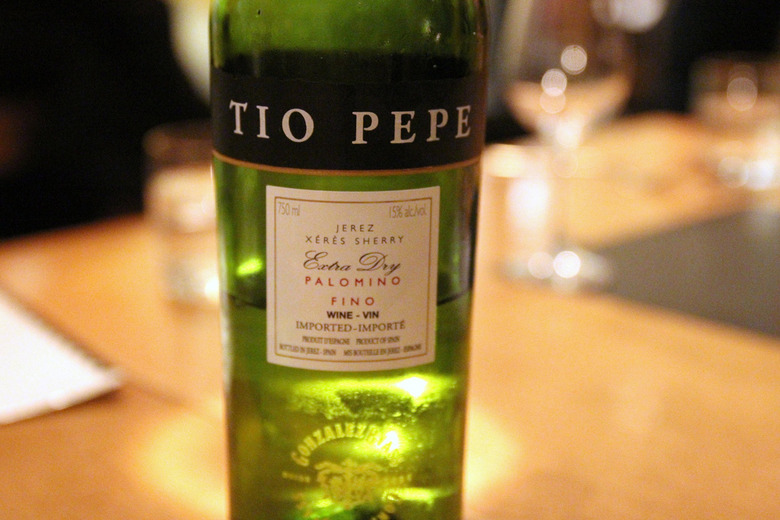 Tio Pepe
As someone who writes about wine for a living, each year I am tasked by my editor with rounding up the best kosher wines in time for the Passover meal. It's a little silly, really, when you consider that, of all the seders my friends have hosted, no one has ever adamantly required the wine to be kosher. But even the non-devout like to try kosher wines for Passover. It's all part of the ritual of the holiday. Luckily for such doctrinal dabblers, kosher wines have vastly improved over the last few years, making the mission to recommend 10 good ones all the breezier.
1. Bartenura Prosecco, Italy ($17): You know kosher wine has come a long when even the bubbly options start piling up. This sparkler from the Veneto is actually Meshuval, as in flash-pasteurized, which you can think of as "super-kosher." Classified as extra dry, it has slightly bready aromas and crisp citrus notes.
2. Elvi Adar Cava, Spain ($22): Although it's never written explicitly on the bottle, this Spanish producer specializes in kosher wines. The brut bubbly is made from the traditional cava grapes, with bright zippy flavors and an underlying minerality.
3. Golan Heights 2010 Sion Creek White, Israel ($15): An off-dry blend of Sauvignon Blanc, Riesling and Gewurztraminer, it's the perfect aperitif wine. Light and zesty, it also pairs well with spicier foods, if you happen to be trying out a fusion seder this year.
4. Galil Mountain 2009 Shiraz, Israel ($15): Syrah, or Shiraz as the Aussies say, is a grape variety that manages to thrive is Israel, especially at the high altitudes of Upper Galilee. Aging in stainless steel preserves the deep fruit flavors and hint of eucalyptus in this wine.
5. Carmel Winery 2010 Ridge Red, Israel ($14): This winery is Israel's oldest, founded by a Rothschild baron from Bordeaux in the late 19th century. Its blend of Carignan, Syrah, Petite Syrah and Cabernet Sauvignon is juicy and easy-drinking.
6. Goose Bay 2010 East Coast Pinot Noir, New Zealand ($24): Kosher wine from New Zealand? In fact, this Pinot Noir is also Meshuval, with earthy and mineral characteristics balanced by fruits of the forest flavors.
7. Ramon Cardova 2009 Rioja, Spain ($16): Made from the noble Tempranillo grape of the Rioja region of Spain, this wine is full of fruity wild berry character, with a hint of herbaceousness.
8. Covenant 2011 Red C Sauvignon Blanc, USA ($24): This Napa winery specializes in kosher wines and just last year released its first vintage of Sauvignon Blanc. The wine is lush and bright, with honeyed and tropical fruit flavors.
9. Recanati 2010 Wild Carignan Reserve ($52): For a splurge, this minimally filtered 100% Carignan is elegant, boasting a solid structure. Dark fruit flavors and a full body make it an idea pairing for grilled meats.
10. Tio Pepe Fino Dry Sherry ($20): It may come as a surprise to you, but this popular dry sherry is kosher. Nutty and savory, it's lovely with olives and other pre-meal noshes. But you needn't stop drinking it when dinner is served; shock your bubby and sip it throughout the main course.
---