Photos: A Taste Of London With Beefeater 24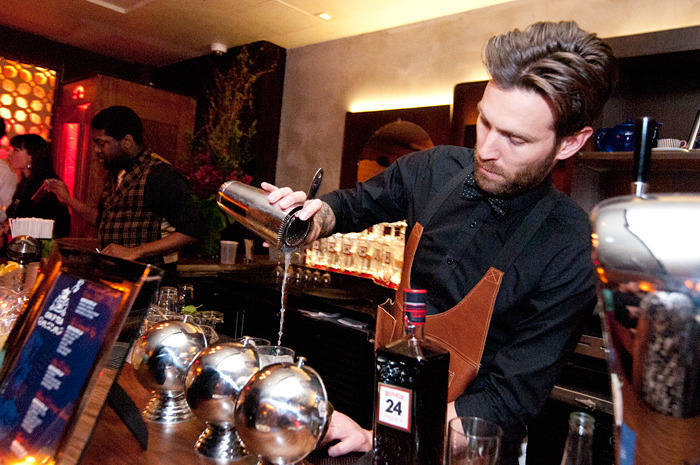 Taste Of London Food Republic
We brought the never-ending party that is Getting Pissed In London Week to an actual party last night. Teaming up with Beefeater 24 is never a bad idea, particularly when bites of Marcus Samuelsson's British-themed food are making their rounds. At Food Republic, we know that bangers and mash on a stick is the proper hors d'oeuvre to pair with a highball of gin and citrus. Who's with us?
Food Republic took over Red Rooster's brand-spanking new downstairs venue, Ginny's Supper Club, to ply our friends with the true spirit of London. While a traditional English pub it is not, Ginny's low lighting, lengthy and easily-accessed bar, and constant flow of addictively refreshing Beefeater cocktails made us feel like we were right back in the smoke.
If you weren't in attendance, we'd still like to provide you a buzz. Try a few of last night's cocktails — cheers!
The Oceanside Fizz
2 oz      Beefeater 24 gin
.75 oz   Lime
.75 oz   Simple syrup
6-8       Mint leaves
Pinch   Sea Salt
Dash    Celery Bitters
Top      Soda
Muddle ingredients and shake vigorously.
Strain into a highball.
Garnish with mint leaves.
Horse & Carriage Punch for Six
6 oz       Beefeater 24 gin
3 oz       Combier triple sec
3 oz       St-Germain
6 oz       Lemon juice
10 oz     Chamomile tea
8 oz       Sparkling wine
3 tbsp    Citrus sugar
Dissolve sugar in the lemon juice in a punch bowl.
Chill the other ingredients (except sparkling wine) over ice.
Strain into bowl and add a large ice cube.
Add sparkling wine and garnishes
Serve with punch glasses on the side with 1 ice cube in each
Lemon wheels, orange slices, pineapple slices, rose petals, other seasonal fruit/berries
---
Getting Pissed In London Week is presented by our friends at Beefeater 24.