Guide: Good Beer At Baseball Stadiums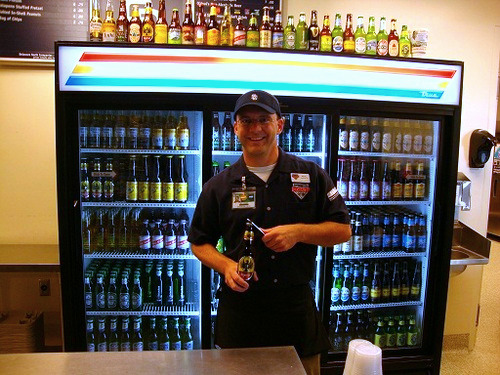 Beer in the ballpark used to be even more boring than a scoreless pitchers' duel. The scant offerings included the usual suspects like Bud, Miller, Coors and their watery, innocuous kin. I'll grant that these beers have their place during hot, sweaty summer afternoons. However, they're not worth the highway-robbery pricing. We understand the concept of supply and demand, but a 10-buck Bud is a crime against beer.
While we don't foresee beer prices ever getting any cheaper at ballparks, stadiums have smartened up to craft beer. Light and fizzy lagers are now accompanied by aromatic pale ales, hoppy IPAs, prickly pilseners and cloudy wheat brews that are every bit as excellent as the home team winning on a walk-off homerun. Here are some of the craft beers to seek out at ballparks this year.
Atlanta Braves: Turner Field
While watching the Braves play, try a couple of terrific beers from hometown brewery SweetWater. Try the crisp and fragrant 420 Pale, intense IPA or the light-bodied, blueberry-accented Blue.
Colorado Rockies: Coors Field
In the mile-high air of Denver, the balls fly up and out of the ballpark as rapidly as you down Oskar Blues' potent, fragrant Dale's Pale Ale. Naturally, Coors is available too, but skip the Banquet Beer in lieu of the company's on-premise SandLot Brewery. You'll find fine pilseners, hefeweizens and even curiosities like a smoky chocolate porter.
Houston Astros: Minute Maid Park
To slake your thirst during a torrid Texas summer afternoon, opt for the Saint Arnold Amber Ale and crisp, refreshing Fancy Lawnmower.
Los Angeles Angels of Anaheim: Angel Stadium
In addition to Albert Pujols, the Angels also added craft beer to their stadium this year. Expect suds from great local breweries, including Bootlegger's Old World Hefeweizen and Palomino Pale Ale, as well as Hangar 24's Amarillo Pale Ale and Orange Wheat.
Milwaukee Brewers: Miller Park
Though the ballpark is named after the massive lager brewery, craft-beer fans can still content themselves with superb brews from Wisconsin's Milwaukee Brewing Company, Sprecher, Lakefront and the cultish brewery, New Glarus.
New York Mets: Citi Field
Here's some good news, Mets fans. Though your team is in disarray, you can sip some fine New York craft beers such as Blue Point Toasted Lager and White IPA, Sixpoint Sweet Action and Ommegang Abbey Ale.
Philadelphia Phillies: Citizens Bank Field
Beer-mad Philadelphia has no shortage of great craft beer at the ballpark. Select from excellent area-made offerings like Sly Fox's Pikeland Pils and smooth Royal Weisse, Flying Fish Extra Pale and Abbey Dubbel, Yards Brewing Philadelphia Pale Ale and Victory Hop Devil IPA.
Pittsburgh Pirates: PNC Park
Will the Pirates finally climb out of the cellar? We wouldn't bet bucks on it, but we'll happily spend our money on East End Brewing's Big Hop IPA and Fat Gary Nut Brown Ale, as well as first-rate ales from Pennsylvania breweries including Erie Brewing, Church Beer Works, Victory and Tröegs. Even cooler, once a month PNC Park offers a beer passport that permits entrance before the game for a beer tasting.
San Diego Padres: Petco Park
Craft-beer worship and baseball reach their zenith at San Diego's Petco Park, where the landmark Western Metal Supply Co. contains the Brickhouse Deli. Here, Neil the Beerman serves dozens of brews, including offerings from local all-stars Ballast Point, Stone and Green Flash.
San Francisco Giants: AT&T Park
This year, the Giants unveiled Anchor Plaza, a taproom and beer garden featuring the signature suds of San Francisco's Anchor Brewing, including the Liberty Ale, Porte and venerable Steam.
Washington Nationals: Nationals Park
Per usual, the Nationals' chances for a pennant seem distant at best. Happily, fans can drown their eventual sorrows with Dogfish Head's 60 Minute IPA or perhaps Flying Dog's In Heat Wheat or UnderDog Atlantic Lager.
---
More sports and food crossovers on Food Republic: