The REAL Cab Of The Future?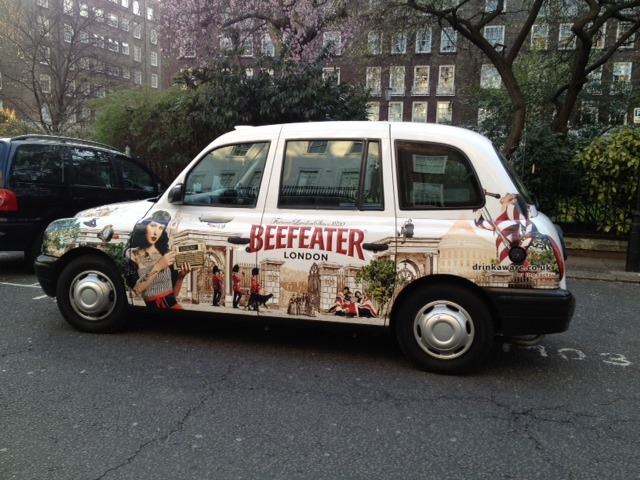 beefeater taxi
There's lots of buzz today around NYC's new cab, a boxy-looking Nissan number that will be unveiled today, and which will next year start a decade-long run as the Big Apple's exclusive taxi cab. It features cell phone chargers, a massive skylight, odor stabilizers, more leg room and—wait for it—bad design. Why is America so off when it comes to design, especially in comparison to our friends across the pond?
And this isn't just about the look of the cab. It's about the human element. The London black cab is perfect in its simplicity. Four adults can sit comfortably, facing each other, without distraction from TVs or cell phone chargers. During our recent trip to London for Getting Pissed in London Week "research," Matt Rodbard and I met two London friends who wanted to whisk us off to the east side for a bar crawl in fashionably grungy Dalston. It was a long (and expensive!) trip, and we spent the whole time conversing. You won't be able to do that as comfortably in a new NYC cab.
I'm a loyal New Yorker. I love this city, and I'll stack it up against any in the world. But when city officials make decisions like this, to award such gimmicky design—and to a Japanese company no less—then I have to protest. I don't want to watch Al Roker tell me the weather from a scratched-up TV screen when the weather is clearly visible through the windows of the taxi. And while I'm grateful that these new cabs will have increased legroom, why the hell does the inside have to look like a suburban minivan? If it's not too late, will whoever's in charge hop a plane to London, hail the first cab you see, and take note. Then come home and redesign the cab of the future to look exactly like London's can of the present! Thanks, old chap.
---
Getting Pissed In London Week is presented by our friends at Beefeater 24.