My London: Matt Hermer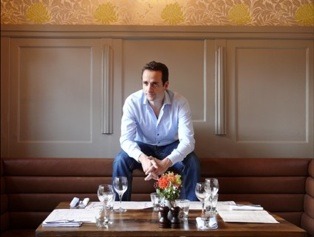 Matt Hermer
Matt Hermer is Co-Founder and CEO of Ignite Group, operator of London bars, clubs and restaurants including Bumpkin, Boujis and Eclipse.
What is your favorite English-born booze ­ gin, beer, other products? Explain.
Folklore suggests women become depressed on gin, so who wants that (not that
my wife is ever is in that state). Cider reminds me of drinking cider and black as a teenager, followed soon after by my head in a sink, so not that. And beer makes me full so not that either. I am going for Pimms.
What's the best restaurant doing cocktails in London?
Hawksmoor are doing a fine job of combining steaks with cocktails. Smart.
After a long night of drinking, what (and where) do you eat the next morning?
I try not to eat as invariably. I would like to still be asleep in the AM—but a combination of age and baby doesn't let that happen. It would have to be eggs and baked beans with crumpets. Yum.
How do you suppose the nightlife scene will change when the Olympics go down this summer?
Most Londoners will escape if they can. Westfield Stratford will be packed, which I am delighted about as we own a Bumpkin British seasonal restaurant there.
The last drink to cross your lips, ­when and where.
A glass of delicious chilled champagne on a BA First Class flight. You go to sleep, wake up and start all over again!
Pay tribute to your favorite London cocktail bar. Why is this your favorite? What do you order? What's the vibe like? Who goes there?
I have to say Eclipse in Walton Street SW3. Not only do I own it, but it happens to be kick ass in every way. It has been going for 14 years and is still as insanely busy as ever. The crowd changes from early evening casual gatherings to a more fun loving and sometimes fun seeking group. A bongo player amps up the atmosphere and our experienced mixologists provide our customers with a night that they can't forget—though due to the excellence of the drinks that we serve such as the watermelon martini or crackbaby shots, many people often do.
---
Getting Pissed In London Week is presented by our friends at Beefeater 24.