8 Great British Beers To Drink Right Now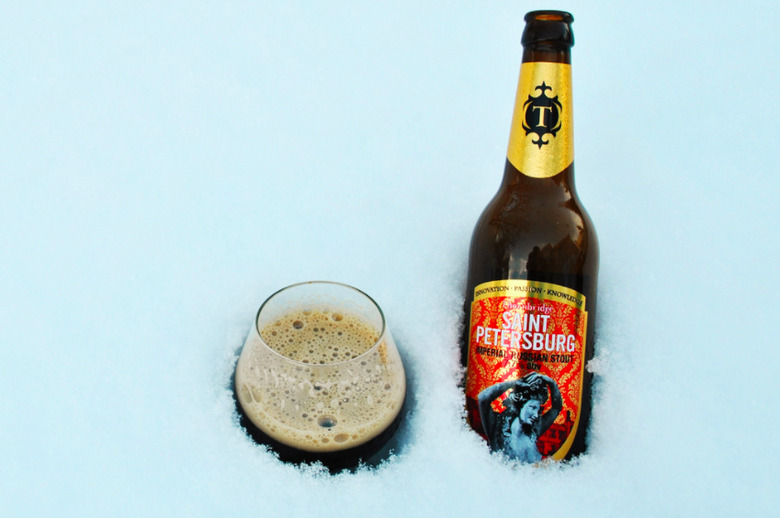 Thornbridge Brewery
British beer gets a bad rap as being boring. They're best known for milds and bitters—beer styles whose nuanced pleasures and restrained ABVs seem quaint to American craft-beer drinkers conditioned by hoppy, boozy beers that are about as subtle as a Will Ferrell film.
Thankfully, this is no longer the case. Over the last decade the British beer scene has begun blossoming, shaking off the shackles of cask ale and creating brews every bit as inventive as those crafted across the Atlantic Ocean. On your next visit to London, seek out these first-rate British beers. What are your favorites? Let us know on Twitter: @FoodRepublic
1. The Kernel Brewery Export Stout
The London brewery has made big waves with its bold, citrusy American-inspired pale ales and IPAs. But instead of modern times, our favorite Kernel release takes its cues from the 19th century. Based on a circa-1890 recipe, the roasty Export Stout is as black as a tar pit, presenting a lusciously oily mouthfeel and flavors that flutter from dark fruits to a freshly pulled espresso shot.
2. Magic Rock High Wire
Brewed in homage to America's unabashedly hoppy West Coast ales, High Wire tastes profoundly of grapefruits, mangos and pears. Smooth, lightly sweet malts and a mouthfeel as silky as Victoria Secret's finest undergarments help balance High Wire's full-throttle bitterness.
3. Thornbridge Saint Petersburg Imperial Russian Stout
Whereas many imperial stouts knock your socks off with booze, Saint Pete registers a relatively restrained 7.7 percent ABV. The stout is milkshake-creamy, with a pronounced bitterness and a subtle current of smoked peat that goes grandly with the flavor of bittersweet chocolate.
4. Lovibonds 69 IPA
The saucily named IPA hails from Lovibonds, which is located about 45 minutes from London in Henly-on-Thames. The IPA's moniker references its ABV (6.9 percent), a rebuttal to the standard low-alcohol, low-hop British IPA. U.S.-bred Centennial and Simcoe hops give the golden brew a citrusy nose and a clean bitterness.
5. Camden Town Brewery Ink
Forget Guinness: Served on nitro, this hop-forward stout is every bit as creamy as Ireland's favorite quaff. It's got all the expected flavors of coffee and dark chocolate, but the beguiling hop aroma helps set Ink apart. It also drinks deceptively light.
6. Otley O-Garden
This Wales brewery focuses on modern cask ales and bottle-conditioned brews, such as the hoppy O4 Columbo, robust O6 Porter and the O-Garden, a whimsical riff on the classic Belgian witbier Hoegaarden. Otley's hazy take on the wheat-beer style is dosed with coriander, cloves and orange peel, resulting in a dry, citrusy delight.
7. Summer Wine Diablo
The Yorkshire brewery sets itself apart by focusing on unfiltered, unpasteurized and, above all, flavor-forward ales like the devilish Diablo. The IPA is heavily dosed with American hop varieties such as tropical Citra, which lend notes of lychee, mango and plenty of sticky pine.
8. Dark Star Hophead
Since 1994, the West Sussex outfit has won over legions of drinkers with its uncommonly balanced, always inventive ales like the Black Coffee Pilsner, Milk Chocolate Stout, Summer Meltdown (made with Chinese stem ginger) and the Hophead. Instead of socking drinkers, well, over the head with bitterness, the 3.8 percent golden ale is an easy sipper, with a fantastic floral aroma courtesy of Cascade hops.
---
Read more about craft beer on Food Republic:
---
Getting Pissed In London Week is presented by our friends at Beefeater 24.