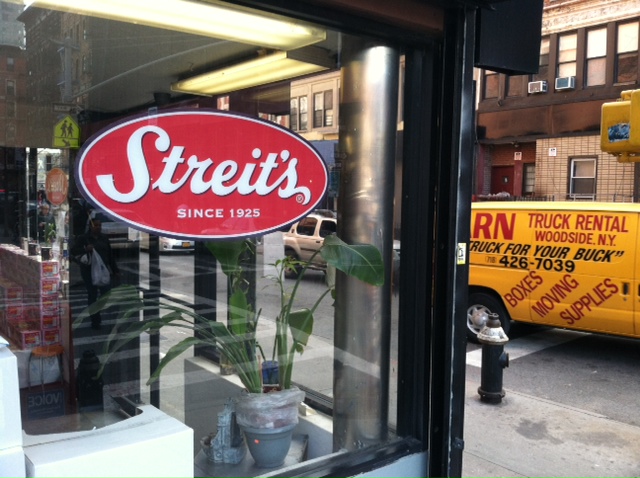 Two million boxes of matzo is a lot of matzo, especially for a family-run shop. But that's what Streit's, located on Manhattan's Lower East Side, is churning out for this year's Passover, which begins on Friday.
"We can't make enough of it," says Mayer Kirshner, the Supervising Rabbi of Streit's. It doesn't hurt that they're the only game in town — literally. After more than 80 years in the business, Streit's is the last remaining maker of the unleavened bread in the city. Which isn't also to say that they're not also the best in the country, as deemed by a very unscientific poll conducted by this writer.
But how can something made out of two weeny ingredients — flour and water— distinguish itself?
Some say it's the oven, but Rabbi Kirshner thinks otherwise. "Like they say, New York water makes the best bagels, bialies and pizza," he says. "So why not the same with the matzo?"
Jew or non-Jew, the stuff is really good for anyone with a jones for bland, crunchy food. I'm serious. I love it, and even more so when I get it fresh and warm out of the oven at Streit's, where they sell it in brown paper bags. And try taking it and crumbling it with scrambled eggs — otherwise known as matzo brei — for breakfast.
Not that the non-religious amongst us should be enjoying it too much —remember, this is the "bread of affliction," as Rabbi Kirshner reminds us. A bread first cooked up by a people fleeing for their lives.
Despite the Streit family commitment to the neighborhood (two great grandsons and one great-great grandson of the founding brothers run the business), it might not be there forever. Encroaching bars, hordes of hipsters, rising rents, and the logistical difficulty of shipping goods from lower Manhattan all make it increasingly difficult to be the last matzo-maker standing.
But the matzo, well, that will remain popular amongst the faithful as well as the foodies, says Rabbi Kirshner. "It's healthy, cheap and versatile. You can put cream cheese, hummus or salsa on it," he says. "Plus, it's been around 3,500 years, so…"
Streit's Matzo Factory
148-154 Rivington Street
New York, NY 10002
212-475-7000