NBA Power Rankings: Waffle House Edition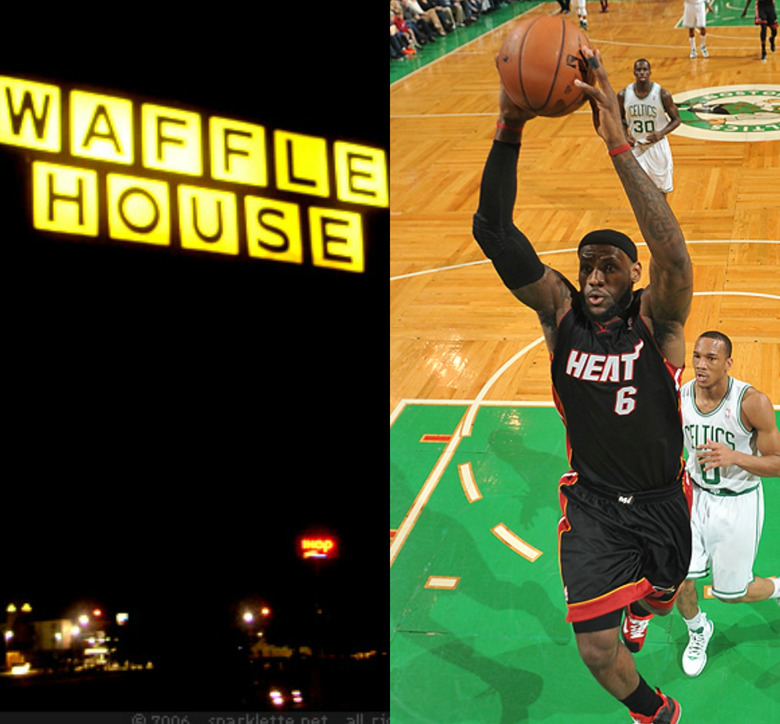 We're down to less than one month left in the regular season. This is it. Playoff teams are jockeying for position. Lottery teams are tanking as hard as they can. This hellish sprint-marathon is almost over and years from now, this season will only be remembered as the one where eventual 14-time MVP Derrick Rose sat out a full quarter-season before getting his bionic groin transplant.
With the playoff race heating up in both conferences, it's going to be really fun to see how it all shakes out. There are six teams within three and a half games of each other all fighting to fill up the bottom half of the Western Conference playoff bracket. It'll suck to be that 9th seed. The East has a similar problem with the current 3-7 seeds all within striking distance of each other and trying to figure out who's going to lose to the Bulls and Heat in the first round. Should be a great finish to the season.
For this month's Food Republic NBA Power Rankings, I'm comparing each team to a dish at the Waffle House. Because, basketball began right here in the USA and it doesn't get much more American than the Waffle House. (In case you missed our previous installments, check out the comparisons to dishes from Ruth's Chris Steak House, Cheesecake Factory and a famed L.A. deli.) Let the ranking begin!
( ) = previous position [ ] = record as of 3/30/12
#1. (2) Chicago Bulls [42-12]
All-Star Special
Eggs, Toast, and Hashbrowns with your choice of Biscuit & Gravy or Waffle and Bacon, City Ham or Sausage.
Derrick Rose's groin went bad over 10 games ago and the Bulls have only dropped three games since. What? That's insane. The teams they beat weren't just scrubs, either. The Heat, Magic, Hawks and Sixers are all really good teams. Chicago just happens to be better. That's why they reclaim the #1 spot, even with the recent loss to OKC. They're the All-Star Special, but without the waffle, while DRose is sidelined. It doesn't matter. Even without the waffle, the rest of the breakfast is still a well-balanced way to start your day.
#2. (3) Oklahoma City Thunder [40-12]
Hashbrowns "All The Way"
Some teams beat you with suffocating offense. Other teams do it with lockdown defense. The best teams, though, take you down in every single way possible and that's this year's Oklahoma City Thunder. They'll smother you, cover you, chunk you, dice you, pepper you, cap you, top you and country you. Watch out. Now I'm hungry for hashbrowns.
#3. (1) Miami Heat [37-14]
Walt's Soup
Our own Chicken Noodle Soup.
The Heat are slipping. They just dropped two games to Indiana and OKC, got blown out by Boston over the weekend, and earlier in the month lost to the Magic and a Bulls team playing without Derrick Rose. Did LeBron decide to just coast until the playoffs? Is the dislocated finger a bigger issue than he's letting on? It's hard to tell, but in the meantime, LeBron, have some chicken noodle soup to cure what ails you.
#4. (4) San Antonio Spurs [36-14]
Aunt Maggie's Triple Chocolate Pie
The Spurs own the NBA's longest winning streak right now and that gets them some Triple Chocolate Pie. With Manu healthy, Tim Duncan rolling and Tony Parker making French NBA fans swoon for his fanfaron, it looks like the Spurs are going to be a very tough out come playoff time. That's what I said last year, though, and then the Grizzlies happened.
#5. (11) LA Lakers [33-20]
Ribeye & Eggs
8 oz. Ribeye
The Lakers are having a bit of an identity crisis. They start the month out with back-to-back losses to Detroit and Washington, add Ramon Sessions at the trade deadline, and now it's hard to know what to make of them. The good news is Bynum is really playing well and Kobe has finally been officially diagnosed as a robot. Ribeye & Eggs works perfectly for the Lakers because it's the classic identity crisis dish — is it breakfast? Is it dinner? It doesn't matter because it's good. Stop trying to label everything.
#6. (9) Orlando Magic [32-21]
Meat Lovers Pork Chop Dinner
Three grilled Papa Joe® Pork Chops served with a regular Garden Salad, Hashbrowns, and Texas Toast.
Hey, guess what? Dwight Howard is still on the Magic. He even waived his early termination option. I know! It's crazy! But that's the world we live in since the new CBA got signed. In honor of D12's dedication and the continued success of the Magic, I'm giving them the Meat Lovers Pork Chop Dinner because when you order that, you're showing a ton of commitment... to heart failure later in life.
#7. (10) Atlanta Hawks [31-23]
Bert's BEST BOWL of Chili
Large bowl of Bert's Chili, Smothered, Covered, Chunked & Peppered
Music to Hawks' fan's ears? Joe Johnson is back. The real Joe Johnson—the one who can score at will. He took a long hiatus, but he's hitting buckets left and right these days and with Josh Smith contributing all over the court and Zaza Pachulia (I know!) actually earning his keep, this Atlanta team keeps winning. Just imagine what they'd be doing if Horford was healthy. They're the BEST BOWL of Chili because they're riding high on confidence right now and, as we all know, going ALL CAPS is a pretty confident move for Waffle House in this situation.
#8. (7) Dallas Mavericks [30-23]
TEXAS Cheesesteak Melt
Texas Toast. Grilled Onions. Double Cheese
If you're hungry, don't care about calories and just want to hit all those salty pleasure centers in your brain, the Texas Cheesesteak Melt will get the job done. Same goes for the Mavs. They're good, but they might not be exactly the right choice. They just don't have enough going on to make you feel satisfied without also occasionally making you regret your decision to root for them. I've said it before and I'll say it again: these are not your 2011 Dallas Mavericks, Playoff Fluke Edition. Actually, I've never said that last part before. But I should have.
#9. (6) LA Clippers [31-21]
Waffle House Coffee
Regular or Decaf
The Clippers are an experiment in soul-crushing. Getting a little too big for your britches, Clippers fans? We'll take away Chauncey. Feeling like the team is winning too many games? We'll start a coaching controversy. The big question is, who's orchestrating all of this? Is it possible that David Stern and Donald Sterling are in cahoots to destroy the Clippers from within? Bring on the Waffle House Coffee. We've got a long night of sleuthing to do.
#10. (12) Memphis Grizzlies [28-22]
Ribeye Steak Dinner
Steak. Served with a Regular Garden Salad, Texas Toast, and Hashbrowns.
March was a wash for the Grizzlies at 8-7, but now they're about to enter their most difficult stretch of the season: 12 games in 17 days, a back-to-back-to-back, and OKC, Miami and Dallas (twice!) before it's even Easter. These guys are going to need some sustenance. A ribeye steak dinner should do the trick.
#11. (5) Indiana Pacers [31-21]
Bowl of Grits
Smothered, Chunked, Diced, Peppered or Chopped.
Have you seen this year's Pacers team play? They've got grit. They've got grit by the bowlful.
#12. (18) Boston Celtics [30-22]
DOUBLE Angus Cheeseburger
1/2 lb.
I guess somebody told the Celtics the playoffs were coming, so they finally woke up. Turns out, it was actually a colonial re-enacter saying "the British are coming!" but it doesn't matter because they're awake now and they've won seven of their last eight. Grandpa Garnett is going to be so mad when he finds out he's not playing the British in the first round. Get that man a DOUBLE Angus Cheeseburger. That should calm him down. What's that? It's impossible for Grandpa Garnett to calm down? Get him the damn burger anyway. It can't hurt.
#13. (13) Philadelphia 76ers [29-23]
Kid's Waffle
Bacon or Sausage & Drink
For a while, it looked like the Sixers were going to run away with the Atlantic Division. Then Linsanity happened and the Celtics remembered they won a championship not too long ago. Now it's a full-on race for the division title and with a full month left, anyone could wind up on top. If Philly's young backcourt can keep it together, they could easily get a nice cushion between them and Boston in the standings. Since their youth is so important, they're getting something from the kid's menu this month.
#14. (17) Denver Nuggets [29-24]
Two TEXAS Biscuits & Sausage Gravy
What in the world is happening with the Nuggets? They can't seem to decide if they're good or bad. Right now, they're on the outside looking in on the playoff picture, but they're currently tied with both Utah and Houston for that last spot and if they could string a few wins together, they just might squeak into the first round. Kenneth Faried looks great and JaVale McGee is easing his way into the starting lineup. With a little more time together, the Denver big men could put up a serious fight. They're the two Texas-sized biscuits in the middle and making the playoffs would be (sausage) gravy at this point.
#15. (8) Houston Rockets [28-25]
Blueberry Flavored Waffles
Houston had a rough month. They went 7-10, gave up four out of five overtime games, and lost their leading scorer for half the month (and seemingly more). No Kevin Martin means significantly less points and that means the other Rockets are left scrambling to fill the gap like syrup filling the waffle divots. Every day they're wafflin'.
#16. (20) Utah Jazz [27-26]
TODDLE HOUSE Ham & Cheese Omelet
Breakfast with Sausage (or Bacon).
The Jazz have an embarrassment of riches when it comes to big men. Al Jefferson (healthy!), Paul Millsap (saving my fantasy team!) and Derrick Favors (tremendous upside!) are all making significant contributions on the court. They're like the powerhouse duo of ham and cheese in an omelet, but when one gets tired, you can just swap in young Sausage Favors. That's his new nickname: Sausage Favors. Use it as much as you possibly can.
#17. (16) Minnesota Timberwolves [25-28]
Sausage Egg & Cheese Sandwich
Dear Kevin Love,
It's funny that your last name is Love because every night before I go to bed, I tell my wife how much I love you. And her. But mostly you. I'm so happy that you're a Timberwolf and I can't believe I tricked you into re-signing love you with all my heart.
"Love,"
p.s. I got you this Sausage Egg & Cheese Sandwich to keep you warm.
#18. (15) New York Knicks [27-26]
Cheese 'N Eggs with Bacon (or Sausage) & Raisin Toast
The Knicks are as surprising as the stunningly good combination of cheesy eggs and raisin toast. They're a remarkable 9-2 since Mike Woodson took over for Mike D'Antoni and they even kept winning after Amare when down with a bulging disc. But now that injuries are piling up (see you next year, Jeremy Lin), I have to ask: are these guys for real? Nobody knows. No matter what, it's been the most interesting season for Knicks fans in years. Spike must be going to sleep smiling every single night.
#19. (23) Milwaukee Bucks [24-28]
100% Angus CHOP STEAK
Did the Bucks really give up Bogut to get Monta Ellis? The same Monta Ellis who seems like an older, slightly slower carbon copy of Brandon Jennings? I don't understand how this is supposed to work. Neither do the Bucks. It's all very confusing. Just like Chop Steak. Why would anybody order Chop Steak? Isn't it just a burger without a bun? Do people really order this? Anyway. Last month, the Bucks looked like they were getting on track. After the trade deadline, they just seem lost. Monta's starting to look like his former point-scoring self, though, so this next month will be crucial to see if Milwaukee can put it all together and wind up in the playoffs.
#20. (14) Portland Trailblazers [25-28]
TEXAS SAUSAGE Melt
Big drop in the rankings for Portland. That's what a 7-11 month will get you. It may have something to do with the recent firing of anybody in a position of power in the entire Blazers organization. Seriously, I think they even let the mascot go. Now Kaleb Canales is in charge and in honor of his Texas upbringing, we give him a Texas Sausage Melt. Enjoy it while you can, Kaleb.
#21. (22) Phoenix Suns [26-26]
5 oz. NY Strip
Truth be told, the Suns deserve to be higher than this. The only reason they're not is Robert Sarver, who ranks second only to Donald Sterling in "NBA's Most Hated Owners." Even with a killer record since the All-Star Break, it's hard to take a team seriously when they just lost their starting SF (RIP Grant Hill) and their point guard is about to embark on a career as the host of Canada's Got Passing Talent (unconfirmed). Like the feeling you get after ordering the sirloin at Waffle House, I'm just waiting for something to go wrong.
#22. (19) Golden State Warriors [20-31]
TEXAS Bacon Lover's BLT
No Monta no more. Probably no Steph Curry for the rest of the season. And a guard-by-committee approach that isn't working. Hey Mark Jackson, how's your rookie coaching season going? Want to get back to that broadcast booth? Maybe go to town on a TEXAS Bacon Lover's BLT during the commercial break? I bet that sounds real good right about now. Sorry, pal. You're a Warrior. Go to battle and turn this team around.
#23. (25) Sacramento Kings [18-34]
Biscuit
Close your eyes and imagine a world where DeMarcus Cousins is a grown-up. Where he gets along with teammates and coaches and strikes fear in the heart of opponents. Open your eyes. That world is not happening anytime soon. Sorry, Kings fans. Oh, and by the way, you might not be getting that new stadium  anymore. Here's a dollar. Grab yourself a biscuit from the DOLLAR menu. You can close your eyes again. It might help.
#24. (24) Detroit Pistons [19-33]
Garden Salad
As a tribute to my favorite doctor and Pistons fan, I'm not going to say anything bad about Detroit this month. Instead, let's talk about the only healthy thing on the menu at Waffle House: the garden salad. Okay, that's enough talk for now. For your health!
#25. (21) Cleveland Cavaliers [17-33]
GRILLED CHICKEN Sandwich
There's not much to be said about the Cavs that hasn't already been said. Kyrie Irving has lived up to the hype and seems to be a lock for Rookie of the Year. Anderson Varejao was supposed to be back in four-to-six weeks and we're now entering week 71. Antawn Jamison is doing good work, but now he might be hurt, too. Things are looking very Cleveland in Cleveland, if you catch my drift. They're like the grilled chicken sandwich because you're on a diet: you know what to expect and yet you're still disappointed.
#26. (26) Toronto Raptors [18-35]
3 Eggs
Served with Toast or TEXAS Biscuit & Jelly and choice of Grits, Hashbrowns, or Tomatoes
The Raptors have been #26 in the Food Republic NBA Power Rankings for the past three months. That's not laziness on my part. That's reality. They've been paired up with white chicken chili and a steakhouse baked potato. Now they're just eggs because that's what they lay most night on the court. They've lost six of their last nine games and DeMar DeRozan is averaging 35 minutes a game for the Big Red Dinos. The biggest question facing Toronto is who would win in a game: the Raptors or Denver? I don't mean the Nuggets. I mean the last dinosaur.
#27. (27) New Jersey Nets [19-35]
BACON CHICKEN CHEESE Sandwich
If the Nets want to cling to any hope at all, they can at least take solace in the fact that they're better than the Bobcats. They proved that by beating them three separate times in March and sweeping the season series 4-0. To celebrate, I'm giving them a bacon chicken cheese sandwich, because they need something to cling to considering they have nothing else to celebrate.
#28. (28) New Orleans Hornets [13-40]
Grilled Cheese Sandwich
Did you guys watch the Final Four last weekend? It totally took place in New Orleans. Pretty sad that the best basketball in New Orleans happened to be played by teams of college kids and not, you know, professional basketball players. Remember when Chris Kaman was an All-Star? It seems like just yesterday, doesn't it? No. It feels like a million years ago. As another throwback, these guys are matched up with a grilled cheese sandwich because that's everyone's favorite food when they're four years old.
#29. (29) Washington Wizards [12-40]
Side of City Ham
I really wanted to rank Washington higher after the trade deadline. By getting rid of both Nick Young and JaVale McGee, they admitted they had a problem and that's the first step in getting help. The problem is, they haven't improved since the trade deadline. They just dropped six games out of seven and there's a good chance the Ls are going to keep piling up. Acknowledging the problem is one thing. Getting better is something else entirely. They get a side of ham until they figure things out.
#30. (30) Charlotte Bobcats [7-43]
Hot Tea
When your point differential is -12.7 points per game, you don't exactly take the court with a winning attitude. The good news is, the Bobcats just won their first AAU tournament! The bad news is that Tyrus Thomas got banned from AAU ball for life when he leaped up onto the hoop and wouldn't get down when the ref asked him to. Now all the girls call him Hot T. Sad times in Charlotte.