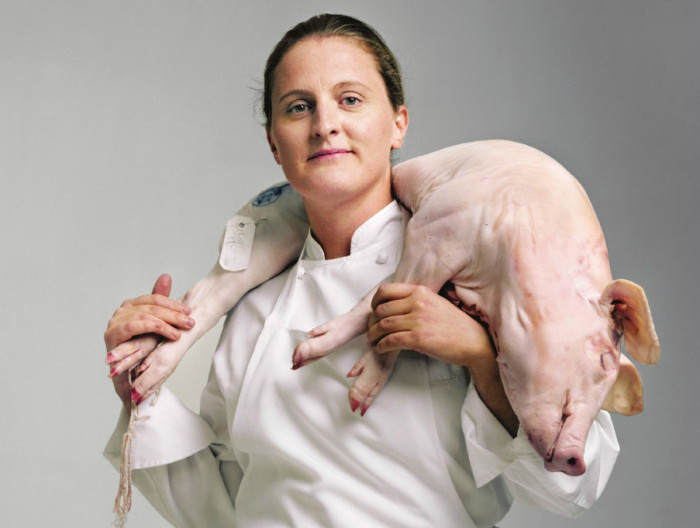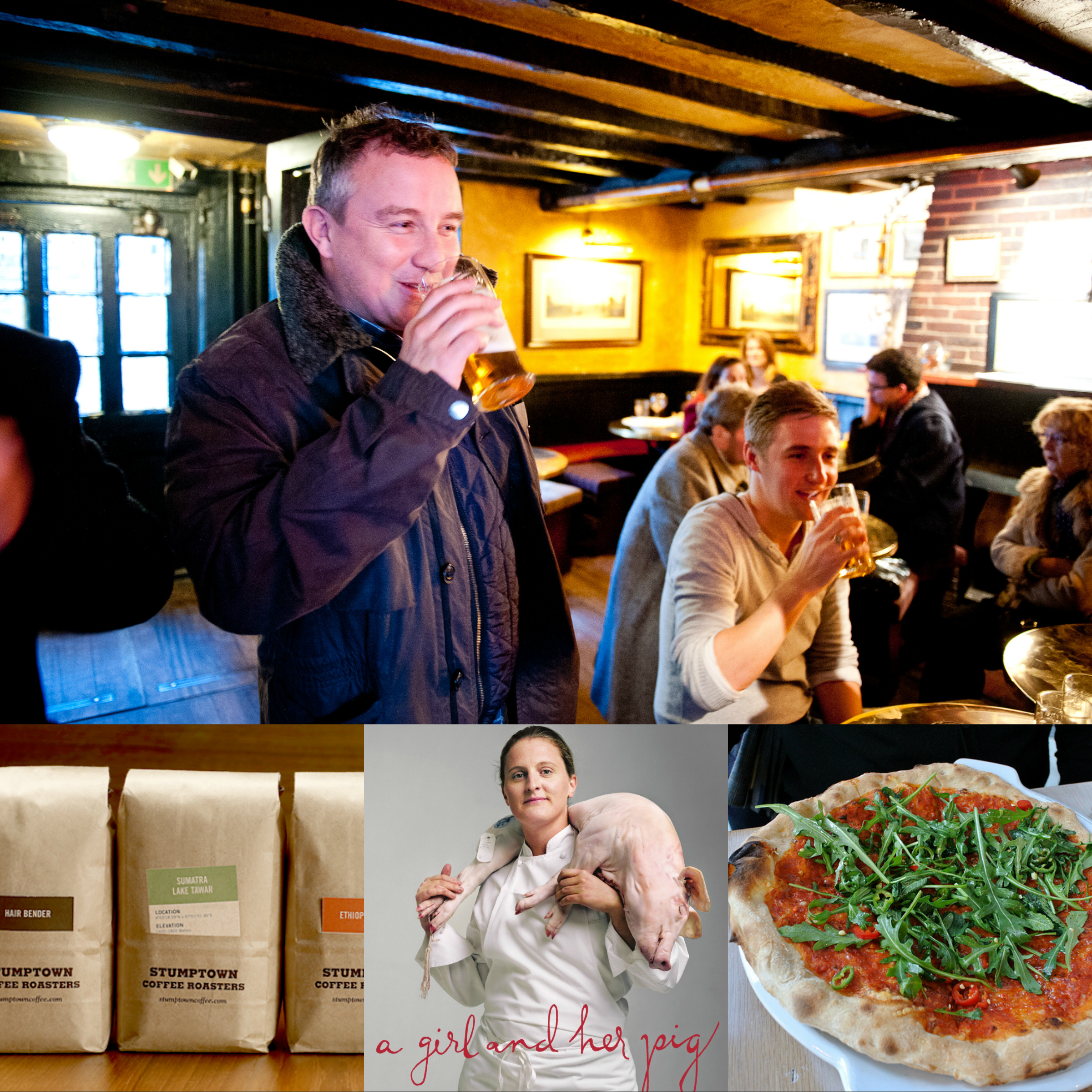 April Bloomfield is the chef and co-owner of a trio of hot-as-they-come New York City restaurants: The Spotted Pig, The Breslin and The John Dory. Each offer a dining-with-benefits experience—exceptionally flavorful and decadent cooking (pork topped with runny eggs seems to be a go-to prep), served in sharply designed dining rooms packed with celebrities of the screen and social web. The 38-year-old has done quite well for herself, with a glowing New Yorker profile and forthcoming cookbook in the can.
But when I phoned her last week, I didn't want to talk about all that stuff. Instead, I asked her to go back to when she was living in London several years back, rising through the ranks under Jamie Oliver and eating and drinking her way around the city. In a fun little exercise, I gave her several food/drink-related topics to see who does it best in London and New York City—and who does it better between the two. A delicate dance, indeed, with international incident written all over it.
Cocktails
New York: Employees Only. They make great cocktails there, all very fresh, seasonal and really tasty. I love the Ginger Smash. I can drink that like it's soda.
London: The last time I was in London I went to Quo Vadis. If you go upstairs there's a bar and it's quite a small bar and very intimate. It's kind of old school and they make great cocktails there. They're very classic and just really well made. Very precise. And I love the cocktail called the Martinez.
Advantage: New York
Dive Bar/Pub
New York: McSorley's on a Sunday. PDT for late night.
London: We used to go to this really old bar in London called The Dove. They do cask beer and draught beer and it's just really simple. There's one part of the bar where you get only two seats. That would be my number one spot.
Advantage: New York
Late Night
New York: Spotted Pig is quite good, isn't it? But I'm not going to go with that one. Koreatown is great because after a couple of beers you get an appetite and you can kind of just head out there and grab some spicy food. I like to order ssam.
London: I don't know that there is anywhere in London that you can eat late night. I think it's a dud. Sometimes curry houses are open late and that can be nice to eat late night.
Advantage: New York
Signature Food
New York: The bagels and lox and all the Jewish stuff like knishes. For a good knish I go to Yonah Schimmel. Russ and Daughters is really good for smoked fish and bagels. I like H&H too.
London: London has pie and mash and fish and chips. George's Portobello Fishbar has the best fish and chips. Also, F. Cooke's pie and mash shop.
Advantage: Tie
Coffee
New York: Stumptown is my New York go-to.
London: Monmouth Coffee in London is good.
Advantage: New York
Farms/Purveyors
New York: I can't really say because I haven't spent too much time in markets in England. Whereas in New York, Union Square Market is where local farmers travel 3-4 hours to get to the market three days a week.
London: Borough Market is quite huge and quite a popular market, but I think they also have a lot of people that go to the vegetable market and bring stuff back so I don't know if it's as much as roadside people traveling.
Advantage: New York
Craft Beer
New York: I like Sixpoint beers. They're still quite a small company. Brooklyn Brewery and Blue Point Brewery Co. are also nice.
London: I like Fuller's. They do craft. But there are so many. Also, Ram Brewery, these guys have been doing it a long time.
Advantage: London
Pizza
New York: My favorite here is a place called Mezzo, which is a simple pizza and it's really, really thin crust. Just kind of middle of the road and very consistent. Otto is really good too. They make a great pepperoni. And in the spring, I'm sure they start right now, they have a ramp and egg.
London: I don't have a favorite in London. Jamie just opened a new restaurant called Union Jacks and he has a pizza with chili peppers that comes with a side of lemony goat cheese. That's really good.
Advantage: Tie
Burger
New York: I like Bill's Burger.
London: I never order a burger in London.
Advantage: New York
---
Getting Pissed In London Week is presented by our friends at Beefeater 24.