Hawaii: Going On A Molokai Hot Bread Run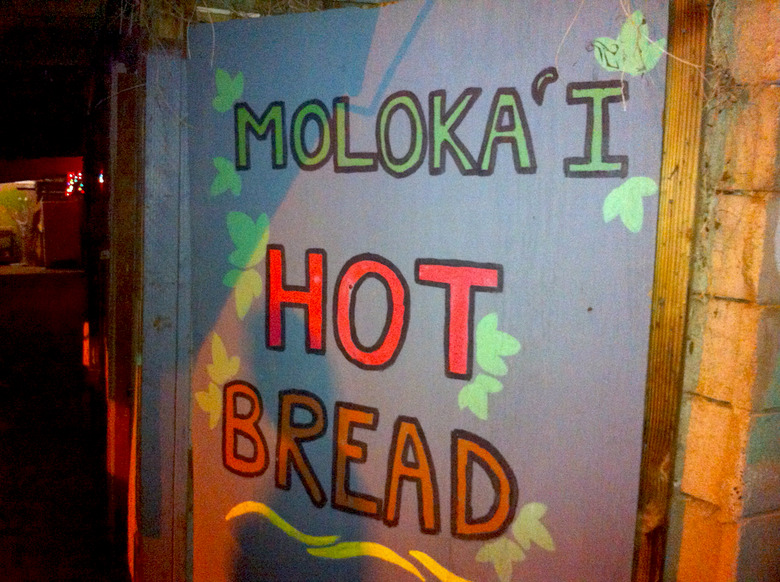 molokai hot bread
There's not much to do on the Hawaiian island of Molokai after dark. Sure, it's perfectly suited for daytime outdoor activities like birding and hiking and paddle sports. But when the sun goes down your options are pretty limited. And, really, it doesn't bother too many people.
With a population of roughly 7,000, and a distinctly laidback culture, there's not exactly a huge market for a thriving nightlife anyway. Only two establishments on the island even have liquor licenses, so the choice of where to go is not too difficult. You're either going to start out at Paddler's Inn or the Hotel Molokai. But no matter which bar you belly up to, there's a good chance you're going to end your night at the back of Kanemitsu's Bakery for the infamous Molokai Hot Bread Run.
Legend has it that Kanemitsu's used to be a bar itself, and to solve the problem of drunk patrons hanging around all night they started serving hot bread to soak up all the mai tais. The bar eventually gave way to the bakery, but the hot bread continues. Starting at 8 p.m. every night except Monday, islanders and visitors alike line up to place their orders for hot loaves of fresh bread slathered in butter or jelly or any combination of the five toppings that Kanemitsu's offers. It's the island equivalent of LA's post-club sidewalk danger dogs or the 3 a.m. stop at the diner that ends the night for bridge-and-tunnel Jersey kids.
To enjoy ultimate Molokai after-hours experience, start your night out with a Hula Punch at the Hotel Molokai. Listen to the live music, stare into the Pacific, and rest your weary thighs from the long mule ride you just took down to Kalaupapa. When that first Hula Punch turns into your sixth, you're finally ready for the bread. Get a ride into town (or stumble there — it's less than two miles) and look for the sign that says Molokai Hot Bread. Follow the sign around back through a dark alley, head under the hanging Christmas lights, and keep going past the huge mural of hibiscus (Hawaii's state flower).
That's where you'll find a hand-written menu next to an open window with a man inside wearing a backwards hat and sleeveless t-shirt. Customize your hot bread order to whatever sounds good to your drunken self at the moment and hand over your cash. In a few minutes, the bread man will pass you a plain plastic bag with your bounty inside. The whole experience is low-key and fluid, just like Molokai.
The bread itself looks like an oversized dinner roll that's been sliced open and filled with enough sugary sweet mess to keep a first-grader up for weeks. If you go with cinnamon and butter, the whole thing starts to resemble a family-sized Cinnabon. Pick strawberry and the cavity-inducing "creme-cheese" frosting, and you have yourself a mammoth facsimile of a glazed strawberry doughnut.
The filling is up to you, though, so take your pick of strawberry or blueberry jelly, butter, cinnamon, or the aforementioned creme-cheese (there's no explanation of why they spell it that way) and mix and match however you see fit. You get two toppings for $6.75, or throw in an extra dollar to get all five. No matter what you choose, you're now armed with a sweet carb bomb to fight the inevitable hangover in the morning. Just remember to wash your hands before you pass out — you're a Molokai Night Warrior now and warriors don't get jelly on their sheets.
---
More Field Reports on Food Republic: