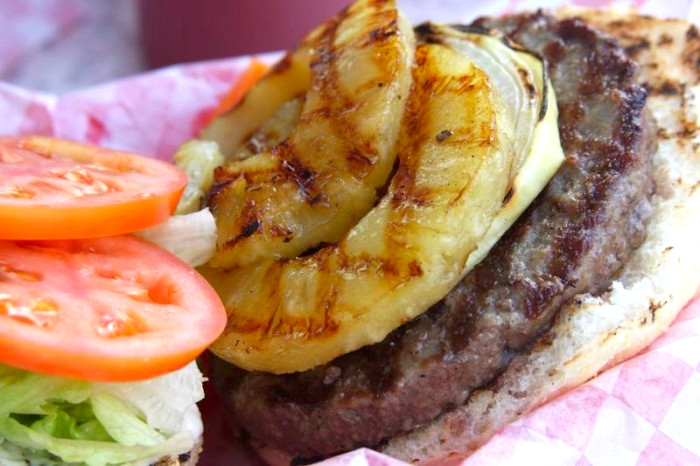 We've put a lot of stuff on a lot of burgers this week. Cheese, caramelized onions, other burgers. I tried to keep it fresh with veggie burgers, but failed because of all the meaty food porn currently occupying the recipe page. Then, to switch it up, I had a meatball sub. Now I'm back on burgers. But after all the thousand island dressing and bacon, I could use something to cut all the richness. Something sweet and acidic, like pineapple.
With barbecue season approaching, it's more clear to me than ever that pineapple and burger were meant to share the same grill. There are so many delightfully unwieldy things to top your burger: runny fried eggs, slippery avocado, slabs of goose liver, nests of shoestring fried onions. But the one that fits your burger perfectly and doesn't add any more richness than absolutely necessary for one's enjoyment is a perfect grilled pineapple ring. It welcomes condiments, loves bacon and just plain looks good.
Fruit on a burger may sound preposterous, but consider this: Chicago burger mecca Kuma's Corner soaks pears in bourbon and slides them onto burgers topped with brie, pancetta and caramelized onions. The Panther Burger, unofficial burger of the Carolina Panthers, is slathered with a tangy peach jam. One of the best burgers I've ever eaten came with fresh sliced figs and goat cheese. And I'm a better person for having tried all three.
Eschewing pineapple on your pizza is one thing (a stupid thing), but when one is finally slowing down from a week of digesting congealed wads of cheese, onions, bacon and mayo, a little Hawaiian vacation might just be the key.