20 Great Things To Eat And Drink In Ohio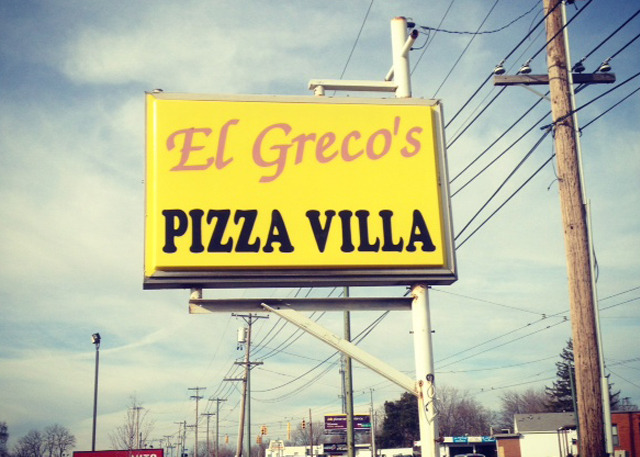 El Greco's Pizza
Though I've spent the last 11 years living in New York City, I can't shake Ohio from my bones. I was reared in The Heart of It All, as the motto goes, learning to love the Cincinnati Reds, Cincinnati Bengals and, above all, the Ohio State Buckeyes. In honor of the basketball team's trip to the Final Four, here are 20 foods, drinks and restaurants that make the state so great.
Based in Columbus but quickly becoming a national brand, Jeni's traffics in madcap flavor combination that'll leave you licking a spoon. Think: goat cheese with cognac figs, cherry lambic sorbet, whiskey and pecans, and salted caramel.
2. Cheese Coney
The pride of Cincinnati consists of hot dogs about the size of your middle finger, served on a steamed bun and topped with onions, cheddar cheese, a racing stripe of mustard and a ground-beef chili that's by turns tangy and sweet. Chocolate may be a covert ingredient, though no one's spilling the secret.
3. Buckeyes
Ohio's unofficial state candy consists of peanut butter balls dipped in chocolate, which resemble the nut of the buckeye tree.
Yellow Springs is a liberal enclave known as the home of Dave Chappelle and Antioch College, as well this wonderful female-run restaurant. It's been a seasonally focused, farm-to-table destination long before those became buzzwords.
Who says you have to head to the South to gnaw on fab fried chicken? This old-time brick restaurant in Athens, Ohio, makes chicken sandwiches as juicy and crispy as anything sourced below the Mason-Dixon Line.
6. Great Lakes Edmund Fitzgerald Porter
Since 1988, the Cleveland-based brewery has crafted some of the state's best brews, including this generously hopped porter with plenty of java and bittersweet-chocolate flavor.
Perhaps this is nostalgia talking, but every time I return to Dayton I dine at this carpet-walled, Christmas light–lit dive that specializes in the union of Greek, Italian and Mexican cuisine. Get the hard-shell beef tacos, topped with green onions and provolone.
While the meats at this third-generation, family-owned butcher can't be beat, better still are the breads. The best of the bunch is the rolled cinnamon bread, a rich and sugary way to start any day.
Based in leafy, scenic Athens, Ohio, Jackie O's makes some of Ohio's finest rustic, barrel-aged and mouth-puckering sour ales. Pair the beer with pizza made from spent brewing grains.
10. Goetta
If you're a carnivore anywhere near Cincinnati, you're dining on goetta for breakfast. The German-inspired delicacy is made of steel-cut oats and ground pork (or beef and pork). It's sliced thin and griddle-cooked till good and crispy.
11. Watershed Gin
This Columbus distillery's flagship gin is an aromatic delight. It's feather-light and super-smooth, with notes of juniper berries, citrus peel, cassia and coriander.
Dating back to 1938, this Cleveland-based meat purveyor makes nearly two dozen different brats and sausages, from wine and cheddar to a spicy Italian style blended with sweet and tart cherries.
13. Rockmill Brewery
The farmhouse-style brewery specializes in superb, Belgian-style ales like a malty Dubbel, sweet and strong Tripel, cloudy and fragrant Witbier and, our favorite, the refreshingly spicy Saison.
14. Tip Top Kitchen & Cocktails
Columbus restaurateur Liz Lessner has a mini-empire of funky eateries and saloons that focus on comfort food, quirky cocktails and great beer. Our favorite eatery is Tip Top, which has Columbus-themed cocktails (the Bus-Town Julep incorporates Ohio maple syrup), draft beer (hoppy Columbus Pale Ale) and fun eats like eggplant fries and pot roast on a pretzel roll.
Situated right beside Lake Erie, the fish shop specializes in fillets of local lake perch that are fried to a snappy crunch and stacked up in a hamburger bun.
16. Tony Packo's
Hungarian fare reigns supreme at Toledo's Tony Packo's, which since 1932 has doled out stuffed cabbage, chicken paprikash and, most famously, hot dogs served with onion, mustard, proprietary chili sauce and plenty of pickles.
17. Lolita Burger
Iron Chef vet Michael Symon's cozy, stylish Cleveland restaurant turns out one of the top burgers in Ohio, if not the Midwest. Cocooned inside a toasted English muffin is a chubby disc of nicely charred beef topped with aged cheddar, vellum-thin onions, crisp bacon and a fried egg. It's messy perfection.
18. Weasel Boy Brewing Company
At February's Cincy Winter Beerfest, some of my favorite brews were from this small brewery located in Zanesville, located in central-eastern Ohio. The winning brews include the Barrel-Aged Brown Stoat Cherry Stout, White Weasel Wheat Ale and the Dancing Ferret IPA.
19. Pawpaw
In southeast Ohio you'll find America's largest tree fruit, the pawpaw. It tastes like a creamy trip to the tropics and was George Washington's favorite dessert. The fruit is feted every year at an annual Ohio pawpaw festival.
20. Middle West Spirits Oyo Whiskey
The Columbus distillery specializes in superb flavored vodkas (honey and vanilla bean, stonefruit), but the whiskey is a wonder. Made with red winter wheat, the smooth-sipping Oyo has beguiling notes of cinnamon and smoke.