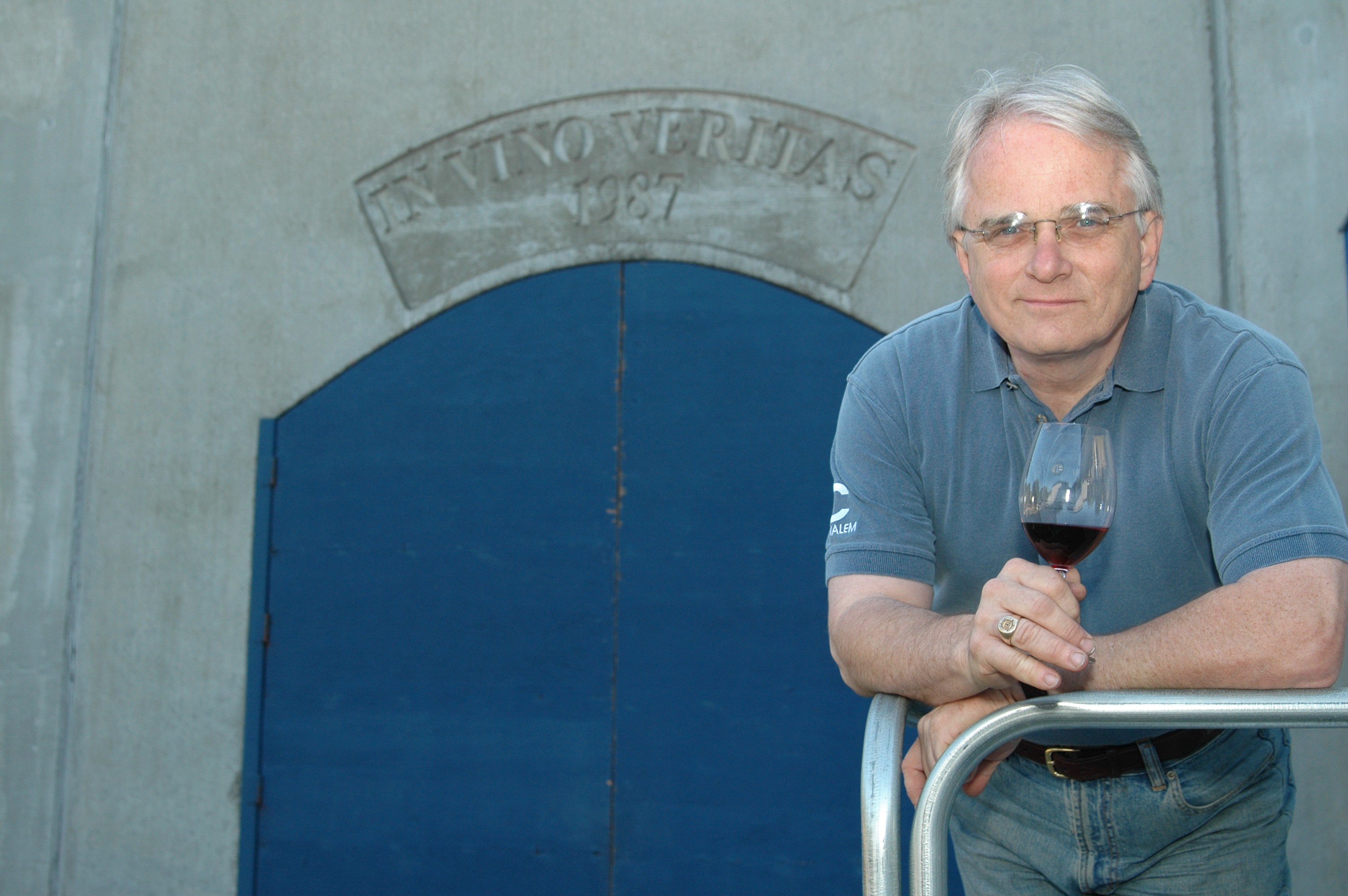 Way out west in Oregon, Harry Peterson-Nedry has been overseeing his Chehalem wines since 1990—back when most people looked at the lush, rolling, rain-soaked hills between Portland and the coast and shrugged their shoulders, popped their umbrellas and went about their business. A self-described science geek, he saw the possibilities of winemaking in this under-appreciated land, ran with it, and was among the trendsetters who helped turned Oregon into one of America's winemaking capitals.
Here, the affable Peterson-Nedry schools on us a number of things, from his own Chehalem wines to the difference between Willamette and Russian River valley Pinot Noir to why winemakers need to be more eco-focused to why Oregon wines are so great for food pairing.
Pinot Noir has become the breakout varietal of Oregon wine. How has that helped or hurt you?
Most of the new people come in because of Pinot Noir. Over half of what we make is white wine. But white wines don't impact the same way as Pinot Noir does from a cool climate. I think a lot of people are unwilling to pay quite as much for white wine as for red wine. So when you try to make sense of the economics, you try to get as much from a dollar standpoint from the effort you put in. The average size of vineyards in Oregon is 24 acres. They aren't huge, so you can't have the economy of scale like you might in quite a few of the valleys in California.
I recently tried, and enjoyed, Chehalem's Three Vineyard Pinot Gris.
Pinot Gris is the number one white variety out here these days. I personally love it and we do a great job with it, but if I had one white wine to make, it would probably be Riesling. Because Riesling is in my opinion the white wine equivalent of Pinot Noir. It has great acidity and is a perfect food wine. Some of the Rieslings we are making today, I don't doubt that my grandchildren will open them up when they're 40 years older.
Riesling can mean very different wines depending on region. What are some of the Oregon qualities when it comes to Riesling?
In general Riesling from Willamette Valley is usually dry to medium-dry. There is a full range into sweet stuff but it's largely in that category. For example, we make a semi-sparkling Riesling like a Moscato d'Asti and that is very entertaining.
Let's talk a little about the sustainability program.
Yes, sustainability has been a mantra from the beginning from Oregon. Most of the people came here not to Napalm the land, like living-through chemistry approaches. Most of the people came here wanting to get away. We for years have been very light on any chemicals that might damage the environment in any way, so there was a program that began like 15 years ago, LIVE, or Low Input Viticulture & Enology, driven from a semi-organic perspective. We have bona fide organic vineyards, we have bio-biodynamic and LIVE-certified. Most of us do certify through a third party agency—not using sprays or organic compounds that hurt things. And then to put these under one umbrella, the industry began essentially an umbrella certification. Oregon-certified sustainable. And that actually goes on many of our labels from wineries in the Willamette Valley and the rest of Oregon.
"As winery and as individual and as industry, we're canaries in the coal mine as far as climate change is concerned."
Why is a commitment to the environment important to you personally?
On a personal level it is what hasn't been done very well by the human race, and it needs to be reversed. If we're damaging water sheds and shipping wine in bottles that are twice as heavy as they need to be to hold the contents and are paid in extra shipping costs and extra CO2, it's not good for anybody. We as winery and as individual and industry, we're canaries in the coal mine as far as climate change is concerned. We see the differences in vintages based largely on climactic changes. If we can't respond to it then that's not a very positive picture on what the human race is going to do.
This winter was really mild in the East. Is this just a weird year or is affecting you out West too?
Well, I think every year is unique. I guess we're having a lot more extremes. Well over 13 years ago I went to the Cool Climate Viticulture Conference and I was smacked between the eyes with the predictions of what would happen. One of the summaries that they had, the climate scientists, that it is in general going to be a warming of the earth, but specifically it would mean there would be a lot of extremes. Things that were not regular, nor normal. I think that's what we're seeing now. We're seeing that warming by going up to very hot temperatures in 2003 and 2004 and 2006—and I'm talking Oregon and grape-growing. Then, 2010 and 2011 were the two coolest years we've ever had in Oregon. 2003 was the hottest. 2004 was the second. We're going from extreme to extreme just in the last decade.
How has that been for your wine? And which years are really interesting to you as a winemaker?
I'm glad you used the word interesting. One of the growths of the Oregon industry is in technical knowledge in the vineyard, and in the wine that it allows us to do. We can make wines that are sound, good and excellent every year no matter where the climate is; Mother Nature can be totally capricious. And technology that we now have—knowing what to do out in the vineyard that's going to be hot as fire or cool and not very ripening—we can still make dynamite wines stylistically. They are different.
What about expectations for Oregon wines?
I think part of the expectations is that we're a cool climate. We're leading other regions in understanding. California in 2011 had a lot of rainfall and we know how to make wine in those years because we see a lot of it. We were giving a lot of tutorials to California winemakers in how to cope with years like that. One of the messages going out is, "Hey, you won't believe how good the wines are from years like this." We had dynamite years in 2010 and 2011, so long as we used the technologies available.
What about availability of your wines. Has it been difficult to break into the system and to compete with the big daddies of California?
Not really. We're in something like 47 states and about seven or eight countries. We sell wine in Germany and France and we basically sell out in a lot of different places. Competing against California, I think we are seen rightfully as being different. We aren't making the same wines as most of California.
Can you talk about the difference between Russian River and Willamette Valley Pinot Noir?
I think the answer is it's cooler in the Willamette Valley. It still is warm enough to ripen satisfactorily. The difference is that as you get to cooler climates, it's great acid structure and bright fresh fruit. As you go warmer, the acids are down and they are softer and broader on the palate, and the fruit is more like cooked fruit, more like jam. That's how I would describe it.
"We're actually celebrating 20-plus years of the Chehalem brand and we're transitioning to a new label and packaging style. It is still us, but at the same time kinda celebrates our nerdiness and our specific focus on the dinner table."
So what's next for Chehalem?
We're actually celebrating 20-plus years of the brand and we're transitioning to a new label and packaging style. It is still us, but at the same time kinda celebrates our nerdiness and our specific focus on the dinner table. It's a little bit of a journal—individual descriptions by us and a lot of nerd data and general sense of what this might pair well with. That's one of the things we're rolling out this year. We're continuing to focus on some varieties and making special wines out of them. To the point we might be reducing volumes even if we have to raise the price them. We're trying to make world class representations of the varieties we're growing. The Sekt or semi-sparkling Riesling, reserve Pinot Gris—all of that is exciting to us.
What about for the labels, as far as the graphic design. What are you doing exactly?
We're basically staying an art-based label and we for years had a single artist. Now it's photographic art, so we focused on a single photographer who is doing some nice color-focused and almost abstract art. Still noticeably in the vineyard, with vineyard workers in the winery. It tells the story of what's in the bottle and it varies year to year. The story will change based on the vintage.
So when are those on the market?
The first will go on the market in April and first of May.
Some of the nerdiness that will be on the labels, it'll be like the science of making wine?
Sometimes alluding to the science, and some people really want to see what percentage of new oak is in a Pinot or Chardonnay; what the residual sugar and pH levels are. Those things we're not going to back away from.
What about from the pairing perspective. Why are you equating your wines with food?
Mainly because that's where wines—at least from cool climates—show especially well. We make wines that are bright because of the acid they have in them. The acidity allows them to pair with a lot of different foods, so higher acid wines are better food wines. And especially the subtle and lower alcohol. That allows the wine to be drunk complimentary to the food and not overwhelm the food.
A lot of people are familiar with the Oregon Pinot Noir and salmon pairing. What are some others?
Crab bisque or corn chowder with our reserve chardonnay. Sausages with Pinot Gris or Riesling. A high fruit dessert might go with Moscato d'Asti like Riesling. I think some of the heated and spicy cuisines go exceptionally well, because of the acidity, with the Riesling and Pinot Gris.