Michael Chiarello: This Guy's A Charmer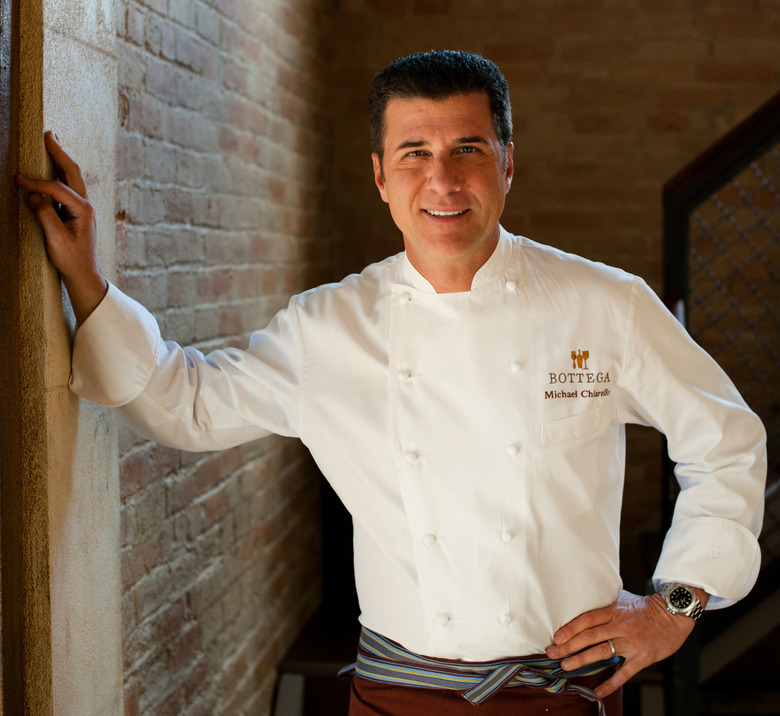 I'm trying something a little different this week for Heart Attack. Instead of a straight-up column, I decided to interview Michael Chiarello about his thoughts on food and love. After watching him compete on Top Chef Masters and The Next Iron Chef, it's clear right away that the guy's a charmer. So he seemed like a perfect choice to dispense some chefly advice.
We sat down a few weeks ago at his incredible Italian restaurant Bottega in the heart of Napa Valley to tackle everything from cooking on the beach to the sex appeal of whole roasted sea bass.
Bottega's a pretty romantic spot. Do you guys get a lot of couples coming here?
Yeah, we have a lot of proposals. I've seen a lot of rings.
Like one per week?
Maybe one every other week. In the summer, maybe every week. Lots and lots of anniversaries. Really sweet anniversaries where people make Bottega the culmination point—or they'll do a one-two punch where they'll do the [French] Laundry on Friday and Bottega on Saturday. So I think there's something magical about this space. It's kind of sexy and evocative.
If you're taking your wife out for the most romantic night ever, what does that entail?
If I was picking, it would probably be something like Kokkari. It's a Greek place. A beautiful, sexy spot. Really lush with food eaten out of hand. There's a lot of feeding each other there. The lamb, the hummus, the Greek wine. There's something about the Greek Islands. No undergarments and light, white wear on top and consumption all around.
There's nothing sexier than saganaki. That's what I always say.
Exactly! And if she was to pick a spot, we'd probably go on Claude Lane to a restaurant called Gitane. It's kind of upstairs and sexy. It's in an alleyway that's got four or five French restaurants in it. It really is kind of Left Bankish. You could be anywhere in the world.
---
"I think lamb smells sexy!"
On the spot, name a sexy food.
Lamb is very sexy. I think it has a... It's like how chocolate has that kind of pheromone release? I think lamb smells sexy! When I proposed to my wife, it was in the vineyards, so you can imagine it was a full moon, vineyards, bonfire in the middle of the vineyards. There were some candles on the in-posts. So as she pulled in there, there was a little note that led her. There was a bit of anticipation. A magnum of Krug on ice. Oysters, which we popped and fed. Lots of those kinds of hand foods laying around. It's not about presents, it's about presence. Being present. Being present with each other and having that time. No bother by anybody. Just the chance to fall in love again. I think in our crazy lives, you have to make time to fall in love again.
When you're creating the menu for a sexy meal, what are you looking for?
We're looking for not just the consumption, but a meaning. If there was a dish from a place that you traveled to. I did this fire, a whole roasted sea bass. We were actually in Brittany. We had this super romantic meal in France—sea bass roasted in fleur de sel, full crust, broken open and it was just amazing. A late harvest olive oil drizzled and that was it. A chablis. And that was just perfect. And it was a walkout to the moon into the ocean. There are those recreations of meals that have memories. That's where I would go with the menu.
Kind of like a greatest hits?
To tell a story through your meal and to let food help you re-enjoy the times and places that you fell in love, wherever they may be. The menu itself doesn't have to come together as a culinary triumph. This is where the flavor is more important than the taste.
Bottega Napa Valley

6525 Washington St.
Yountville, CA, 707.945.1050
---