Josh Ozersky's Last 5 Burgers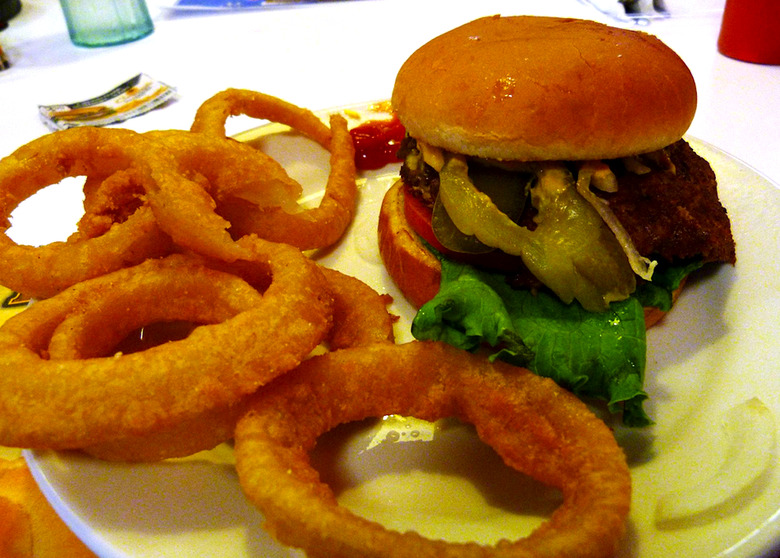 steak n shake
We may receive a commission on purchases made from links.
If you really want to know where to eat a burger in New York City, wrestle your finger away from the Yelp app and gather 'round. Celebrated writer on all things meat and all-around burger expert Josh Ozersky shared his last 5 burgers of note with us (the information, not the burgers themselves). Rather than greedily hoard this knowledge, we're sharing it for your convenience along with his 5 tips for cooking burgers in cast-iron skillets. Great burgers belong to everyone.
I enjoyed the King Burger. Fran Derby just left, so I don't know if it'll continue. Excellent, if oversized. I was generally very impressed with its opulence.
Excellent burger at Marc Forgione, which managed to simultaneously be very loose and also very crispy in the way that made me think it had been confited in suet or something.
The Signature steak burger. Usually bigger is worse when it comes to burgers, but this is a spectacular piece of work.
I had a burger on a challah roll at Burger Club in Astoria which was just outrageous, worth the trip to Queens. I just got it with American cheese and no toppings, as I always do. I never do toppings.
Black Market
It was a more robust version of the Shake Shack burger, aggressively salted and served on a potato bun. But the blend is a little more robust than Shake Shack. People don't know it, but Nick Solaris, who had a hand in A Hamburger Today, was the spiritual godfather of that burger because he and Johnny T go way back.
Follow Josh Ozerky on Twitter at @OzerskyTV, and don't miss his book The Hamburger: A History.