How To Build A Home Cocktail Bar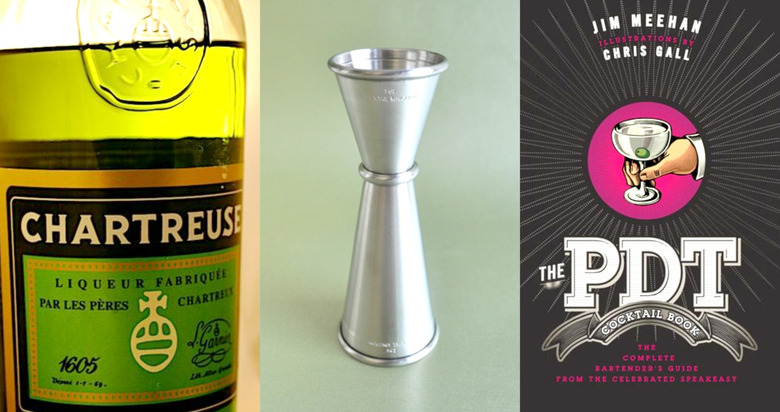 Here's everything you need to be the best home bartender.
We may receive a commission on purchases made from links.
When it comes to cocktails, Simon Ford is the guy to know. After earning a Wine and Spirits Education Certificate in the UK, he went on to work for Seagrams and now holds the heady title of Global Spirits & Cocktail Brand Expert for Pernod Ricard USA. For real, it's on his business card. In Simon's weekly column, Drink Ford Tough, he tells you everything you ever needed to know about the art of the cocktail. And how to drink better.
The appeal of a high-end bar is obvious — you have the finest bartenders in the city creating drinks using the finest ingredients. But before you know it, it's 3AM and you've spent north of $100 and haven't even eaten dinner. So for the novice, or even the burgeoning cocktail pro, establishing a solid home bar will save you money and allow you to show off your skills to your friends.
My first bit of advice for building a bar is to source your barware from where the professionals buy it. The website Cocktail Kingdom is a great source. If you're in New York, I would suggest going to Bowery Kitchen Supply in Chelsea Market. Your goal with this barware is to have all the equipment you need to make any shaken, stirred or muddled drink that comes at you. Start with the essentials:
Shakers: You'll need a three-piece shaker or, if you're feeling professional, the Boston Shaker and glass set. With a Boston shaker set you can make two, maybe even three, drinks at a time—and there's more room to really shake ingredients up. It's simply more efficient and it is what the professional bartenders use. With the Boston shaker set, make sure to be gentle so you don't break the glass. All that's required is a gentle tap on the tin.
Jiggers: This is essentially the bartender's measuring cups. Every recipe you'll find online, in a good cocktail book or on this here website, will refer to the jigger. A good place to start is with one 2 oz / 1 oz jigger and one ¾ oz / ½ oz jigger.
Mixing Glass and Bar Spoon: I suggest the Japanese Yarai mixing glass because it's both stylish and durable. For the bar spoon, buy any one that strikes you. Here's a nice one.
Strainers: I would advise you to get two types of strainers — a Hawthorne Strainer for use with the Boston tin and a Julep Strainer for use with a mixing glass.
Muddler: Round out your collection with a muddler to use for crushed fruit drinks such as the Caipirinha. With these items, you'll have a good amount of equipment to get started.
Ice: Get an ice bucket and scoop, because ice is truly one of the most important ingredients in a cocktail. (More on that topic in a later column.) You can buy ice molds for giant cubes, which is great for serving neat whiskeys or a stirred cocktail that is on the rocks.
Glassware: A nice simple setup is to make sure you have cocktail glasses (which most people call martini glasses), highball glasses and old-fashioned glasses.
Now onto the topic of spirits. This is very important. You shouldn't feel like you have to buy everything at once. Buy a bottle a week, or one a paycheck, until you have a nice cabinet. Build a relationship with your local liquor store owner. What you want to end up with is a wide selection of base spirits (such as gin and vodka) and modifiers (such as triple sec and Campari).
Consider the base spirit as the heart of any cocktail. It's like the steak in a steak dinner. I would suggest you begin with the following:
Vodka: Luksosow Polish Potato Vodka or Absolut Vodka from Sweden, which is an iconic benchmark brand made from grain.
Gin: Perry's Navy Strength from the New York Distilling Company or Plymouth Gin (which was used in the first dry Martini).
Whiskey: Start with a rye and then build your collection from there. Rye is certainly the most mixable of the whiskies, but you'll also want to have bourbon, Scotch and Irish whiskey on hand as well. Bulleit Rye is a good place to start. If you really want to treat yourself, try the Thomas Handy Rye. Jameson Black Barrel is an Irish whiskey that has the classic Jameson's smooth taste but with extra flavor from the charred wood to give it that kick in cocktails. Makers Mark bourbon is a standard great choice of bourbon and Chivas Regal 12-year old is a good Scotch for cocktails. Save the single malts for sipping and use this in your Rob Roys and Blood & Sands.
Tequila: Make sure you always buy a product that is 100% Agave. If you want to treat yourself, go with Ocho, which comes out with a different vintage every year, or for a lighter, smoother tequila try Avion.
Rum: Banks Rum is a diverse golden rum good in most classic rum cocktails such as the Mai Tai and the Daiquiri. Smith & Cross Dark Rum is what it says—a traditional Jamaican rum.
Cognac: Merlet Cognac Brothers Blend (a good mixable Cognac) or Martell Cordon Bleu (great served in digestive drinks).
Modifiers: Think of these as the supporting role in a cocktail. A good place to start your collection is with Campari, sweet vermouth (Martini or Dolin), dry vermouth (Noilly Prat or Dolin Luxado Maraschino), Green Chartreuse and Triple Sec/Curacao.
Bitters: The final thing to keep in your home bar is bitters. These will make you look really professional and are considered the "seasoning" to cocktails. To start your collection I suggest Peychauds, Angostura and Orange Bitters.
Books: Lastly, buy a cocktail book and get to mixing. You don't have to go crazy, so just buy one. Some greats include: Robert Hess' The Essential Bartender's Guide, Dale DeGroff's The Craft of the Cocktail, and, if you're feeling ambitious, Jim Meehan's The PDT Cocktail Book.
Now, all you need is some lemons and sugar. And guava, mint, cucumbers and blood oranges. Fruit, another topic! I look forward to telling you all about it.
---
You can follow Simon Ford on Twitter: @SimonJFord. And a hearty congrats to Rick Dobbs for naming this here column. Good one! As a reward, you will receive an Absolut bar kit, compliments of Pernod Ricard.