In Defense Of Veggie Burgers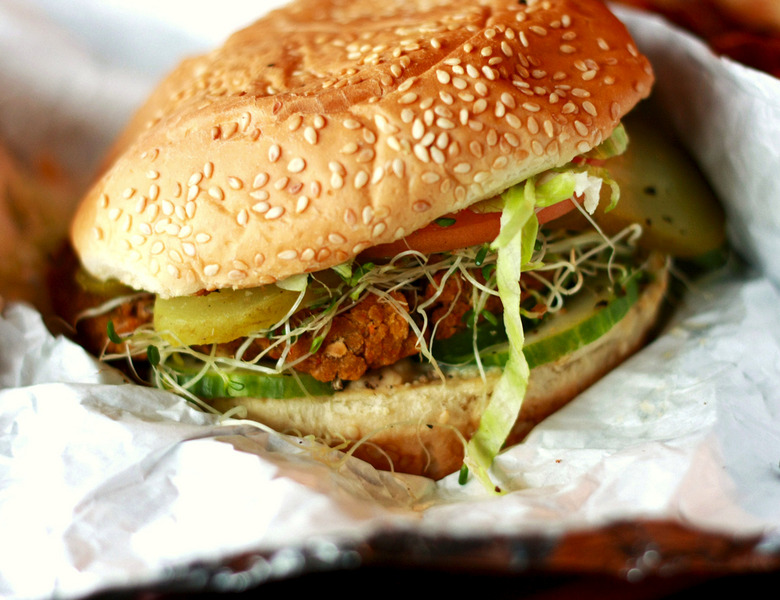 veggie burgers
I may not agree with your decision to order a veggie burger, but as a food writer and general enthusiast I will defend with my life your right to eat one. I guess that sort of attitude defeats the purpose of vegetarianism, but hey, I'm not a vegetarian.
That said, that psychosomatic thing that causes me to crave raw meat after reading The Hunger Games has apparently deactivated itself. Here's me in the Food Republic Test Kitchen. The chick in the ill-fitting apron in the back, not the dude with the camera. See what I'm doing there? I'm wrist-deep in lovely, fresh ground chuck from Dicksons Farmstand Meats. I played with that stuff all day. It was awesome. And now that we're finally posting the salty, fatty, delicious fruits of our labor, the patty I crave is made from some kind of legume. Black bean, perhaps. Or a big falafel. Nothing with fillers, fake meat or that came frozen, wrapped in cellophane.
Some kind of creamy topping is necessary, like tzatziki, tahini or homemade mayo. Possibly even Dijonnaise. I may or may not add sprouts, I mean, they might kill me. Who's food's scary now, vegetarians? (Ours still, I know).
The more I think about it, the more a fish burger seems like the way to go. Marcus Samuelsson loaned us his crab burger recipe, which I highly recommend. Oh no, I'm teetering. It's not Meatless Monday, there's no safety net! I'm wrapping up our Test Kitchen Bacon Cheddar Burger soon and...yup, veggie burger craving went away. Oh well. I'm going to locate me some Maillard reaction action and save the veggie burgers for those who won't flake out as soon as meat hits skillet.
Sate your veggie burger craving:
And if it suddenly disappears on you: