Guide: Craft Distilling In San Francisco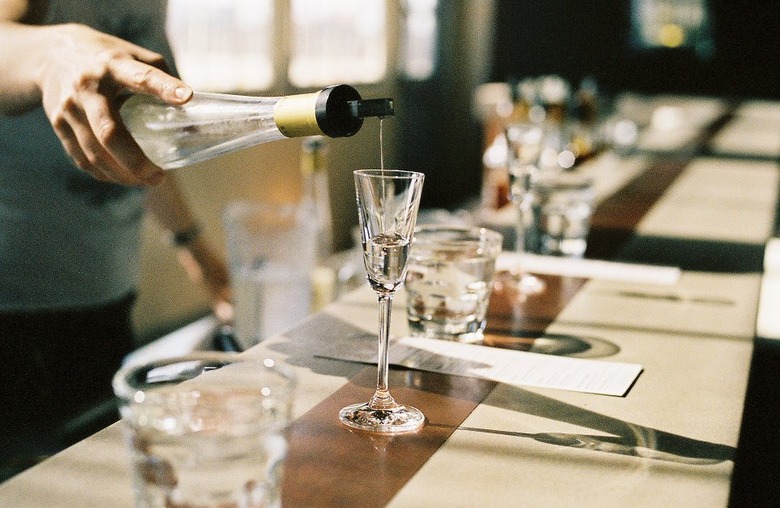 Craft distilling SF
There's a revolution underfoot in America and it's pungent and wet and slightly oaky. While traditional bourbon manufacturers have long called Kentucky home, San Francisco has built a reputation over the last few decades as the unofficial epicenter of this blossoming craft distilling movement—whose impact is seen everywhere from the revival of classic cocktails to the handsome whiskey-sipping ad men on TV.
Craft distillers such as Anchor and St. George Spirits have been producing some of the more interesting small batch distillates for years, while a handful of other new shops have popped up, concentrated in the Bay Area.
This weekend, 1,200 whiskey fiends converge on the city for the 13th annual Whiskies of the World Expo. Attendees will sample from over 200 expressions of spirits and meet the distillers who craft them. Jonathan Wingo, one of Forbes' 30 Under 30 in the Food & Beverage Industry, runs Brooklyn's The Whiskey Shop, and gives us the expert's take on where to visit:
In 1993, a time when rye whiskey was unpopular, Fritz Maytag started an in-house distillery at his microbrewery Anchor to produce Old Portrero rye whiskey. "Anchor is very interested in reviving old recipes that reflect original or period-specific whiskies," says Wingo. Rye was all but dead in the mid-'90s, with more affordable corn being used for bourbon. The reason Anchor decided to begin production? "Rye is our founders' whiskey," explains Wingo. Nuff said. Try this: Old Potrero 18th Century Style Whiskey; Junípero Gin made by hand in the classic distilled dry gin tradition; Hotaling's Whiskey in commemoration of the 1906 San Francisco Earthquake and Fire. 1705 Mariposa Street, San Francisco, 415.863.8350
The Rudd family had long been in the food and beverage business (they own Dean & Deluca and Rudd Oakville Estate Winery), and set out to craft the finest gin possible. Rather than the expected juniper note, 209's eponymous gin hits the palate with citrus and floral aromas. Try this: The herbaceous No. 209 Kosher-for-Passover Gin, the only certified Kosher-for-Passover gin we know of. Pier 50 Shed B / Mail Box 9, San Francisco no phone
Well before micro-distilleries started popping up everywhere, St. George was focused on the artisanal process of distilling small batches as well. Tour the decommissioned naval base they've been working in for 30 years to sample boutique whiskeys and Hangar One Vodka in the sleek, newly renovated tasting room. "The creativity of founder Jörg Rupf earned him nominations the past three years for the beverage world's highest accolade—the James Beard Foundation's Outstanding Wine & Spirits Professional award. St. George's imaginative Lance Winters and Dave Smith have distilled ingredients like agave, wasabi, mushrooms and goose liver; Winters was tinkering with absinthe before it became legal here," says Wingo. Try these: Hangar One Vodka; St. George Single Malt; Breaking & Entering Bourbon. 2601 Monarch Street, Alameda, 510.769.1601
Started in 1983, Charbay carved a name for itself by distilling small releases of spirits (vodkas, rums, whiskey, pastis, liqueurs), wines, ports and—tequila! Wingo says the whiskey program operates under the "simple principle that great whiskey should come from great beer. They didn't shy away from distilling a completely finished beer, hops and all. It's not the greatest value in the world, but it's an eye-opener to the spectrum that can be achieved in whiskey."
Take a tour of the family-run operation (they're on their 13th generation of winemakers and distillers) to sample whole fresh fruit-flavored vodka, brandy, grappa, award-winning brandy and straight whiskey. Try this: Charbay Whiskey II, the second release of a highly original distilled hopped beer made in pot stills with a very limited run. 4001 Spring Mountain Rd., St. Helena 707.963.9327
American Craft Whiskey Distillery
Further afield in Mendocino is the home of Whiskey Advocate's Artisan Whiskey of the Year: Low Gap Whiskey, distilled from malted Bavarian hard wheat, an un-aged clear whiskey, otherwise known as moonshine. "People talk about them in hushed tones, or as a reverential benchmark," says Wingo. "They own the url CraftDistillers.com and it's no accident. They're the OGs of the craft distilling movement." Try this: Low Gap Clear Wheat Whiskey 1110 Bel Arbres Rd. #D, Redwood Valley
---
More drink coverage from Food Republic: