NC: Pork Chop Sandwich At Snappy Lunch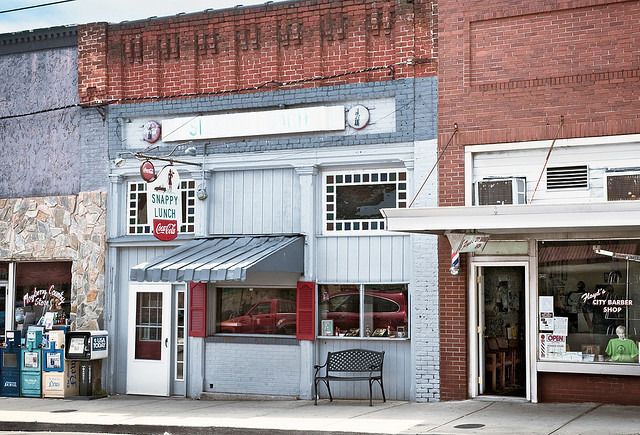 The sleepy little North Carolina town of Mt. Airy is best known as the inspiration for Sherriff Andy Griffith's fictional hometown of Mayberry. The local chamber of commerce is not afraid to play up that fact, with an annual "Mayberry Days" festival and tourist attractions like Floyd's Barbershop, Aunt Bea's Barbecue and Opie's Candy Store. But even if the Andy Griffith Show had only lasted on the air as long as Cop Rock, Mt. Airy would still have a strong claim to fame thanks to Pork Chop Sandwich at Snappy Lunch on Main Street.
Opened in the 1920's as a cozy diner to serve, you guessed it, snappy lunches to the workers of Mt. Airy, Snappy Lunch hasn't changed very much at all since its inception. Current owner Charles Dowell purchased the restaurant in 1960 and devised a menu that pretty much hasn't changed since. His most innovative addition to the carte of fare was a so-called World Famous Pork Chop Sandwich. And, indeed, the name rings true.
Visitors from around the world do indeed travel vast distances to try this colossal creation. Other visitors to the town square happen across Snappy Lunch by being lured in by the smell of the cutlets being fried on the flat-top which is cleverly positioned right nest to an open window along the sidewalk.
However, the cut of pork is not really a chop, since Dowell never liked bones in his sandwich. Instead, he cuts 3 oz. slices of boneless pork tenderloin and runs them through a medieval-looking device he calls "The Tenderator" which cuts microscopic parallel slices along both sides of the meat to create the most tender piece of pork possible. Unfortunately, Dowell discovered his magical device at a yard sale and replacement parts are no longer available, so this wondrous technology may eventually pass the way of the Power Glove.
The second misconception about the dish's name is the fact that they call it a sandwich. That would imply some degree of portability or at least that you might actually be able to lift it from the plate to your mouth with one hand. Doubtful. After tenderizing, the pork is pounded flat and then fried in a sweet milk/egg batter until golden and crispy. It is then placed on a comically undersized bun and slathered with Dowell's secret chili sauce, onions, slaw, mustard and tomato. You'd have to have hands like Shaq to be able to wrap your fingers around this delightful mess and touch bun with all fingers.
It's best to just give in to the delicious chaos that is the Snappy Lunch's Pork Chop Sandwich and dive in. Don't forget to grab extra napkins because the are proud of the fact that it is "the only sandwich that may have you washing your hands AFTER you eat it."
125 North Main Street
Mount Airy, NC 27030
336-786-4931