This Guy Is Selling His Really Old Booze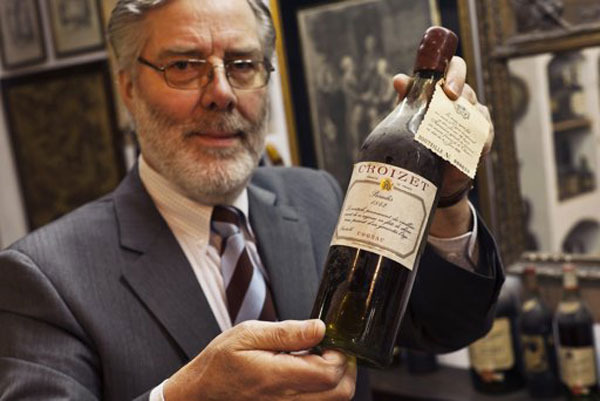 When Bay van der Bunt first started buying old and rare bottles of Cognac and Armagnac, he didn't quite realize he'd started a collection. He grew up in the Netherlands with a father and grandfather who liked to partake of old spirits – some of their preferred Cognacs were 100 years old or more – and so when presented with the opportunity to buy a couple bottles from 1811 back in the early 1970s, he took it.
Bay's father admonished his poor investment, but he didn't care. He kept on buying. Then, one day, his father told him, "I'm not allowed to drink as much as I usually do. That's from the doctor, not from your mom." He gave his son all his Cognacs, about 100 bottles. On the shelf next to his meager assortment, the array looked impressive. Bay realized he'd become a collector.
"Today, I call it a passion," he says. "When I was starting, I was greedy. But I never did it as an investment. I only wanted to get a bottle to put it on the shelf next to the others."
As an antique dealer, Bay bought furniture and other collectibles in France and sold them in the U.S. At estate sales, he would ask if any old liquors were left behind. Wine was more common, but occasionally spirits were found. He later started buying bottles at auction. His collection grew to more than 5,000 bottles, the largest collection of vintage liquors in the world, now worth some $8 million. At 63, he has decided to sell the collection so that he and his wife can relocate to a smaller home.
"Of course it's sad!" says Bay. "It's something that you were running to every corner of the earth for for the last 30 to 40 years. There was this journalist here and he asked me, 'How would you feel if the cellar room looked empty?' At that moment, I felt the emotion. Because you can never get it again. I can by a Rembrandt; I can buy a Picasso, but this I cannot buy, no, never again. No matter how much money, it's impossible."
In addition to Cognacs and Armagnacs, his collection includes ports, Madeiras and Scotch, plus some Calvados, sherry and rum. He has bottles that date as far back as 1789 and a jeroboam from 1795 that can be traced to Napoleon. It's valued at about $160,000. A bottle of Remy Martin from 1780 passed down from his grandfather to his father to him is one that he won't include in the sale. He says he'll never open it.
What does this vintage spirits aficionado drink?
"I drink water, coffee and tea. Believe it or not, I hardly drink any alcohol," says Bay. "The Cognac, I don't spit in it. Don't get me wrong. I love it. But I take only a little sip of the Cognac. Because when I drink a glass, half an hour later I'm drunk. I'm serious. It's not in my genes. I don't have it from my father. He could drink. My goodness."
Bay first decided to sell his vintage bottles individually on his website OldLiquors.com. But after so much media interest and inquiries from potential big-time buyers, he now thinks he can sell the collection as a whole. This makes him happier than breaking it up, separating the bottles from their brethren. So, who does he think might be in the market for $8 million worth of old booze?
"A very, very, very rich dude will buy it," says Bay. "And it will be a Chinese or a Russian man. There are a lot of people with an extremely lot of money that like to impress their friends."
---