On The Merits Of "Rabbit Food"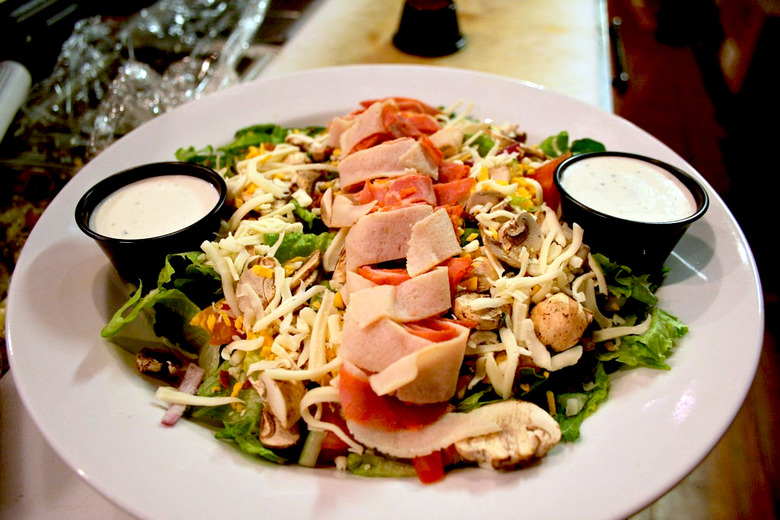 chef's salad
When it comes to Florida cuisine, the conversation starts with Norman Van Aken. The chef and author was among the first to realize the tropical food goldmine of the region, and his restaurants and cookbooks have had a huge influence. Now the chef/owner of Norman's at the Ritz-Carlton, Grande Lakes, Orlando and Director of Restaurants at Miami Culinary Institute, Van Aken is hard at work on his next book, My Key West Kitchen, due out in fall 2012. Each week, he contributes to Food Republic with his "Word On Food." He's on Twitter: @normanvanaken.
My first cooking job was in an Illinois diner. It had been operating in the town where I was born for at least 30 years prior to my noisy arrival. The town is Libertyville. The diner was called "Joe's." I am not making this up. Joe's was the kind of place that served honest American chow. If you said "chow" in front of the head cook he would have not been surly. He called it chow. We served continuously from breakfast at 6 a.m. until the last person left near midnight. The food was straight-ahead, with no shortcuts.
It was served by a crew of nine waitresses. These ladies wore waitress uniforms, sensible shoes, hair nets and little hats that I can only describe as a nurse's hat, but a touch smaller and "jauntier" to go with a profession not quite as stern. They had names like Laverne, Claire, Miss Alice, Doreen and Kitty. The first four ladies probably each worked there a minimum of 15 years. Miss Kitty had been carrying plates at Joe's for 28 years when I pushed open the back screen door for my first day on the job. She was from somewhere in the South, and had an accent that was all Dixie (perhaps minus a Dixie cup of the charm). As I look back, I can have a lot more sympathy for a woman slinging hash for dime tips, crushing her arches and breathing in the grease and smoke of a joint like Joe's for so long.
I worked the breakfast and lunch shift. When we got a break to eat, there was no place to do it but at the same lunch counter as the patrons. I was into making myself big chef' salads during those days. Maybe it was because they were cold, and it refreshed me from the reality of my new life in a kitchen's heat. I would pile on the chilled roast beef, rosy diced ham, yellow and white slices of hard-cooked eggs and crumbled bacon bits on top of a snowy hill of chopped iceberg lettuce. I wasn't trying to lose weight. I was trying to sustain a 21-year-old body without having to shell out personally. I spooned on the creamy ranch dressing and went to work on it. The salad lady re-stocked her station near the coffee urns and iced tea machine.
After my second week on the job of eating nothing but salads, Miss Kitty lumbered over to me at the last stool of the counter, leaned two bony elbows on each side of my bowl, cast her ruby red eyes and lipstick of a matching shade in my direction and drawled woefully, "Is all yer ever gonna eat here is that damn ol' rabbit food?" I realized that to her, a salad was a chance to miss eating a "real meal." Like Joe's famous chili dogs.