Think Of It As Gin For Whiskey Lovers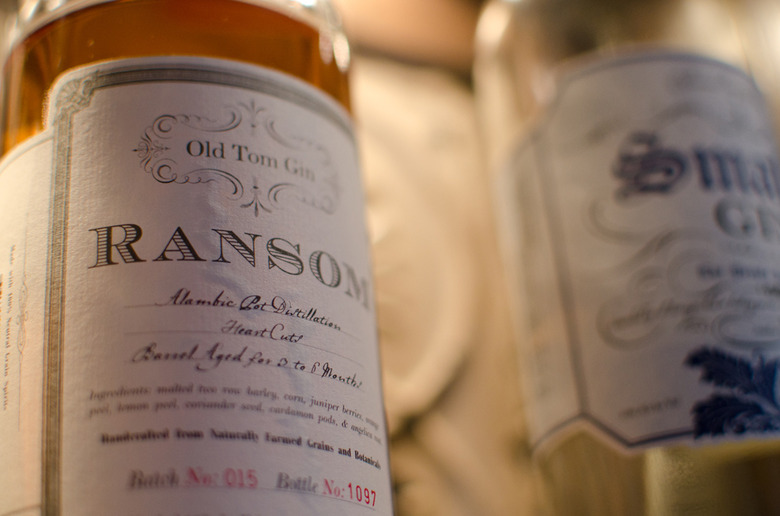 Ransom Old Tom Gin
The first time I heard about barrel-aged gin, I thought that the barrel-aged craze, which has seen bartenders age their own cocktails behind the bar, had gone rogue. What could one possibly gain from putting gin in a barrel, anyway? Then I tasted it and got my answer—a bridge between whiskey and gin.
There are plenty of gins out there for vodka drinkers — gins that minimize the punch of juniper and instead emphasize citrus peel, floral and tea essences. Others are simply hyper-distilled to a flavorless bore, intended to appeal to imbibers who are afraid to taste the booze in their glass. But what about those of us who love booze and drink it neat or stirred into potent cocktails? Barrel-aged gin is for us.
Not that this is entirely new. A number of gins and gin-like spirits have been aged in the past, either on purpose or simply as a result of being stored or shipped in oak barrels. The new breed of barrel-aged gins is generally aged around six months, and released with limited availability and restricted distribution. They make for a fun addition to any home bar, serving as an easy variant in a good number of classic whiskey drinks. I recently used a barrel-aged genever (the Dutch answer to gin) in an Improved Whiskey Cocktail — er, make that an Improved Gin Cocktail. Full disclosure: I'd seen the drink on a New York cocktail menu and copied it.
There may be just a handful of barrel-aged gins on the market at the moment, but expect more to come. A number of distillers have plans to experiment with aging gin and those already doing it are fielding queries from competitors about how best to do it. Look for one of the following at a bottle shop near you.
Bols Barrel-Aged Genever ($50): Genever, the malty Dutch precursor to gin, is surprisingly well suited to barrel aging. Aged for a full 18 months or more, just enough to give it a caramel-kissed color, it's full of spice character with the original botanicals just barely shining through.
Citadelle Réserve Gin ($35): If anyone is going to know how to masterfully age anything, it's a Cognac company. Produced by Pierre Ferrand, this complex gin sees six months in French oak, giving it a light straw color. The result is a silky spirit, perfumed with vanilla and a hint of cinnamon.
Ransom Old Tom Gin ($37): Said to be a "historically accurate revival of the predominant gin in fashion during the mid-1800s," this Oregon-born spirit is made from malted barley and corn. Reminiscent of cornbread, you can use to it to make an authentic Martinez cocktail, believed to be the grandfather of the Martini.
Corsair Barrel-Aged Gin ($35): Aged for six months in barrels that once held the Nashville distillery's spiced rum, this golden elixir is creamy, a little sweet, and just a touch peppery. The Corsair team had to distill in Kentucky before they were able to open Nashville's first distillery since Prohibition. So, why not try this in a riff on a mint julep?
Rusty Blade Single Barrel Gin ($60): Hailing from the Bay Area, this cask-strength barrel-aged gin has a deep color after spending 13 months in French oak. It's full of flavor, spiced and hot at 124 proof. Yes, you read that correctly: it's 62% ABV. For booze lovers, for sure.
---