Kentucky: Craft Beer, Meet Chinese Food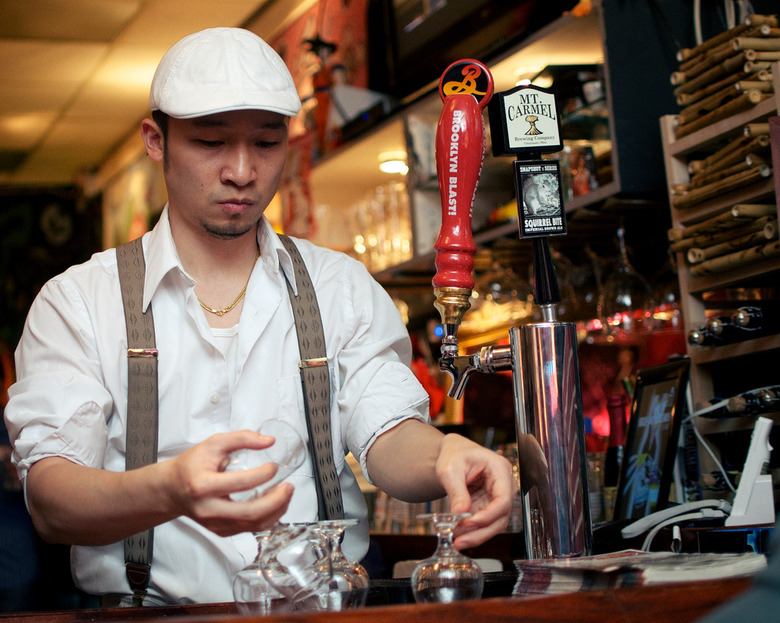 AmerAsia bartender
Fellow Americans, we're living in a golden age of craft beer and Chinese grub as our nation is finally moving beyond Budweiser and General Tso—that fictitious soldier who led chicken charging into a deep fryer. But despite all the bitter IPAs, inky stouts and lip-singeing dan dan noodles currently awaiting your stomach, craft beer and Chinese food hardly ever intersect. At restaurants, the fieriest Far East fare is typically served with Tsingtao, a lager that's every bit as nuanced as MGD. Bold foods deserve equally bold beer.
That's the modus operandi at AmerAsia, the rare restaurant to combine top-flight Chinese food with beer not grabbed from the bottom shelf. Located in Covington, Kentucky, within spitting distance of Cincinnati and the Ohio River, AmerAsia is a funky little place in a sleepy little downtown. The walls are decorated with graffiti-style murals and kung fu movie posters like Enter the Dragon and Game of Death, as well as, uh, lesser-known classics like Beverly Hills Ninja.
The kitschy, cartoony menu depicts master chef Rich Chu — a Hunan-born, Taiwan-raised sixty-something who learned Sichuan cuisine from the former imperial chef to China's last emperor — as a wok-armed "Kung Food" master. Some dishes are described as "fly rice" and "Brocco-Lee." The aesthetic teeters close to schlock, but then you nibble the dragon's breath wontons and all tongue-in-cheek cultural trespasses are forgiven.
Fat orbs of ground pork are blended with cilantro, ginger and onions are wrapped in egg dough, simmered till plump and steaming, then anointed with incendiary red-pepper sauce and cilantro. The result is mouth-burning bliss, as are the spicy zonxon noodles mingled with mushrooms, pork, tofu, peanuts and cilantro. There's also homemade tofu (terrific in the mapo tofu), cold beef salad marinated in sesame oil, smoky peppers and ginger, and even an impeccably fresh, incendiary General Tso's chicken that puts its gloppy, cornstarch-coated soldiers in arms to shame.
And what of the beer? Avid homebrewer Micah Wright turned on the chef to the pleasures of craft beer and was soon installed behind the bar, tending to two rotating taps and a constantly rotating list of more than 100 beers. There are prickly pilsners, pungent IPAs, decadent stouts and aromatic ales from the likes of craft-beer all-stars Bell's, Three Floyds, Southern Tier, Great Lakes and Rogue, along with Wright's expert advice on pairing each brew with a specific dish.
Who knew an IPA could tame a dragon's breath?
Amerasia
521 Madison Ave.
Covington, KY 41011
859-261-6121
---