8 Restaurant Tourist Traps Worth The Trip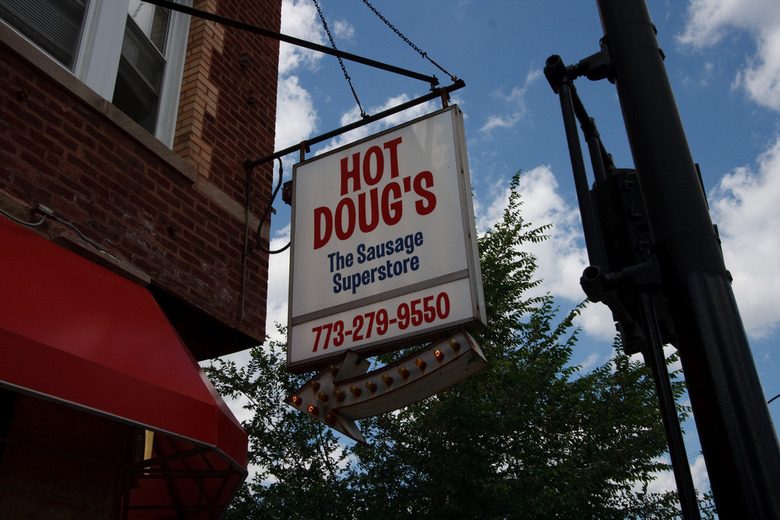 Hot Doug's
Snobs, all of us.
We may prefer the more adorable labels, calling ourselves gourmets, gourmands, culinarists, foodists, foodies. Er, actually, could we maybe agree to quit that last one?
But from the Michael Pollan zealot, who refuses that slice of wedding cake since strawberries aren't really in season right now, to the road warrior who drives 20 extra miles rather than deign to dine at a chain restaurant (guilty as charged), we are, ultimately, an army of picky eaters. And snobbish ones at that.
Why, then, would we ever set foot in a tourist trap? Why infiltrate the masses requesting steaks well-done and ordering after-dinner cappuccinos?
Because, like pizza and OK Computer, some things are popular for a reason. Read on for the eight best restaurants you'll find on the road well-traveled.
1. San Francisco: Tartine Bakery
Forget sourdough. The Bay Area's quintessential carbs can be found on a leafy corner in the Mission. Devotees journey from near and far to queue for husband and wife team Chad Robertson and Elisabeth Prueitt's freshly baked offerings, ranging from Niman Ranch pastrami and gruyere on Chad's legendary country bread, to éclairs glazed with bitter Valrhona chocolate. 600 Guerrero Street, San Francisco, CA
Eating out in Moscow can feel like a very expensive trip to Planet Hollywood: the focus is squarely on scenery, and the sodium-rich menu an afterthought. Such is not the case at Varvary, where Chef Anatoly Komm reinvents classical Russian dishes through an Adrià-like lens of culinary physics. More popular with travelers from Paris, Tokyo and New York than herring-hating locals, Varvary's seasonal 11-course menus use local ingredients, traditional concepts and an entirely modern milieu to redefine Muscovite fine dining. 8a Stratsnoy Blvd., Moscow
You don't want to want Peking duck. So cliché. So Kissinger. But roast duck, served with crispy skin and sliced tableside, is a particularly delicious Chinese tradition dating back to the Yuan Dynasty. At Dadong, the lean birds inspire an international crowd to wait hours for a table. Reservations are recommended almost as highly as the house specialty, in which crispy duck skin is dipped in raw sugar and garlic sauce. 22 Dongsishitiao, Beijing
4. London: Afternoon Tea at the Connaught
Tea and pastries at a grand dame hotel might sound like a snooze, but the Espelette's game of scones will have you on the edge of your seat. The menu is prepared by the same chef of the two-Michelin star fine dining room, Hélène Darroze, and includes sandwiches made with wasabi-infused British tuna and a 16-strong jam menu from Darroze's personal friend and jam Jedi, Christine Ferber. The Connaught, Carlos Place, Mayfair, London
In a city that takes sausage seriously, Hot Doug's is an institution. Locals and guidebook-toting tourists alike wait hours in Avondale for Doug Sohn's duck fat fries (served Fridays and Saturdays only) and tube steak innovations like chicken sausage with sriracha or foie gras franks with truffle aioli. While the novelty names may not impress (i.e., the Brigitte Bardot, a "mighty, mighty, mighty hot" Andouille dog), it's tough to have beef with Doug's traditional onion-and-relish-topped Chicago dog. 3324 North California, Chicago
Bombay-born chef Vikram Vij has been on a mission to take North American diners beyond chicken tikka masala since 1994. His pan-Indian menu is revised every three months, and custom spice mixtures enliven everything from local BC spot prawns to lamb popsicles in fenugreek cream curry. The no reservations policy can make for irritatingly long lines, but be nice – this is Canada, after all – and the staff may offer complimentary samosas and chai while you wait. 1480 West 11th St., Vancouver
Pizza fandom in the Eternal City can rival that of A.S. Roma. Passionate aficionados of Trastavere's dar Poeta might clash with those of neighboring Da Ivo, but visitors to this cobblestoned neighborhood would be remiss not to visit dar Poeta at least once. A Roman-Neapolitan hybrid, the smoky pizza crusts consist of a "secret recipe" blend of flours, but the knockout dessert calzone, made with ricotta and Nutella, gives dar Poeta its competitive edge. Vicolo del Bologna, 45, 00153 Rome
Having bid adios to El Bulli, culinary travelers have been coming in droves to Adrià ex-pat chef Robert Gelonch's two-story restaurant in Eixample. While its curiously outdated décor and the Italian honeymooners two tables over might not scream elegance, the innovative prix-fixe menus, artistic plating and incredibly knowledgeable staff comprise one of the most deservedly admired Catalan dining experiences available today – without the bumpy ride along Costa Brava. Carrer de Bailen 56, Barcelona
---