Pani Puri: Dangerously Delicious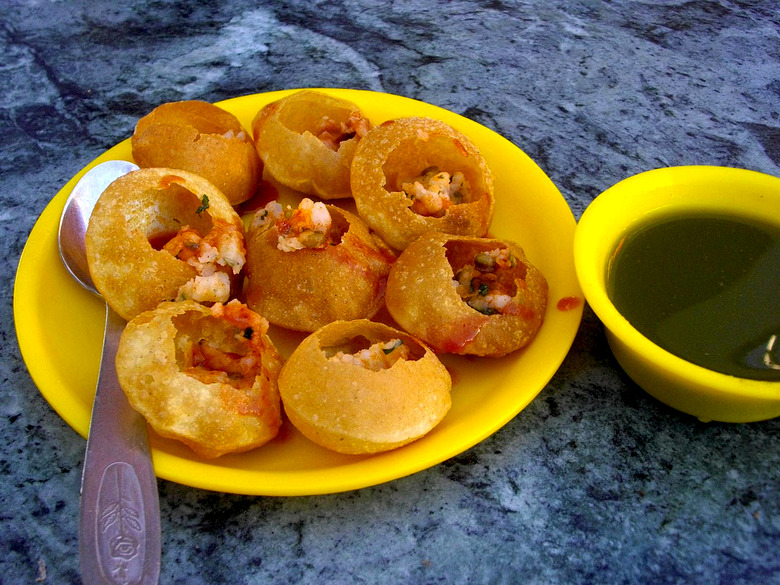 pani puri
I tell myself this every time I go to India: wait until the last day to eat street food, if you absolutely have to. Well I absolutely had to and I was unable to wait until the last day. There were a few contributors to my mild affliction — questionable straws in my otherwise reliably sterile coconut water, ice of dubious origin in my gin and Limca, a newspaper cone of peanuts, chilis, onions and tomatoes from a vendor with one foot — and then there was the pani puri.
You may know puri from your local Indian place. It's a type of wheat flatbread that puffs up and gets chewy when deep-fried. The shells for pani puri are made the same way, but in a miniature version that's fried longer to make them thinner and crispy.
First, you tap a hole into the top of the shell with your fingers or a spoon, and load in a mixture of diced boiled potatoes, chickpeas, chopped coriander, green chilis, tomatoes and onion, thin crispy chickpea flour noodles, pungent black salt, and dried green mango powder. As if that combination of flavors wasn't entirely complete, you then add a small spoonful each of tamarind and spicy coriander chutney. Finally, you dunk the whole thing in a container of heavily seasoned water and get it to your mouth before the puri disintegrates in your fingers.
The moment your teeth crack the shell, you're rewarded with a flood of sweet-spicy-sour-savory-pungent flavors, not unlike the effect from a Chinese soup dumpling. Unless the water, and everything else, came from Mumbai's Chowpatty Beach. Which mine did. And within a matter of hours, Bombay Belly had settled in.
Delicious as the experience was, and believe me, whatever "extra" was in there really gave it a flavor you couldn't find here, I am only just now returning to solid food and total consciousness of mind. Worth it? You bet. My lovable traveling companion, however...well, I'm sure she'll be fine in a few days.