Food Republic Craft Beer Power Rankings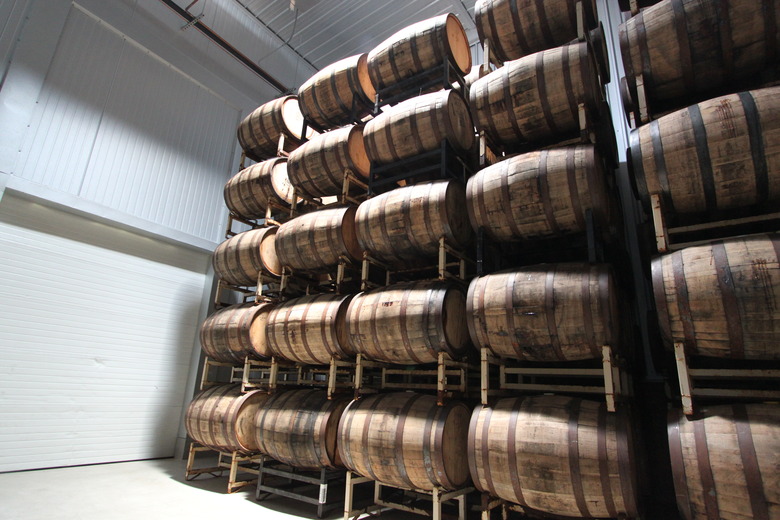 barrels
Thirty years ago, the concept of a craft-beer power ranking system was inconceivable. Back then, there were only a handful of breweries pumping out suds that deviated from the watery-lager norm. Fast-forward to 2012, and there are more than 1,900 breweries in the country — with another 600 or 700 on the way.
The scope of innovative beers is nothing short of stunning, with sour ales, bitter IPAs and barrel-aged stouts now the norm. Who's leading the sudsy charge? Here's our list of the most influential craft breweries today, as determined through a combination of new product releases, critical reviews and general buzz within the industry.
10. Deschutes Brewery
Since 1988, the Bend, Oregon, brewery has been a leading light in the Pacific Northwest brewing scene, cranking out hop-forward ales and delightfully roasty dark beers like the Black Butte Porter and the barrel-aged Abyss. Instead of toeing the line, Deschutes continues to innovate with new styles such as the Hop in the Dark black IPA and the just-released Chainbreaker — the offspring of a cloudy, spiced witbier and a fragrant IPA.
9. Three Floyds Brewing
Here's a sentence guaranteed to get beer geeks' juices flowing: Dark Lord Day is coming on April 28. Dark Lord is this cultish Indiana brewery's revered imperial stout, which is only released once a year. To buy a bottle, attendees need to score tough-to-nab tickets to the all-day festival in Munster, Indiana, where you can share rare brews with other enthusiasts. Simply put, it's the brewery event of the year.
8. Surly Brewing Co.
Demand for the Brooklyn Center, Minnesota brewery's beer was so strong that founder Omar Ansari reined in its distribution, focusing on delivering 16-ounce cans of its Coffee Bender, citrusy Furious and floral, low-alcohol Bitter Brewer to Minnesotans. That may soon change. Ansari spearheaded a legislative push that will allow Surly to grow 10 times it current size, with an output of up to 100,000 barrels. The Minnesota brewery is poised to become a major player in the Midwest.
7. Ninkasi Brewing Company
Since it was founded in 2006, Eugene, Oregon's Ninkasi has been one of the country's fastest-growing regional breweries, thanks to brewmaster Jamie Floyd's no-hops-spared approach. The Total Domination IPA and Tricerahops Double IPA are already classics, and the silky Oatis Oatmeal Stout and Sleigh'r Dark Double Alt Ale demonstrate a deft hand with lesser-known styles. This year, keep eyes peeled for their Prismatic series of lagers — our pick for top trend of 2012.
6. New Belgium Brewing
All eyes in the brewing world are currently trained on Colorado's New Belgium, which will soon announce the location of its newest brewery: a toss-up between Philadelphia or Asheville, North Carolina. This game-changing move will open up the East Coast market, allowing folks to sip the citrusy Ranger IPA, biscuity Fat Tire and the brewery's newest release, the Shift Pale Lager.
5. Dogfish Head Craft Brewery
While founder Sam Calagione's Brew Masters TV show may have flopped, Delaware's most daring brewer dusted himself off and quickly resumed his winning streak. The latest batch of the lusted-after 120 Minute IPA was just released, the Noble Rot blurred the line between wine and beer, and Birreria — Calgione consults at the rooftop brewpub atop NYC's Italian complex Eataly — is the buzziest brewpub in the Big Apple.
4. Stone Brewing Co.
For more than 15 years, the Southern California brewery has made its bones on uncompromisingly bitter, unabashedly over-the-top, palate-pummeling ales like the Ruination IPA, Arrogant Bastard and Old Guardian Barley Wine. Having conquered America, Stone now has high hops, err, hopes for Europe, where the brewery is currently scouting out locations for a new production facility.
3. Sierra Nevada Brewing Co.
Sierra Nevada Pale Ale was the bitter, aromatic beer that launched a million drinkers' love affair with hops. Three decades later, these California pioneers continue to unleash fantastically bitter brews, including the Torpedo Extra IPA (dosed with newfangled tropical Citra hops) and the recently debuted Ruthless Rye IPA. Even more impressive is Sierra Nevada's eco-commitment: The brewery now grows grains and hops, started canning its beers and, to cut down on the brews' shipping footprint, will open a brewery in Asheville, North Carolina — the nation's newest brewing hotbed.
2. Firestone Walker Brewing Co.
We've never had a bad Firestone Walker beer. In the skilled hands of brewmaster Matt Brynildson, the California alehouse has won buckets of accolades—and medals — for its Union Jack IPA, blended anniversary beers and Velvet Merlin Oatmeal Stout. Even more impressive: Every drop of rich, pleasantly hoppy DBA (Double Barrel Ale), floral Pale 31 and Walker's Reserve, a robust porter, spend six days in a Burton Union — an oak-barrel fermenting system favored in 19th-century Britain. One more tip: Firestone Walker also makes the terrific Mission Street line of beers for Trader Joe's.
1. Russian River Brewing Co.
Vinnie Cilurzo can do no wrong. The California brewmaster is a maestro of the double IPA, an amped-up style that he's credited with developing. His Pliny the Elder is one of the best examples of the bitter breed, and its bigger brother, Pliny the Younger, is even better — if you can nab a snifter of the draft-only brew. In addition, Cilurzo crafts some of the country's finest sour brews, deploying bacteria and wild yeasts as deftly as a scientist.
---