A Mezcal Grows In Brooklyn. Sort Of.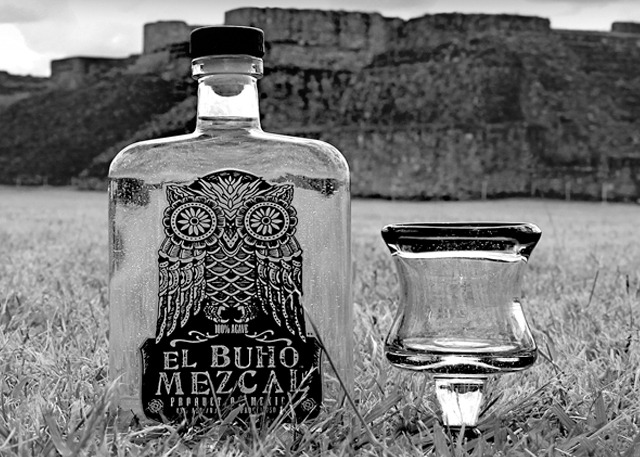 El Buho Mezcal
There are chefs who, in their free time, roast coffee beans, run marathons or play golf. TJ Steele, who can be found helming the kitchen at Tia Pol in New York City, spends his free time drinking mezcal. More specifically, he imports a handcrafted, small-batch mezcal into the U.S. from his Brooklyn apartment. Look for El Buho in select restaurants and bars starting April 1.
For those misguided souls still under the impression that mezcal is "the one with the worm in it," here's what you need to know: Mezcal is a spirit made from the desert plant agave, much like tequila, but not from the Blue Weber agave that goes into tequila production. Mezcal is the grandfather of tequila, having been made for centuries before the tequila category existed. Some mezcals do still have a worm at the bottom of the bottle, but you should probably avoid drinking these as they tend to be aimed at obnoxious tourists of the party-bus breed.
Steele got serious about mezcal some years ago when traveling through Mexico. He had little idea at the time where exactly the experience would take him.
What was your big mezcal moment?
I was traveling around Mexico with some friends and when we got to Oaxaca, we thought it would be fun to visit some of the agave farms we'd heard about. We found this one farm and asked if we could work for free. The family only produced mezcal two times a year and we just happened to show up on that day. They thought it was crazy that we wanted to work, but they agreed.
How did you find the mezcal you ended up working with, El Buho?
We were basically walking around Oaxaca, asking people what they knew about mezcal and getting random rides to different farms. We got a ride to [the El Buho farm] and the mezcal was just far superior to the other ones. It's a fifth-generation family; the youngest son is now in charge. He's the first in his family to complete school and have e-mail and he's had a huge part in growing the business.
The first to have e-mail — that's pretty cool.
Yeah, they don't have a computer, so e-mail correspondence with him is, like, you have to wait for him to go into town to the Internet cafe. We're buying him a computer now. It's cool to see how the family business is growing. They kept all their old ways when it comes to making the mezcal, but he's adding some of the stuff he learned at school [to improve the business side].
Tell me about the mezcal. What about it made you think this is the one?
Without getting into crazy tasting notes, I think it's just a really approachable spirit – not even just for a mezcal, but an approachable spirit, period. Considering it's 86 proof, it's so smooth. It's complex and has so much going on. Sure, it's high in alcohol, but it's nothing that will blow your mouth away.
How do you like to drink it?
A lot of people are doing mezcal cocktails these days, but I'm the anti-cocktail guy. I just want to drink it on its own.
Has being a chef helped you in this venture?
As a chef, I think we were a bit ahead of the curve. I started drinking mezcal a bit before other people did, before it got trendy. Also, that's what brought me to Mexico in the first place: researching food and ingredients.
El Buho translates as "the owl," which is what's on the bottle. How did you come up with the logo?
Thomas Hooper, my tattoo artist, did the owl. He's an amazing artist and tattoo artist. We were going to do a Day of the Dead skull, which you see all over Oaxaca. Then, the sister of the producer at El Buho gave me a black clay owl, which also comes from Oaxaca. And we thought, maybe we should go with the owl instead. So, Thomas incorporated the agave piña (the pineapple-shaped heart of the plant) into the body of the owl.
Nice.
Me and the other two partners in the company swore that once we sell 10,000 cases of mezcal, we're all going to get the owl tattooed.
---