Will Torres Is Not A Fan Of Liquid Diets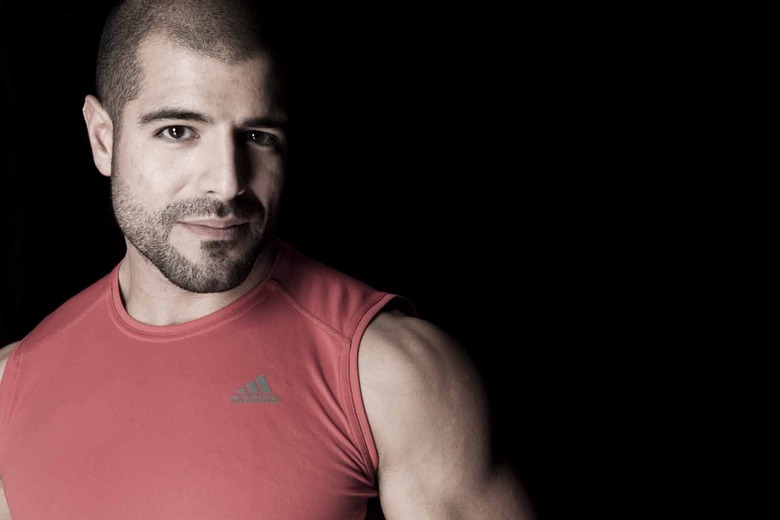 Will Torres
Will Torres knows a thing or two about getting fit. As the powerhouse owner behind Willspace, the discreetly low-key personal training studio in NYC frequented by Bravo's Andy Cohen, among many other stylish gents bearing jacked physiques under their fitted suits, workouts are his love and labor. But what we didn't expect when we stopped by his newly opened 2,000-square-foot gym in the West Village, was to find someone who's as equally passionate and knowledgeable about food as he is about total body conditioning. A self-professed Brussels sprouts lover and peanut butter addict, Torres gives us the rundown on his daily calorie intake, and explains his beef with juicing.
What neighborhood do you live in?
I used to be in the West Village, but now I live in the Financial District.
That's often labeled as no man's land for dining. Where do you eat down there?
(Wall & Water at) the Andaz. They have a good restaurant in the hotel, and a cool cocktail area. You find a lot of suits there, but the food is good.
What are some of your favorite spots in the city?
I really like Zio in Chelsea. It's Italian. The food's amazing — the detail and attention to flavors. Another favorite is Red Farm. Those guys are great. Also La Promenade des Anglais and Scarpetta.
How strict are you with your diet when you eat out?
I'm a creature of habit when I go out to eat. I try to get an appetizer that has a lot of vegetables in it — not heavy on the cheese — then I'll get an entrée that's usually a fish and vegetable.
How many calories do you consume a day?
I probably try to eat 2,500 to 3,500 calories. It depends on how active I've been, and how long or busy my day is. I try to eat something every 3-4 hours — smaller meals.
Do you drink protein shakes? Smoothies?
I used to be big on smoothies, but it's probably one of the worst things you can do for yourself. If you look at the ingredients, anything with fruit is going to have a lot of sugar. As a meal replacement, it's really hard to burn off that much. As far as protein goes, you're better off getting it from natural sources like meat, dairy and vegetables.
Noted. Avoid the smoothie bar at the gym.
But after an intense workout, especially weight training, I do recommend some sort of a liquid supplement to help get your energy levels back up. Food takes 3-4 hours for your body to digest it. If you don't refuel immediately, you're dying for food a couple of hours later. And then you're eating and overeating throughout the rest of the day.
What would you choose?
We've had really good results with Amplified Recovery Protein. It has about 15 grams of carbs and 15 grams of protein. Put it in water, and you drink it after your workout. Then about one to two hours later, have a meal.
While we're talking about liquids, what's your take on juicing?
I do juice. I'm a big fan of incorporating it into a healthy diet. But it can't be the only thing. Your body needs a certain amount of calories, and if you're getting them from those liquid cleanses, they're probably under 1,000 calories.
But isn't that the point if you're trying to lose weight?
When you start starving yourself, your body freaks out — it's called the starvation response. It slows down the metabolism, starts to store more body fat to give you enough energy to burn later. So when you start eating normally again, you're actually storing a higher percentage of body fat. If you do that once or twice it doesn't matter, but doing that every so often for a lifetime can completely destroy your metabolism.
So what do you do when you need to trim down?
When I'm getting ready to be photographed or do a tv appearance, my diet becomes very clean and lean. In the morning I'll eat an omelet with spinach. For lunch I'll have a piece of protein with bigger vegetables like broccoli, cauliflower, grilled zucchini, and then a similar thing for dinner. After a couple of days, my appetite is controlled, I'm not looking for sugar and my energy is through the roof. And then you start seeing the physical results from it. It's not as fun eating that way, but you feel incredible.
Do you like to cook?
I do. My favorites — I love Brussels sprouts. So delicious, and really simple with some oil. Quinoa is so amazing. It's very filling. Carbs aren't really the culprit. Portion sizes are the culprit, but quinoa is something that you can have a portion of, and it's satisfying. I love fish too: salmon and Chilean sea bass. The bass, I roast it in the oven, with tomatoes, olives, capers and red onion. Just so delicious.
Wine or beer?
Wine. We went to Cape Town for the New Year, and the wines there are epic. There's this one producer, Diemersfontein, and they have a Pinotage — you can really taste the chocolate, the coffee, the flavors.
What about cocktails?
I'm a big fan of vodka soda and actually, also Tanteo tequila, which is jalapeño-infused. It has this great kick. With lime, a little bit of maple syrup — just a little — it's so good. It's a treat.
Speaking of, any guilty pleasures, or foods that bend your will?
Peanut butter. I looove peanut butter. I used to eat it on a spoon. I live with my girlfriend, and normally I don't bring it into the house because it's such a weakness, but she gets it, and we share it...I have to really control myself.
What are your top three eating tips to supplement an exercise regime for the average guy who wants to get fit?
Drink water. In general, you should drink half your body weight in ounces per day. Sometimes the brain confuses dehydration with being hungry. In the afternoon, when you're feeling sluggish and might want a snack or a pick-me-up, more times than not, you're dehydrated.
Have an apple before lunch and/or dinner. They're water-rich and high in fiber, so they're filling, and you'll eat less of the meal because you'll be satisfied sooner.
Chew your food — at least 20 times. Digestion starts in the mouth. If you don't chew your food well, it's just harder for your stomach to break it down. That makes you sluggish too, because you're making your body work harder. Plus, by slowing down you'll eat far less, and you'll be more satisfied.