Train Is So Into Wine. Grape Geeks!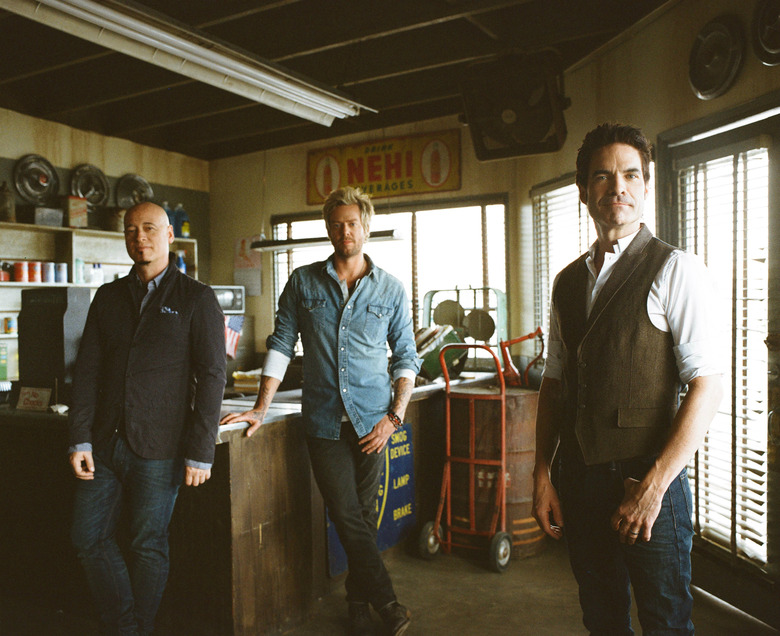 Jimmy Stafford is the guitarist for roots-rock mega group Train, touring the world and living the rock star life—which includes sipping Cakebread Chardonnay and talking about terroir with his legion of fans. Ladies and gentlemen, times have changed.
As the San Francisco band's resident wine geek, Stafford has taken his love of wine one step further by launching his own wine label—a project run in conjunction with Concannon Vineyard in Livermore, CA called the Save Me, San Francisco Wine Co. We checked in with our favorite member of Train to discuss winemaking, old world vs. new word and to find out if wine is the new rock.
First off, have you ever seen this video?
Oh my! That is hysterical, aside from the fact that she was really injured. You can't help but laugh at the noises she makes when she falls! I do hope that lady was ok.
What do you think of this statement: Food (and wine) is the new rock?
I think rock is alive and well in today's music and in our heart and souls. I also believe that good music, good food and a nice bottle of wine are the lifeblood that keeps our heart and souls healthy and happy. So is food/wine the new rock? No, I don't think so. They've gone hand in hand since Elvis first swiveled his hips in Memphis, Tennessee. Are people finally starting to notice that food and wine and rock belong together like Crosby, Stills and Nash? Maybe so.
How did you get into wine?
I've enjoyed wine since I was old enough to drink. Maybe even a little sooner. However, my appreciation of good wine didn't come until I started traveling the world with Train, visiting wineries, tasting different wines in my dressing room every night, and paying closer attention to the many varieties and subtle differences in the grapes and the wine-making process.
Do you have a favorite style of wine?
It really depends on my mood or whether I am drinking wine by itself or enjoying it with food. Before shows I always prefer something red—a nice Bordeaux or a fine California Cabernet. On an airplane or just having an early evening glass of wine while I cook dinner at home in Nashville I typically prefer something white—an oaky, buttery Chardonnay or a crispy Sauvignon Blanc.
The video for "Drive By" must have been fun to shoot. What kind of wine was flowing that day?
We filmed that video in Napa Valley, California. We didn't drink much as we had to drive these beautiful vintage cars, but I did enjoy a glass or two at the end of the day, and the owners of the vineyard sent us each home with some very nice reserves to sample.
What is on your tour rider—wine, booze, food?
All of the above! We actually try to eat very healthy. Most of our food is organic fruits and vegetables...and cookies. Our catering is always very healthy. There are usually a few bottles of booze for the crew, and three bottles of wine—one for before the show, one for after the show, and one to stash in my wardrobe case to add to my private collection at home. I recently had a beautiful wine cellar built in my house. It can hold up to 500 bottles. I love it!
You must get some bad wines from time to time—if the promoter is picking. Any horror stories?
We do get some occasional bad wines. It's my own fault though, as I request local wines in my dressing room so I can try different tastes from different regions. However, not everywhere in America, or the world for that matter, is capable of producing grapes for a decent bottle of wine. Daryl Hall once told me that is exactly why he prefers to get his favorite same bottle of wine in his dressing room at every show. I'm still learning and enjoy the variety, but sometimes pay the price and have to suffer through a bad bottle of grapejuice.
Do you have a favorite American producer?
I am a big fan of Cakebread Chardonnay as well as Rombauer. I love Jordan Cabernet, South Coast Merlot, and of course Shafer Relentless and the 2007 Hillside Select, and the Concannon Petit Sirah. Concannon is the winery that produces our our wine.
Favorite wine region in Europe?
I'm a big fan of French wines: Côtes du Rhône, Bordeaux or a well-balanced Sauvignon Blanc from Loire Valley.
Name a great undiscovered wine region...
We toured South America for the first time in 2011 and ever since I have taken a liking to Chilean wines. I haven't tasted one I didn't like and plan to section off an area in my wine cellar to expand my Chilean wine collection. Try a bottle of 2005 Casa Lapostolle Clos Apalta and thank me later.
Congrats on the new wine company. Why did you pick the Pinot Noir and Chardonnay as your first releases?
In 1961, our partner Concannon introduced the first American Petite Syrah, so since they're experts in that varietal. it's a bit unique. We thought it would be a great idea, especially after we started tasting. For our second varietal, we wanted to do a white because we had many requests for one from fans—Chardonnay seemed to be the most requested, so we went with it.
How many cases are you going through?
We've already sold more than we thought we would have and a good portion of the proceeds goes straight to a San Francisco charity called Family House. They help families with children stricken with cancer who need a place to stay while undergoing treatment at UCSF hospital. The pediatric cancer unit at UCSF is one of the best in the country.
So where can you find it?
You can buy it online, at several major restaurant chains including Bonefish Grill, as well as at various retailers around the country. If your local wine shop doesn't have it stocked yet you can just ask them to order it for you from their distributor.
---
More on wine from Food Republic: