Reheat: Recipes For Great In-Flight Meals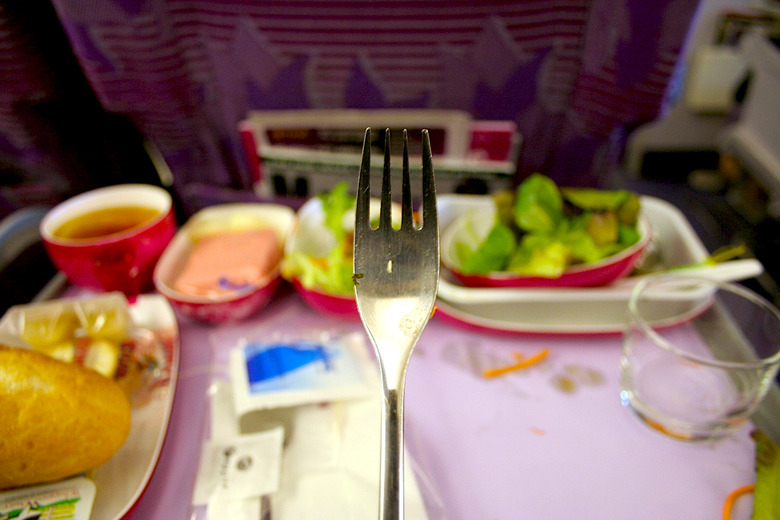 airplane food
With Assistant Editor Jess Kapadia out on vacation this week, we're rerunning some of her best What To Eat: Lunch columns.
When I think of airplane food, all I want to imagine is some dude in a reflective orange vest and construction helmet feeding a plane peanuts, zookeeper-style. Or maybe a plane eating out of a really huge dog dish that says "Airplane." Anything but the battered metal cart that will most certainly run over my foot before its uniformed driver asks if I want a shitty $10 sandwich.
I was instantly hypnotized by the spread on airlinemeals.net, the world's most comprehensive catalogue of airline food. Even the first class food looks relatively unappetizing. The few times I've flown first class international, the food was indeed relatively unappetizing. It wasn't that it was gross so much as I couldn't really taste it, an actual phenomenon that occurs around 30,000 feet. (Oh wahh-wahh, Jess, why don't you tweet about it from your little enclosed room?)
Snobbery aside, I've been taking great pride in packing my own fuel since one particular bout of food poisoning put me off airplane cuisine for life. Cough-Lufthansa-cough...ahem. Editorial director Richard Martin's tips for flying smart won't let you down, although I'd have to disagree with abstaining from booze. There's no better excuse for day drinking — you don't exactly have anywhere to be and the one-two punch of altitude and low cabin pressure makes for pleasantly speedy inebriation.
Without further ado, the solution: easy and offensive smell-free dishes you can make the night before, bring along and enjoy at room temperature so you don't have to spend dough on horrible eats. "Splurge" on a booze pairing instead and it's a party.
Disclaimer: If the plane crashes on a deserted island, you will most certainly be the first person your fellow passengers eat.