NYC: Alain Ducasse, Back To Nature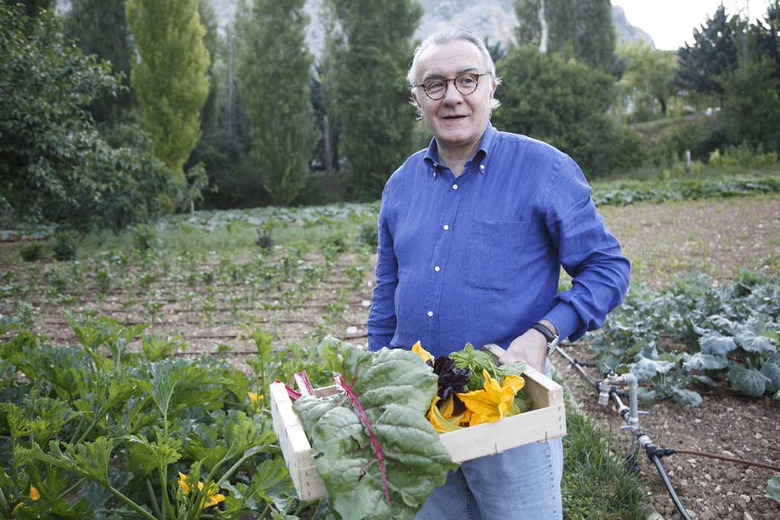 We may receive a commission on purchases made from links.
"You have to work it! There has to be spice!" says superstar French chef Alain Ducasse in accented English that hints of his rural Southwest upbringing. "You must add a little sexiness to vegetables." I was sitting in a private dinning room with Alain Ducasse last March and Monsieur Ducasse was telling me about his new book, Nature: Simple, Healthy, Good, which is now available in English translation.
The chef's pitch is quite sensible—while it's wonderful to enjoy tasting menus loaded with cream, butter, foie gras and the proverbial good stuff, it's not the way people should eat on a daily basis. As illustrated in the book's 190 recipes, Ducasse contends the ideal dietary balance is 80% vegetable/grain and 20% protein. We'll be publishing several of the recipes from Nature in coming weeks on Food Republic.
At a special press dinner held at Ducasse's New York City flagship Adour last night, I experienced the chef's philosophy firsthand as his kitchen produced several dishes from the book. A selection of vegetables—artichokes, baby carrots, string beans, fennel bulbs—were prepared as a classic Provençal barigoule, but with a hint of vanilla. Red snapper was steamed with seaweed and sautéed fava beans, lettuce and asparagus. The final savory course was a deeply rich baked egg and mushroom cocotte. As our baked apples and pears dessert arrived, Ducasse stopped by to thank the group, and to remind us that the meal had completely avoided butter.
As somebody who attends these multi-course tastings for a living (rough, I realize), I was surprised at how light I felt walking out into the cold night. Indeed, the meal was simple and healthy. But, most importantly, it was good. Well, exceptional.