Mario Batali Golfs! Like, A Lot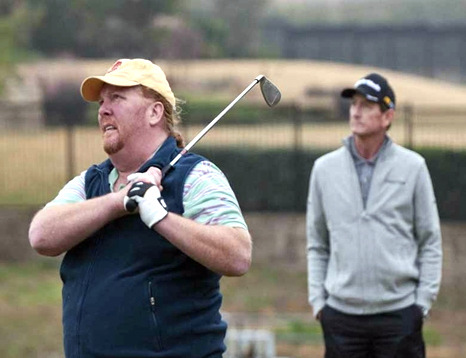 Mario Batali golf photo
If you're the type of person who has made a golf widow out of your better half, you may have tuned into the Golf Channel's latest installment of The Haney Project. The hit show, which returned last week for its fourth season, stars acclaimed golf instructor Hank Haney – also known as Tiger Woods' former coach – and his celebrity pupils. Previous seasons featured Charles Barkley, Ray Romano and Rush Limbaugh.
This season, the famous amateurs hoping to improve their swings and putts are boxing legend Sugar Ray Leonard, supermodel Angie Everhart, Maroon 5 frontman Adam Levine and our man Mario Batali. At the end of the season, the four will go head-to-head in a charity tournament in Cabo San Lucas, where the winner will get to donate $100,000 to his or her chosen cause.
We got in touch with Batali to ask him what it was like getting out of the kitchen to get schooled on the green.
When did you get bitten by the golfing bug?
I started golfing when I was a teenager, but I didn't get seriously hooked until about eight years ago.
What's the most important lesson you learned from working with Hank?
I had a solid swing, but I needed to work on my consistency. Hank loosened me up. He's the guru I've been waiting for. My swing was sort of inside out. Now, my numbers are lower.
You've said that golf helps you escape the pressures of the chef life. Can you elaborate on that?
In the restaurant business, you're 24/7. You're on your cell phone, answering emails, going to the restaurants, cooking, ordering. When you're out on the golf course, you get a sense of luxurious nothingness.
Are there any kitchen skills that translate to the green?
In both arenas, you have to be thinking two steps ahead.
Essential pre- or post-game meal?
Perfect post game dinner is a steak and a Corona.
Favorite pro golfers?
Hunter Mahan and Fred Couples. I have yet to meet Rory McIlroy, but I'd love to.
You have a pretty iconic sense of style. What's your go-to golf getup?
My golf getup isn't so different than my daily getup. Crocs sent over a pair of orange golf shoes, which means I can be consistent and my feet are always comfortable.
---
Read more about food-sports crossovers on Food Republic: