Jeni's And The Politics Of Ice Cream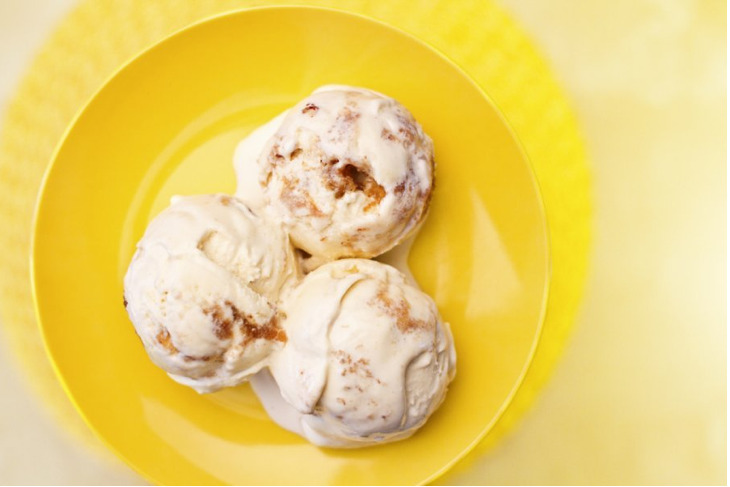 Hummingbird Cake Ice Cream
Politics may not be the first thing that comes to mind when you think of ice cream, but even this classic dessert is getting a sustainability upgrade from manufacturers like Ben & Jerry's, Blue Marble and Batch. Whether participating in Fair Trade or supporting local dairy farmers, the ice cream industry may prove to become a major player in the sustainable food movement. Jeni's Splendid Ice Creams is among those at the forefront.
Jeni Britton Bauer has been sourcing ingredients from Columbus Ohio's North Market since the 1990s. Today she continues to buy her ingredients from "real people" at North Market and small farmers around the world in order to create her singular flavor combinations like Icelandic Happy Marriage Cake (hint: it involves skyr cheese).
Britton Bauer tells us about why she's buying whole fields of strawberries and shares the story behind her newest Walt Whitman-inspired flavor.
Why ice cream?
The reason it's so fun to play with ice cream and why it gives you such a beautiful flavor is because butterfat melts at body temperature. So when you put butterfat with things like mint the flavors get locked in and then melt almost exactly on contact with your tongue. You can taste every detail, which is why we have entire fields of mint grown for us. Other fats aren't like that – they get brittle when they're frozen. So that's why ice cream is so sensual and holds flavor perfectly.
What was the first Jeni's Splendid flavor?
My first flavor was with cayenne and chocolate, but it was almost more of an art project. I knew nothing about the Mayans or the history of chilis and chocolate, but I thought it was an interesting combination. I started going to the North Market [where Jeni's currently operates from] and buying any ingredients I could get my hands on.
Sourcing whole fields of mint takes buying in bulk to a new level...
For our strawberries I used to buy two flats each week and now we contract an entire field. We like to know that we have this single transaction with our grower and that all of the money stays right here in Ohio. But we apply the same philosophy of having a relationship with our growers to our vanilla bean grower in Uganda. We think the product does taste better.
"Our goal is to make the best ice creams we possibly can and to do that you have to start from the ground up."
Why did you decide to pasteurize the milk and cream yourself?
Almost all of the ice cream makers use a preassembled ice cream mix. It's a packet of milk and stabilizers, so you'll notice that every ice cream has the exact same texture. All you do is add flavoring and you're in business as an ice cream maker.
So we didn't want to do that. Our goal is to make the best ice creams we possibly can and to do that you have to start from the ground up. So we started with what the cows eat [grass]. We value the flavor of grass fed milk and all of that flavor comes shining through in ice cream because there's no place to hide it. I have no problem with stabilizers its just I don't like the texture they produce and we wanted to have complete control over that. We think of making ice almost like the way you make cheese. How you treat it through the way you pasteurize it effects the text of the ice cream.
You come out with new flavors every three months that are never repeated — is it difficult to keep producing new ideas?
It's very easy to think of these flavors. It's sort of like a quarterly magazine — there's always something to write about. For the coming summer we're connecting Whitman's Leaves of Grass to the green smoothies the Hollywood girls are carrying around. So we're doing a Wheat Grass Vinho Verde and Pear Sorbet flavor. It's so much fun and it's green.
What has been your most popular combination?
Our Salty Caramel, which is a ubiquitous combination now, but I started making it in the '90s and it's been our biggest flavor. I learned how to make it from a French family and we [at Jeni's] still make it in a copper kettle over an open flame. There are only about three people in our company that can make it. It's a hand-done product so there's almost no consistency, which I love.
How often do you eat ice cream?
I eat ice cream every day at 3 pm. We have tastings then and I have to be careful not to drink coffee in the afternoon or brush my teeth so that I can properly taste it. It's never a chore to eat ice cream.
---