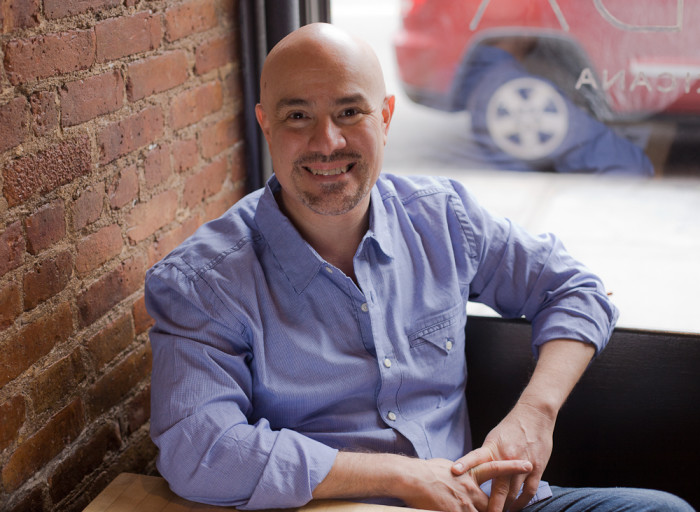 Most first-time diners at Fonda, a lively Mexican restaurant in Brooklyn's Park Slope neighborhood, start with the usual — the spicy guacamole and a well-made margarita. But it isn't long before they notice that this isn't some run-of-the-mill tacos 'n tequila spot. Soon, dishes emerge from chef-owner Roberto Santibañez's kitchen bathed in sauces of vibrant green or deep-hued red or rich chocolate, steam rising from the plate in artful swirls.
Talk about secret sauce! The flavors of Santibañez's salsa verde, his adobo and his spicy hazelnut mole practically dance across the palate. And these sauces helped make Fonda such a hit that Santibañez and his team two weeks ago opened a second Fonda, in Manhattan's East Village. "In Mexico, the sauce-making is very important," he says. "Without it you're left with some pretty flavorless tacos."
Santibañez spent five years helping build and expand the Rosa Mexicano brand before setting out on his own with Fonda, the next step in a career that has taken him from Le Cordon Bleu in Paris to kitchens in England, Austin and his native Mexico—before he settled in NYC. (He's also authored two celebrated cookbooks: 2007's Rosa's New Mexican Table and last year's Truly Mexican.) Over the next few days, he'll share several recipes for Fonda's favorite dishes with Food Republic, starting with this delicious spinach and mushroom enchiladas recipe. Here he talks Fonda expansion, signature margaritas and why Mexican food is so underrated.
Why did you study French technique and European cooking, only to go back to your native Mexico and return to Mexican cuisine?
I was classically trained and looking at all the sauce-making and how important that was for the French. Then I grabbed a couple of jobs in Europe here and there. I got a job in England and then I went back to Mexico. Everything started back then. My interest in Mexican cooking was immediate. I said what am I doing? I have all this that belongs to me and everyone my age wanted to be a French cook. Wanted to be a European cook. And I took a complete different route and started researching and wanting to know more. It was a very different Mexico, the one I was in as a young guy and the Mexico we know now.
Obviously your focus right now is in New York, where you just opened your second Fonda. What about the first Fonda made you want to expand the brand and find another location?
I do love my first Fonda. I was just there on Saturday because I miss them. It's a great team of people. It's a great little restaurant and we're trying as hard as we can to replicate it. It's going to be a challenge. We're very ready and we're feeling very confident.
What made you open a second one?
I think just a little bug in my ear. I just wanted to do it and to see how we could manage it, and just for the excitement.
Some of it must have come from working at Rosa Mexicano for so long. You helped oversee the opening of how many restaurants there?
Probably five or six.
From a business point of view, it's better to have more restaurants, right?
It is. If you really want to make money you cannot just keep one restaurant. It's hard to make money in the business. The bad thing is I don't know how to do much else and I've lost the figure too.
---
"It's so hard for you to go out and find inexpensively good Mexican. If it's inexpensive, everything is going to have lettuce and onions and be on top of something really greasy."
---
One of the things about Fonda, either location, is you have a special margarita made with hibiscus. How'd you come up with that?
I actually love hibiscus. We drink hibiscus infusions in Mexico all the time. I actually eat the flowers after we soak them in the water. I really, really like it and I think it's something good for you as well. And it's beautiful. In the infusion of the tea it has this beautiful red color. And in a margarita it gives this intense, deep red color and great flavor.
So you're basically saying that your margaritas are healthy?
[Laughs] I don't want to say that. But it's good. We make everything in the house.
Okay, back to the food. Do you think there's still a long way to go to teach Americans about the nuances of Mexican food?
I do think so. Even if you read any Mexican restaurant write-up from a critic, I don't think anybody has ever said "Their tortillas are made with Nixtamal* masa and they are pressed by hand." (*Note: Santibañez explains, "We make masa from 'Nixtamal' which is the mixture of water, limestone and corn that soaks and then gets ground up to make masa.") Even at that level I think that people do not understand that those are the wonderful things about a good Mexican restaurant. That the flavor profiles are as intense as they can be. That the [chef] in that restaurant uses chiles Pasillas de oaxaca.
But for that to happen, for people to really recognize that there is a mole negro that can be as good or even slightly better that the one you can get in any restaurant in Oaxaca, those are subtleties that [require more knowledge]. I don't think anybody has really understood it yet. Everybody has become an expert through decades and decades in the Europeanized cooking. But to be able to recognize those subtleties in Mexican cooking, we have a long way to go.
Is that part of what you hope Fonda will help bring? Do you see Fonda becoming a brand that can roll out beyond Brooklyn and the East Village while educating people about Mexican food?
I hope so. I live in Manhattan and it's so hard for you to go out and find inexpensively good Mexican. If it's inexpensive, everything is going to have lettuce and onions and be on top of something really greasy. I think [creating good Mexican food at a value is] very hard and I think that's what Fonda does best. You can dine there like an everyday thing. I have friends who have criticized me for that. Like, "You shouldn't have enchilida suizas because everybody has them."
But I say "Yeah, but people love them." And if ours are better than others, that's why we have them. People of course come to Fonda and love the enchilada suizas, and you can have enchilida suizas and beer and you're out in Brooklyn for less than twenty bucks. There's not many that places in New York City you can do that. So I am hoping that Fonda could be in many neighborhoods. I don't see Fonda growing to Midtown. It's not that of a restaurant. But I think in a neighborhood where people need to have nice, relaxed places to dine for not $75 a piece everyday, it's perfect.
Fonda Brooklyn, 434 7th Ave., 718.369.3144; Fonda Manhattan, 40 Avenue B, 212.677.4096
---
More Roberto Santibañez recipes on Food Republic: