Kentucky's Experimental Whiskey Maker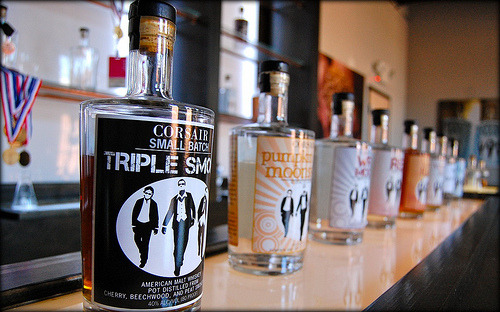 We may receive a commission on purchases made from links.
Everybody knows that corn, rye, and wheat make some mighty fine whiskey. But at Corsair Artisan Distillery, they don't limit themselves to just the common grains. Based in Bowling Green, Kentucky — with another facility located in Nashville, TN — Corsair was started in 2007 by Darek Bell, along with his wife Amy Lee and childhood friend Andrew Webber. Together, this group of talented young entrepreneurs has earned quite a reputation for producing inventive spirits.
In addition to their regular production runs of award-winning liquors, including Gin-Head Style Gin, Vanilla Bean Vodka, Red Absinthe, Spiced Rum and Wry Moon Unaged Rye Whiskey, Corsair also takes advantage of their small batch stills to create experimental and seasonal concoctions like their autumn favorite, Pumpkin Spice Moonshine.
Darek Bell particularly likes to experiment with intriguing grains to play with various malt bills to create what he likes to call "alt whiskeys." Corsair ages their whiskeys in relatively small 5-gallon barrels — which allows them to accelerate the maturing process and reveal sooner rather than later if their latest mad scientist experiment is a hit or a miss. Freed from the fear of having to invest in large batch trials or having to wait years to sample the results, the master distillers at Corsair bravely tread where few craft distillers dare to venture.
---
"Similar to the evolution of the beer industry, the number of small distillers is rapidly growing at the same time that the big players have created microbrands to try to position themselves as artisans."
In fact, the term "craft distiller" is bandied about way too often nowadays. Similar to the evolution of the beer industry, the number of small distillers is rapidly growing at the same time that the big players have created microbrands to try to position themselves as artisans. But would a huge beverage company spend the development time and money to whip up a batch of moonshine made from millet? Hardly likely, but Corsair did. Difficult to work with, but offering a smooth nutty flavor to the hooch, millet was actually a favorite grain for moonshiners for over a century.
Corsair has experimented with many other exotic grains including oats, spelt sorghum, quinoa, triticale, and barley. They have created batches with these ingredients mixed with traditional grains like corn and rye, including concoctions that feature as many as 13 different grains. Other brews feature the individual grains in formulations that may never be commercially viable, but are important to understanding how each ingredient contributes flavors and character to the intricate blends that make up Corsair's whiskeys.
Occasionally, one of these experiments stands out enough to move to larger scale production. One of the first to hit was a truly remarkable Triple Smoke Malt Whiskey that won a Gold Medal at the Beverage Tasting Institute's International Spirits Competition in 2010. Darek Bell is a graduate of the Bruichladdich Distilling Academy in Islay, Scotland where he studied the effects of smoke flavor on grains before they are mashed to make whiskey. Triple Smoke Malt Whiskey uses three different smoked malts in equal proportions to create an incredibly complex and smoky whiskey. American cherry wood, Scottish peat and German beech wood are employed to lend unique characteristics to the flavor profile that creates a whiskey that is excellent straight up or in a very memorable Manhattan.
Corsair's latest strange brew to go mainstream is a whiskey distilled from Russian Imperial Stout. The resulting product is named "Rasputin" and beat out 72 other whiskeys to win a Platinum Medal at the same competition that recognized the Triple Smoke. Floral on the nose and the color of a copper penny, Rasputin is sweet and herbaceous, but above all features a deeply forceful hoppy character.
Darek Bell is such a proponent of his concept of experimentation, he has chosen to share his recipes in a fascinating book entitled Alt Whiskeys – Alternative Whiskeys and Techniques for the Adventurous Distiller. Unlike many how-to guides for the home beer brewer, Bell's book is not intended to be an instruction guide. He makes it very clear in the introduction that "Home distilling is illegal in the US, period. This is no parking ticket. It is life destroying: five years in jail and a $10,000 fine." Point taken.
Instead, the book is for whiskey geeks who have a curiosity about craft distilling and who want to discover the scientific details of production. For good measure, Bell includes a "for experimental use-only" recipe for Cannabis Moonshine. Although he reveals that he has never tried to make this particular potion, about once a month someone will come down from the hills or up from the hollers with a mason jar full of skunky green moonshine.
Although Bell has not personally sampled their wares due to frequent drug testing for insurance purposes, he shares that most of these homespun batches are made with horse feed instead of grain and baker's yeast instead of brewer's yeast. Those are reasons enough to avoid the stuff.
Despite being located in the heart of Kentucky bourbon and Tennessee whiskey territory, Corsair's strongest retail markets are Seattle, Portland and San Francisco — where artisan and new are often valued over historic spirit behemoths. As staunch advocates for creativity and experimentation in the distilling process, the folks at Corsair wouldn't have it any other way.
---