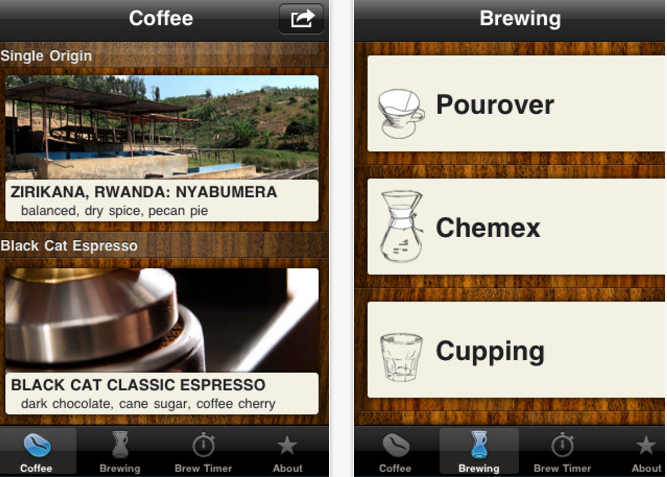 Cortados. Chemex. Single Origin. Pour Over. The world of coffee has gotten complicated, but these five apps can help you navigate the world of coffee geeks and baristas with the best of them. Whether it's locating a trustworthy café when you're in desparate need of a caffeine boost or learning how to use an AeroPress, these apps aim to tackle one or more of these brewing issues.
Below are 5 recommended coffee apps to keep you in-the-know and on a caffeine high.
1. Coffee Fast
Imagine this nightmare scenario: you're caffeine deprived and in unfamiliar territory aimlessly searching for the nearest coffee shop. Enter the Coffee Fast app to make sure this never happens to you again. Tap on the app's icon and it immediately finds your location and presents you with a list of the nearest cafes. The app also allows you to set up filters so you can block any unwanted generic coffee establishments from showing up in your search results (lest you be tempted to stop when craft coffee is only a corner away). The full version of the app finds 100 coffee shops within 10 miles and the lite version finds 15 shops within two miles. 99¢ or free lite version
2. Coffee Order
Interns listen up — this is the app that will change your coffee runs for good. The Coffee Order app lets you quickly record complicated drink orders and save them by name so you'll never forget your boss' extra hot, half-caf, no foam latte again. The app isn't specific to any coffee shop and it's easy-to-navigate drink options help you get down the order in seconds. 99¢
3. Intelligentsia
Think of the Intelligentsia app as your coffee encyclopedia. Do you want to know what cupping means? Did you forget how to use your new Chemex? Do you need a coffee timer? Intelligentsia, the renowned coffee roaster and retailer, offers one of the most comprehensive coffee apps on the market. Besides telling you how to use any number of brewing devices, it also lets you search through Intelligentsia's coffees, find a nearby store, and see updated Intelligentsia tweets. Free
4. Splick-it
Splick-it is the ultimate coffee on-the-run app. Just tap in your order on the app's menu, schedule a pick-up time, and pay for it in one click. By the time you breeze into the shop your coffee will be waiting for you to grab and go. Beyond coffee, the app can be used at certain restaurants as well. The only problem? The app's in limited-release and only available in Colorado. The developers are looking to expand in Chicago and LA next and the rest of us can hope that it will be available nationwide soon. Let's face it, once you get used to bypassing the morning coffee rush line, there's no going back. Free
5. Coffee Talk
Think Gibraltar is a place on the Iberian Penninsula and Guillermo is just a Spanish name? If you don't know that they're coffee orders then the Coffee Talk app is for you. The app provides a glossary of drink names and allows you to suggest any term that you think is missing from the list. Click the coffee mug icon next to the definitions to go to an internet search of the term. Thanks to Coffee Talk you'll never be caught wondering what a flat white is again. 99¢
---
More about apps on Food Republic.