IPAs Aren't Just For Americans Anymore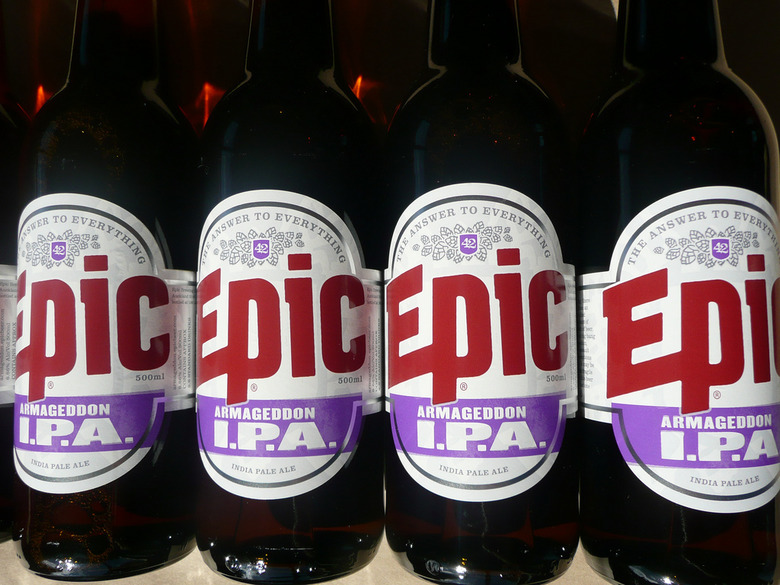 If the American craft-beer movement flew a flag, it'd feature an image of a pint glass filled with frothy India pale ale. Though this bitter brew has its roots in Britain, the IPA has become a runaway American sensation. Brewers have gone gaga for hops, crafting increasingly bitter brews bursting with flavors of citrus, pine resin, tropical fruits, mango and more. For taste buds accustomed to watery canned lagers, American IPAs are like that first ray of sunlight following weeks of clouds and rain.
While the modern IPA is a distinctly brash American construct, the Stars and Stripes do not have a lockdown on the style. Inspired by these bold and bracing brews, European and New Zealand beersmiths have begun dabbling in supercharged IPAs. The result is proudly bitter beers as familiar as they are foreign. Here are 5 IPAs that tickle our taste buds.

Epic Beer Armageddon IPA Checking in at a devilish 6.66 percent ABV, this devilish New Zealand hop monster relies upon a quartet of American hops—grapefruit-y Cascade, super-citrusy Centennial, earthy and spicy Columbus, piney Simcoe—to drive its flavor profile.

ReAle Extra While Italy may be best known for its wine, in recent years the boot-shaped nation has had a serious craft-beer boom led by brewers every bit as rule-breaking as their American counterparts. In particular, I adore ReAle Extra, an Italian IPA with a serious bitter streak, luscious flavors of honey, gobs of grapefruit and a nicely peppery close.

Urthel Hop-It A trip to the Great Alaska Beer & Barley Wine Festival compelled Hildegard van Ostaden, brewmaster at Ruiselede, Belgium's Urthel, to create the Hop-It double IPA—the country's first of its kind. Exclusively dosed with European noble hops, the golden brew presents an appealing spicy profile.

BraufactuM Indra A German IPA may seem like an oxymoron, but the land of lagers will soon unleash this novel spin on the American-style India pale ale. Though Indra is currently only available in Florida (pesky licensing issues!), keep your peepers peeled for the IPA this summer. The unfiltered, wheat-driven brew marries a hefeweizen's cloves-and-bananas qualities with plenty of grassy, citric bitterness.

BrewDog Punk IPA When Scotland's BrewDog set out to fashion its flagship IPA, brewmaster James Watt opted for a double-barreled blast of Nelson Sauvin and Ahtanum hops, which gives the golden ale an earthy, tropical perfume. The light body packs flavors of orange peel and pine resin, somewhat lightened by biscuit malt.


---
More about IPAs on Food Republic: