Drinking Schlafly With Oscar Winners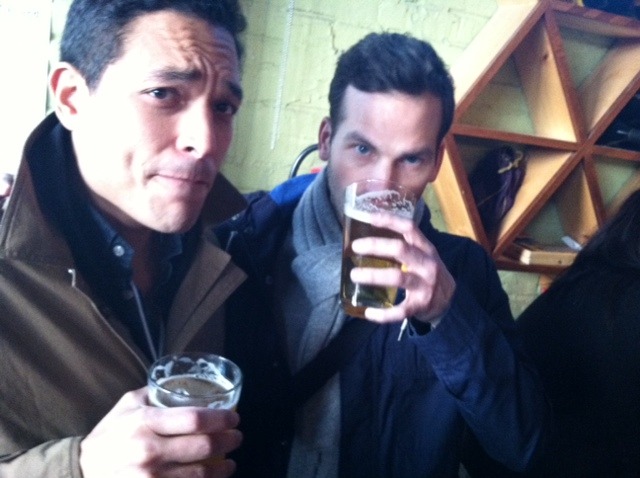 It takes balls to open up a craft brewery in St. Louis, home of Anheuser-Busch, the biggest beer producer in the world. Or you better have a damn good product. But if you're also going to give it a name no one can pronounce, then it's got to be great. Schlafly Beer, now flowing for over 20 years, has proven to defy the odds with a beer that is, indeed, damn good.
Haven't heard of it? That's because outside of some specialty deals, it's only sold within 300 miles of St. Louis. With a wide variety—an excellent Hefewiezen, a solid Pale Ale, and a surprisingly robust Coffee Stout—Schlafly has been giving Midwesterners a great alternative to beer produced by the behemoth next door. I stumbled on Schlafly when I was in Columbia, Missouri for the True/False documentary film festival, which Schlafly sponsors.
I checked to see if the beer wins the gold standard by sharing a few Schlaflys with T.J. Martin and Dan Lindsay, the fun-loving directing team who, just six days prior, collected real gold, an Oscar for Best Documentary, at the Academy Awards. (Their film, Undefeated, is a thrilling, heart-felt story of a down-on-its luck Tennessee football team. See it. I promise you, you'll have a good cry.) Martin and Lindsay definitely know beer—they met working on a movie about beer pong, after all: 2008's Last Cup: Road To The World Series of Beer Pong—so I knew they'd be good judges. And Schlafly flew through with flying colors: both Martin and Lindsay gave it the thumbs up. I agree. I'm not going to tell you it comes close to my beloved Sixpoint, but it's a solid option.
Schafly, which is named after co-founder Tom Schlafly, will be coming to a financial crossroads soon, with new investors coming in to possibly expand the brand. The rest of America may be able to get a taste in the near future. That's not to say that "AB," as it's known locally, has anything to worry about. "There's no competition," says Schlafly's Susan Haberer. "The amount of beer we make in a year is about what they spill in a week."
Not to put a fly in your beer, but there's something else that needs to be said about the name Schlafly. Does it sort of ring a bell? Well, that's because Tom Schlafly happens to be the nephew of one of the most right-wing, baby-eating monsters our country has ever spawned: Phyllis Schlafly. Yeah, she's the one who gets credit for almost single-handedly getting the ERA amendment defeated, and is the founder of the über-right Eagle Forum. (I didn't discuss this connection with the Undefeated guys, so I'm not sure if they know about it.)
Schlafly Beer asserts that that old kook (my words, not theirs) has no connection to its product.
Still, here's a tip to the Schlafly folks if they want to make it outside of their 300-mile enclave: Keep your funny name, but issue a declaration disowning the principles of the elder, hate-mongering Schlafly. That way, we can all drink in peace.