"Can You Dig It?" At M.B. Post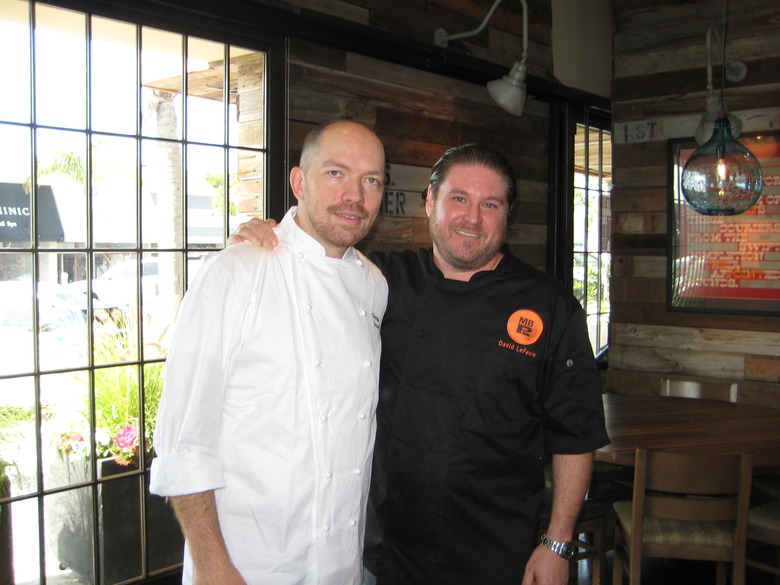 David LeFevre and Giuseppe Tentori
What does it take to get Angelenos down to Manhattan Beach for a three-course lunch on a weekday? Apparently, two 2012 James Beard Foundation "Best Chef" nominees and a farmer. For good measure, the restaurant itself should be nominated for "Best New Restaurant," too. Such was the case last Friday at M.B. Post where Chef David LeFevre hosted friend/Chicago Chef Giuseppe Tentori (GT Fish and Oyster, Boka) and farmer Maryann Carpenter (Coastal Farms) for the first ever "Can You Dig It?" lunch.
Manhattan Beach is an oceanside town south of LA known more for its volleyball tournaments than its food. That all changed in the past year when David LeFevre opened up M.B. Post in an old post office and the accolades started pouring in. The restaurant is the perfect encapsulation of the food scene right now: long communal tables, awesome craft beer/cocktail/wine list, breads baked in-house, produce sourced from local farms and lesser known cuts of meat (lamb's tongue, pork jowl) done with a variety of flavors that span the globe.
"Can You Dig It?" celebrates exactly what M.B. Post represents: approachable dishes made with high-end technique using the best quality ingredients that California has to offer. LeFevre spent years in the kitchens of Charlie Trotter's in Chicago. Working there, LeFevre said, was "like climbing Mt. Everest every day." One of his best friends in the trenches at Trotter's was Giuseppe Tentori, who stayed in the Windy City to open Boka and, more recently, GT Fish & Oyster. These guys are clearly on the same page because the food they put out all afternoon felt completely cohesive and on-point.
Three courses added up to a total of nine dishes, all served family-style, and guests had the option of throwing on a wine pairing for each course if they felt so inclined. The highlights included beet arancini that looked exactly like a Ruby Red grapefruit when sliced open, crispy soy-glazed pork belly topped with whole mustard seed as a sort of earthy caviar, and a stunning dessert: beet soft serve ice cream with a sour yogurt quenelle and a shot of Tito's Handmade Vodka poured over top. It was delectably reminiscent of a frozen borscht. The stars of every dish, however, were the ultra-fresh ingredients from Coastal Farms and everything from the sprouting broccoli to the glazed turnips to the Nantes carrots in the carrot cake showcased the bounty of winter farming in the Golden State.
The "Can You Dig It?" series is scheduled to happen once a quarter and if last week's lunch was any indication, these are meals worth driving for. While trips to the South Bay are few and far between for many Angelenos, M.B. Post is a solid reason to brave the 405 — even on a Friday afternoon in late February. Can you dig it? Yes. Yes we can.