16 Reasons To Not Hate On Chardonnay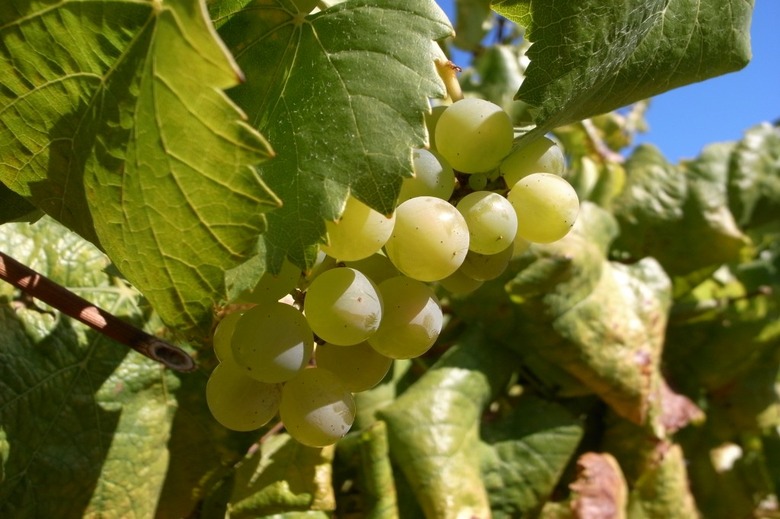 Chardonnay grapes
It's at once one of the world's most popular wine grapes and one of the most reviled. So much so that it's earned its own pejorative acronym: ABC drinkers (those who will drink Anything But Chardonnay). Here are 16 reasons why these misguided imbibers should reconsider their position about Chardonnay:
Chardonnay's spiritual home is Burgundy, where exemplary bottles of the stuff are produced — characterized by a lean crispness and stony minerality and just gently kissed with oak.
Chardonnay has gotten a bad reputation for many reasons — chiefly for an aggressive use of oak. But oak is a winemaker problem, not a grape problem. Dumping wine into oak barrels (or stirring them with oak chips, oak staves or even oak powder) to mask flaws or simply to add the caramelized, woody notes oak imparts is rampant in the wine world. Chardonnay shouldn't take the brunt of the rap.
For all you ballers out there, Chardonnay is one of the three grapes that go into Champagne.
The often excellent Spanish sparkling wine cava is also made with Chardonnay.
It's fun to say Chardonnay. Say it out loud. It rolls of the tongue. Char-doe-naaaay.
It's now a woman's name — specifically, the name of one of the ladies who vied for Ray J's attentions on VH1's For the Love of Ray J.
The poor grape is a victim of its own success. Every winemaker and his cousin started making Chardonnay precisely because stellar examples of the stuff are indeed out of this world. But, just because something goes mainstream and becomes wildly popular, doesn't make it less superb. Like, say, The Simpsons or Bruce Springsteen.
Naked Chardonnay. It sounds incredibly sexy, but it just means unoaked — as in, Chardonnay that has never been in a barrel and retains the crispy green apple notes it was born with.
Old Chardonnay. Not all white wines can age well, but Chardonnay can. Leave that sucker in a cellar for a couple years, watch the color turn golden and give your mouth a silky, voluptuous, long-awaited gift.
Like the crazy girl with the wild mood swings and killer body that you just can't quit, it's Chardonnay's multiple personalities, and great body, that keep it interesting. It can be lean and mineral, zesty and vibrant, creamy and buttery, toasted with whispers of vanilla, aromatic and floral, or some combination of the above. So, yeah, saying you don't like Chardonnay is kinda like saying you don't like sandwiches.
OK, so maybe Bridget Jones contributed to the backlash against Chardonnay with her sad-sack consumption of it by the large glass to assuage her depression over man troubles. But did you know such cool customers as Stanley Tucci love Chardonnay from Chablis, the revered Burgundian capital of Chard? And among celebs who make their own Chardonnay you'll find Mick Fleetwood of Fleetwood Mac and hockey legend Wayne Gretzky.
Many white wines have made this claim, but when it comes to Chardonnay it's true: it's a white that drinks like a red. Don't believe us? Try a lightly oak-kissed Chard with a rare aged steak and tell us that isn't an awesome match.
One of the winemaking processes that can change Chardonnay is a secondary "malolactic" fermentation, which brings out many of the fat, buttery notes so maligned in New World Chard. But more and more winemakers are forgoing the dreaded "malo" in order to retain the brighter characteristics of the wine.
It plays well with others. Chardonnay is often blended with other grapes with exceptional results.
One of the best characters in modern literature, the drag queen in John Berendt's Midnight in the Garden of Good and Evil, is called The Lady Chablis. The best part? She's a real person.
The last best reason to drink Chardonnay? It's fun to shut down wine snobs. As in: You don't drink Chard, you say? Really?? Still??!! How 2002. (Say the year in French – deux mille deux – for extra emphasis.)