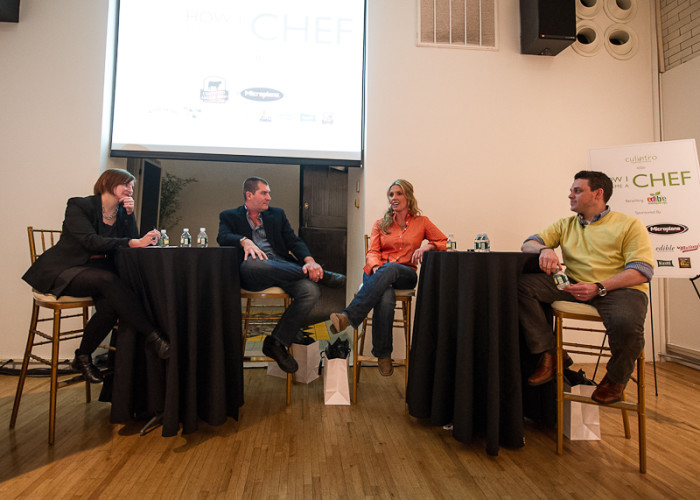 "I knew I made it when Anthony Bourdain tweeted something about me," recalled Rory Schepisi. "It wasn't nice, but he used my name." She spoke candidly about leaving high school at age 16 to being portrayed as the ditzy blonde on The Next Food Network Star. Alongside Harold Dieterle and Gavin Kaysen, the three chefs made up the panel hosted by Culintro at The Gabarron Foundation in New York City. The topic was singular: How I Became A Chef.
And while the steps to get there weren't so simple – the cause for the journey was perfectly summed up by Dieterle. Love. It's a loaded answer really, as the Season One Top Chef winner admits he got into the food business at age 15 to meet girls. "It just seemed like that untapped angle that nobody was working." Today, as the owner of Perilla and Kin Shop in New York, it's a different kind of love. "It's about the passion. I'm just crazy about what I do every day."
If reasons for cooking were a Venn diagram, Dieterle and Kaysen would share a large chunk of the middle section.
"I saw how simple it was to make people happy with food," Kaysen said about cooking at age 7 beside his grandmother. The panelist with the highest pedigree of teachers, including Marco Pierre White and Daniel Boulud, he represented the United States at the Bocuse d'Or in 2007 (he's also coach of the 2013 US team). Having learned the ins and outs of a kitchen from Minneapolis to Switzerland, his patience was never more apparent than when answering a student's unusual question about how to stay humble: "When you go out to the dining room and you see that you made their night…all you did was create food and made them smile. And that's more powerful than anything else."
After a brief stint at Johnson and Wales University, Schlepisi realized, "Wow, this is just really too academic for me." So she got in her car and drove cross-country. "I tasted food throughout the US for about six months on my father's dime. Thanks, Dad." Travel has been an important aspect of the chef's life and development. Today, she helms Boot Hill Saloon in Vega, Texas – population of 800. Maybe not the ideal situation for everyone, yet it's a decision that has put her in a position to award scholarships for burgeoning, passionate chefs that need a way out of the small town.
All three of the speakers have had their share of TV moments. Dieterle's stint on Top Chef might have been the most successful, but Schlepisi finished second in Season 3 of The Next Food Network Star. Kaysen's short-lived run on The Next Iron Chef seems like a footnote in his already illustrious career.
One positive that's come from the increase in food TV shows, they say, is that now the chefs can use ingredients once thought to be "too adventurous," like beef cheeks. "It's made people aware," Kaysen explains. "My mom has an oven at home that still has the lining in it because she doesn't know how to turn the damn thing on. But she can talk about food the way she hears it on television. That's incredible because she doesn't know what any of that means."
Bottom line is there was nothing else for these three individuals to do. There was no backup plan. Well – I'm speaking out of turn. Dieterle fondly remembers how he wanted to emulate Tom Cruise in Top Gun. "I was in 2nd grade and…I wanted to be a fighter pilot." He told this to the entire class, he recalls. "The teacher looked me square in the face and said, 'How are you going to fly an airplane when you wear glasses?' It was so damaging."