Taqueria Del Sol's Chicken Liver Tacos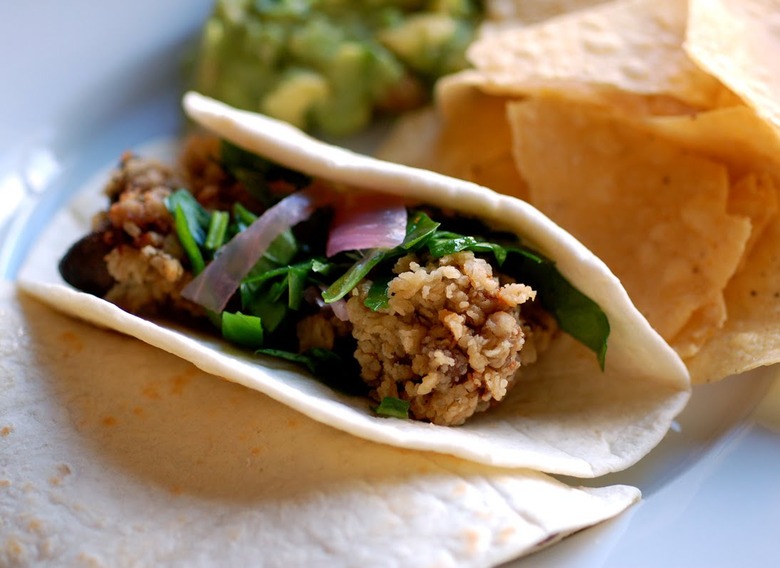 Chicken liver taco
It's not that big of a stretch to imagine tacos as Southern food. Why here's one in Texas. But usually diners are thinking more south of the border. At Taqueria del Sol, the Georgia-based fast-casual restaurant chain, chef Eddie Hernandez invokes fine dining ingredients and technique to craft Mexican cuisine that demonstrates cross-cultural panache. With four locations in Atlanta and Athens, a new outpost opening in Philadelphia this summer and more planned in Jacksonville, Gainesville and Orlando, FL, diners are obviously responding to this concept. Hernandez was recently shortlisted for a James Beard Award for Outstanding Restaurateur for the second consecutive year.
The menu at Taqueria del Sol features six inventive tacos showcasing regional specialties, as well as a rotating selection of weekly specials. One of the most popular of these specials has been their chicken liver taco. "Everybody told me not to do it," admits Hernandez. "Not everybody eats chicken livers." Fortunately, Hernandez didn't listen to everybody. "I find that people are more open to things that they have not tried before. All these television shows about extreme eating have made people more receptive."
Not that chicken livers are all that strange in the South, and in the hands (and tortillas) of Hernandez they are absolutely sublime—he buys natural hormone-free chicken livers from a local poultry farm. After dredging them in an egg wash, the livers are battered with a simple mixture of flour, salt and black pepper and perfectly fried to a golden brown in the deep fryer at 325°. Riffing on the classic French chicken liver salad recipe, the taco is dressed with fresh spinach and pickled red onions. Finally, Hernandez tops the taco with his special white French dressing instead of the traditional sweet ketchupy version.
The chef uses a soft tortilla so that the texture comes from the crunch of the livers instead of from a crispy shell. The result is a bright and vibrant dish that has Taqueria del Sol's customers checking their calendars and counting the weeks until the Chicken Liver Taco comes around again in the rotation.
---
More Field Reports from Food Republic: