NYC: Using Fries To Fuel A Food Truck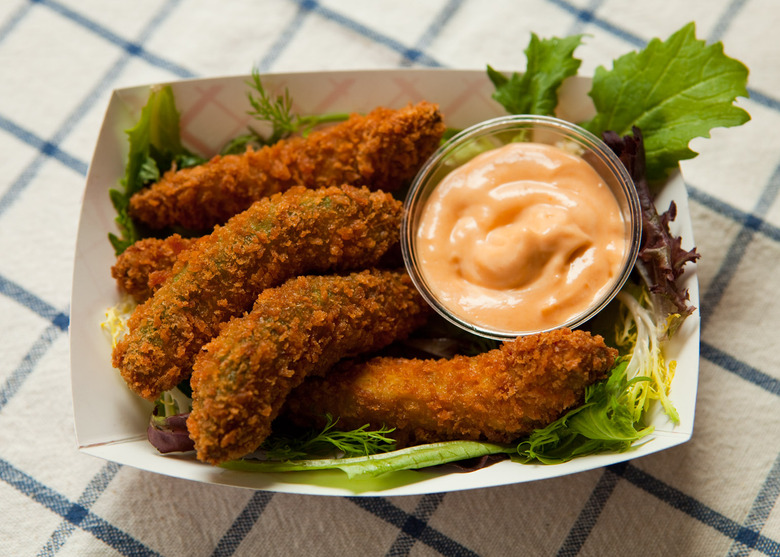 Avocado Fries
Eating fried food may be bad for your diet, but it doesn't have to be bad for the environment. Zeph and Liz Courtney of the soon-to-launch Snap Food Truck in Brooklyn will take the leftover oil used to make their rave-worthy items, like panko-crusted avocado fries, and reuse it to power their truck. In other words, their food truck will literally run on fries.
Liz (a Chicago transplant) and Zeph got into the food truck business when they realized there was a demand for Chicago-style hot dogs in New York. Any fans of Hot Doug's will concur. Beyond providing an alternative to the famed Papaya Dog, the couple will focus on quality, local ingredients which they're sourcing from Ricks Pick's pickles, Dickson's Farmsted Meats and Bedford Cheese Shop. Snap Food Truck has yet to fully operate since the couple is still outfitting their vehicle (you can donate to their Kickstarter project here), but once it is, you won't look at fried food the same way again.
Liz told us about the practicalities of running their business on fries and the inspiration behind their avocado version of everyone's guilty pleasure.
How did you get the idea to run the truck on recycled oil?
We knew if we were going to be making fries we'd have to dispose of the cooking oil somehow. We'd heard stories about people outfitting diesel vehicles to run on cooking grease, so we decided to research it for our food truck. It also helped solve the problem of us wanting to set ourselves apart from all the other fast food burgers and fries out there.
Practically, how does one go about running a truck on fry oil?
At first we thought maybe we'd filter the oil ourselves and convert the engine to have a tank for oil and a tank for diesel, but Tri-State Biodiesel makes this so much easier. They collect our used cooking oil, filter it, and sell it back to us as a ready-to-go blend of recycled oil and diesel fuel. This way we don't need to convert our engine either.
Do you know of any other trucks doing this?
There may be others, but one food trucker in particular who we've picked the brain of is Deborah Smith of the Green Pirate Juice Truck. She's been on the road for a few years now and is a staple of the NYC food truck scene. She also partners with TriState Bio-diesel to get bio-diesel fuel, though it doesn't come from oil used in her kitchen but rather the kitchens of other area restaurants.
Will the oil from your fries be enough to power the truck year-round?
When the engine is coldest in the winter months, it needs a higher blend of diesel in the fuel to get started and warm things up. Thankfully TriState Bio-diesel can regulate this for us. We'll also be getting a bio-diesel generator for the truck to provide energy for our kitchen when we're parked. In addition, we're talking to a company that makes solar panels about outfitting our roof with a custom panel to supplement our power supply on sunny days.
Speaking of which can you tell us more about the inspiration behind the awesome-looking avocado fries?
They're kind of an outlier to our all-American burger and dog and fry menu, but they are also one of our most popular menu items. There was a now-defunct restaurant in Red Hook, Brooklyn where Zeph and I had ordered avocado fries before. He sort of reverse engineered the recipe for the fries, plus a chipotle mayo we'd had at another Brooklyn restaurant that we knew would be a perfect complement to the avocado.
Do you think more food trucks will try to incorporate reusable and recyclable initiatives into their businesses?
I certainly hope so. I realize what we're doing is not going to change the world by any means. But I think every small action people can take to be less wasteful is a positive thing. As business owners, we want to make sure we are conducting ourselves in a way we can be proud of, and maybe even set an example for others to follow.
Any other ways you hope to make this truck recyclable?
All our paper goods are biodegradable, and we're planning to set up a composting station too. And maybe when the business has fully evolved into a chain of brick and mortar restaurants, Zeph and I will recycle the truck into a motor home and drive off into the sunset.
Watch this video from Liz and Zeph's Kickstarter page to learn more about their fry-feuled truck (not to mention the Chicago-style dogs).