NBA Power Rankings: Ruth's Chris Edition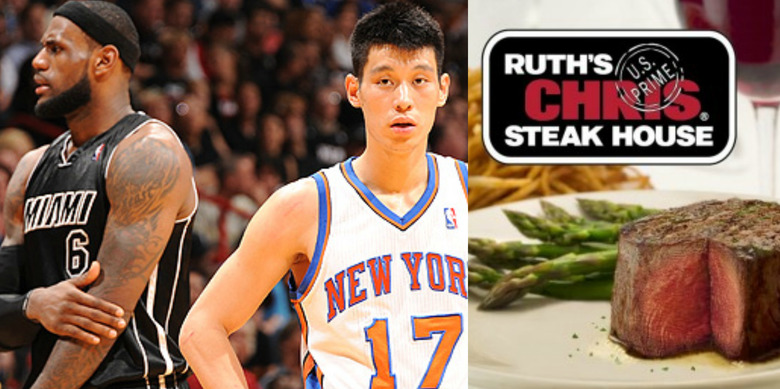 NBA rankings
Another NBA All-Star Weekend is in the books and that means it's time to start the second half of the season. It also means it's time for another round of Food Republic NBA Power Rankings. We've already seen how unpredictable the NBA is this season (see: Lin, Jeremy) and there's still a ton of basketball to be played. Some teams that surged early (Denver, Utah) have calmed down, while other teams are proving that they've got staying power (Clippers, Pacers, every team from Texas) in the upper echelon. With only 30+ games left on the schedule, it's going to be a sprint to the finish.
This month, the rankings are based on the manliest of restaurants — the steakhouse. Most steakhouse menus follow a pretty similar pattern, but I wanted to go with the most accessible menu possible. With 131 locations in the U.S. and around the world, it's safe to say you've probably come across a Ruth's Chris Steakhouse in your lifetime. So grab a Manhattan, order up a ribeye and put on your smoking jacket. It's the NBA, where steak happens.  
( ) = previous position |  [ ] = record as of February 27, 2012
#1. (3) Miami Heat [27-7]
Porterhouse For Two
This USDA Prime cut combines the rich flavor of a strip with the tenderness of a filet.
There's not much more that can be said about the Miami Heat. As much as it kills me to admit it, they're clearly the best team in the league. That makes them the biggest, juiciest, most expensive steak on the menu. LeBron may not be the MVP, but he's the best player in basketball. I don't know how they've stayed healthy, but in a year where health makes all the difference, LeBron and Bosh have combined to miss one game all season.
#2. (1) Chicago Bulls [27-8]
Filet
The tenderest cut of corn-fed Midwestern beef, broiled to your liking.
The Bulls are steak-and-potatoes guys. They're lean and disciplined without any gristle — just like a filet. Derrick Rose missed five games since the last Power Rankings and the Bulls are still on fire. Joakim Noah and Carlos Boozer seem like they've finally figured out how to play together, Luol Deng is an All-Star (!!!), and Rip Hamilton has been saving his legs for a lengthy playoff run with the groin injury that keeps on giving. With a tough schedule featuring the Spurs, Sixers and Pacers in the next week, it'll be interesting to see how the Bulls respond.
#3. (2) Oklahoma City Thunder [27-7]
T-Bone
A full-flavored, classic cut of prime beef.
When you've got two of the top five NBA scoring leaders on your team, life is good. Kevin Durant (27.9 ppg) and Russell Westbrook (23.5 ppg) are truly a dynamic duo. Like the mighty T-Bone, they're two distinct parts (filet and strip) that both contribute equal value. Throw in James Harden having a career year and block machine Serge Ibaka and it's no surprise that the Thunder are the favorites to win the West.
#4. (7) San Antonio Spurs [24-10]
Shrimp Cocktail
Jumbo shrimp dressed with our spicy New Orleans home-style cocktail sauce.
Quiet, classic, good. That's both the Spurs and a solid shrimp cocktail. You know what you're ordering when you get the shrimp cocktail. Nothing fancy. Nothing crazy. Just consistent. The Spurs have quietly won 11 of their last 12 and that one loss only happened because Pop decided to rest his starters. Who does that? Pop does. Out of all of the surging Texas teams right now, my money's on San Antonio to keep up their winning ways. Note: You get the choice of ordering this with remoulade, which makes it shrimp remoulade, but when you're talking about the Spurs, you've got to stick with what works.
#5. (6) Indiana Pacers [21-12]
Ruth's Jumbo Chop Salad
A Ruth's Chris original. Julienne iceberg lettuce, baby spinach and radicchio are tossed with red onions, mushrooms, green olives, bacon, eggs, hearts of palm, croutons, bleu cheese, lemon basil dressing and then topped with crispy onions.
February was a tough month for Indiana. They dropped five in a row before turning things around with a four-game win streak before the All-Star break. They're the most team-oriented team in the NBA. That's what earned them the Jumbo Chop Salad comparison. The ingredients on their own are pretty basic. I mean, hearts of palm (Danny Granger) and bleu cheese (Roy Hibbert) are good and all, but the salad is so much better because all the parts contribute to the whole. Indiana is going to live and die by their team play. They're a 4 or 5 seed for sure.
#6. (11) LA Clippers [20-11]
Personalized Potato and Vegetable Selection
Create the perfect vegetarian entree by choosing three of your favorite Ruth's Chris side items.
Surprise! The Clippers are still good halfway through the season. I'm not kidding. They're leading the Pacific Division! In almost March! Lots of ice skating in Hell these days. The Clippers being this far over .500 at this point is as surprising as how much you'll enjoy ordering the vegetarian plate at a steakhouse. I know it sounds crazy, but when you wind up with sweet potato casserole, spinach au gratin and tempura onion rings on your plate, you know who to thank. Enjoy your trip to Slob City.
#7. (14) Dallas Mavericks [21-13]
Cowboy Ribeye
A huge bone-in version of this USDA Prime cut.
They get the Cowboy Ribeye because it felt appropriate for a team from Dallas. Dirk finally found his way. Everyone in Dallas can breathe a sigh of relief. I doubted the Mavs early on, but it looks like they're headed in the right direction. Now if only they could find a Center... That Southwest Division is by far the toughest in the West. Still plenty of ball to be played, though, so it'll be interesting to see how it shakes out. In other news, how about Mark Cuban on Shark Tank? That guy's a natural.
#8. (13) Houston Rockets [20-14]
Ribeye
An outstanding example of USDA Prime at its best. Well marbled for peak flavor, deliciously juicy.
Just like the Mavs but on a slightly smaller scale. Kevin Martin still can't find his shot and Luis Scola is making a horror movie for his fantasy owners called Regression, but Kyle Lowry is still ballin' so hard and the Rockets are winning. 20-14 would have them in second place in any other division in the West, but they're not that lucky. The Rockets are well marbled for peak flavor, but will that be enough come playoff time?
#9. (12) Orlando Magic [22-13]
Calamari
Our calamari is lightly fried and tossed with a sweet and spicy Asian chili sauce.
Let's just forget about the Dwight Howard drama and eat some calamari. I mean, the Magic are winning, right? That's all that counts right now.
#10. (9) Atlanta Hawks [20-14]
Caesar Salad
Fresh crisp romaine hearts tossed with romano cheese and a creamy Caesar dressing. Topped with shaved parmesan cheese and fresh ground black pepper.
The Hawks are exactly what I expected of them at this point. Good. Solid. Like a dependable Caesar. No better than a five seed. They had a brutal schedule in February, so you can't really fault them for going 4-8 for the month. You can fault them, however, for playing poorly statistically. What got into Joe Johnson? Why can't he score anymore? Josh Smith is playing his ass off, though, but can we stop the J-Smoove thing, please?
#11. (15) LA Lakers [20-14]
Lamb Chops
Three chops cut extra thick, marinated overnight and served with fresh mint. They are naturally tender and flavorful.
If the NBA were a three-on-three tournament, they'd be champs every year. Kobe, Pau and Bynum are exceptional together. They're like three lamb chops. The problem is, the league plays five-on-five. Every night. With a mostly non-functional point guard and the strangest collection of small forwards you've ever seen, the Lakers don't have the power they used to. Still, they're holding it down with a remarkable home record (14-2) and part of me thinks that Kobe sold his soul in return for enough strength to pass Jordan on the all-time scoring chart. How else does he stay so naturally tender and flavorful?
#12. (10) Memphis Grizzlies [19-15]
Spicy Lobster
Succulent lobster, lightly fried, tossed in a spicy cream sauce and served with a tangy cucumber salad.
They may not be the most orthodox team in the league/thing on the menu, but they'll get the job done. Who would take succulent lobster and then fry it before tossing it in a spicy cream sauce? A crazy person. Someone unpredictable. Maybe someone like... Tony Allen or O.J. Mayo, perhaps? Exactly. You never know what those dudes are going to do. The Grizzlies' unpredictability is where their strength lies and you should never bet against crazy. Never.
#13. (5) Philadelphia 76ers [20-14]
Stuffed Chicken Breast
Oven roasted free-range double chicken breast stuffed with garlic herb cheese and served with lemon butter.
Still good, but not exactly what we thought they were going to be. Admit it. You thought the garlic herb cheese was going to be different. When you realize that the Jrue Holiday/Jodie Meeks/Evan Turner/Lou Williams backcourt platoon is different than you expected, you can start to understand this team a little more. The Sixers are built the same way as the Pacers, but while Indiana took care of business, Philly dropped a whole bunch of games before the break. If they can start off strong in the second half, it won't matter that their leading scorer isn't even a starter.
#14. (17) Portland Trailblazers [18-16]
Lettuce Wedge
A crisp wedge of iceberg lettuce on field greens, topped with bacon, bleu cheese and your choice of dressing.
Looking for a stat to explain why the Blazers aren't winning more games? They're 1-7 in games decided by three points or less. They've got great pieces, but they can't seem to put it all together at the end of games. Also, Ray Felton. Come on, dude. Get it going. As the metaphor says, you've got to cut the lettuce wedge into bite-sized chunks if you want to eat the salad.
#15. (20) New York Knicks [17-18]
New York Strip
This USDA Prime cut has a full-bodied texture that is slightly firmer than a rib eye.
The Knicks have been the biggest story in basketball over the past month. For a while, I was trying to figure out if Jeremy Lin had any water-wine conversion capabilities. With JLin at the point, they finally have a full starting lineup of capable players and the biggest question around (besides what kind of hat Spike will wear to MSG) is whether or not these dudes can actually play together. Now that both Amare and Melo are back in action, the Knicks aren't rolling like they were during Linsanity, but they've got just enough time to see if the Harvard Experiment will work. If the Knicks can't keep up their winning ways, GM Glen Grunwald may initiate the New York Strip and start shedding some of those serious contracts the Knicks signed last year.
#16. (18) Minnesota Timberwolves [17-17]
Sizzlin' Blue Crab Cakes
Three of our jumbo lump crab cakes with sizzling lemon butter.
David Kahn, you magnificent bastard. You did it. You Moneyballed the NBA with the strangest General Management strategy this league has ever seen (outside of Isiah Thomas) and your eleven point guards and Kevin Love team is playing great. The Timberwolves aren't exactly world beaters yet, but they're playing .500 ball at the halfway point! That's gotta count for something. We're going to celebrate this moment. What's the best celebration food on the menu? Sizzlin' Blue Crab Cakes? Bring us 30 orders. It's time to get down Twin Cities Style (i.e. shivering).
#17. (4) Denver Nuggets [18-17]
Veal Osso Buco Ravioli
Saffron-infused pasta filled with veal osso buco and fresh mozzarella cheese. Served with sauteed baby spinach and a white wine demi-glace.
It's never a good thing when you drop from 4 to 17 in anyone's Power Rankings. The Nuggets looked so strong in the first part of the season! And then Gallinari went down. Loss after loss ensued. Denver is a team that looks good at first, then slowly but surely starts to seem like a worse and worse idea. It's exactly the experience you'll have if you decide to order the Veal Osso Buco Ravioli. First of all, it's an appetizer. AN APPETIZER. Once you put even one bite in your mouth, your appetite is gone for the rest of the meal thanks to the heaviest appetizer ever created. By the time your steak comes, you'll already be asking for a to-go box. That's where Denver's at right now. They need to digest the first half of the season before they can ever get back to winning again.
#18. (16) Boston Celtics [15-17]
Crabtini
Colossal lump crabmeat tossed in our house vinaigrette and served with our classic Creole remoulade sauce in a chilled martini glass.
The Celtics are still going on one streak after another. They finished the first half of the season on a downturn with a five-game losing streak including not one but two losses to Detroit. The silver lining is that the regular season is as unnecessary to this team as a chilled martini glass is for serving colossal lump crabmeat. Nobody has ever said, "I love crab, but I wish they served it in a martini glass," and nobody has ever said, "I love the Celtics but I wish they could beat the Detroit Pistons in February." It's irrelevant. Just get to the playoffs. That's all the Celtics need to worry about.
#19. (22) Golden State Warriors [13-17]
Mushrooms Stuffed With Crabmeat
Broiled mushroom caps with jumbo lump crab stuffing, sprinkled with Romano cheese.
Golden State is scoring the fifth most points in the NBA right now with 99.2 per game. Sadly, they're also giving up 100.7 per game. Hand down, man down. Know what I mean? Offensively, they're killing it. Defensively, they're getting killed. It's a Jekyll and Hyde situation, as long as you don't really know what the actual book is about. If you could have either mushroom caps or jumbo lump crab stuffing, you'd be a happy dude. When you have to have both together, though, it's not nearly as appetizing. Stuffed mushrooms can be great, but stuffed mushrooms with crab? Like bickering siblings, I just want them separated.
#20. (8) Utah Jazz [15-17]
Shoestring Potatoes
Extra thin and crispy.
The Jazz experienced the second biggest drop in our rankings, going all the way from 8 to 20. What happened? There's no one big answer. You could point to Paul Millsap dropping off a bit, the lack of point guard leadership (Devin Harris is having his worst year as a starter), or the distracting power of Mitt Romney. No matter how you slice it, Utah just isn't performing and that leaves them last in the Northwest Division — behind Minnesota. Ouch. Shoestring potatoes, extra thin and crispy. Just like Gordon Hayward.
#21. (21) Cleveland Cavaliers [13-18]
Lobster Bisque
I jinxed Anderson Varejao. As soon as I got both him and Kyrie Irving on my fantasy team, I knew one of them was going down. Sorry, Cavs fans. You can blame me. The upside? Even without him, the Cavs are only two and a half games from being .500 and in Cleveland, breaking even is the same as winning a championship in the post-LeBron era. Have some lobster bisque, friends. It's cold out on Lake Erie.
#22. (23) Phoenix Suns [14-20]
Broiled Tomatoes
Exactly what it sounds like.
Marcin Gortat leads the Suns in minutes, points, rebounds, blocks and paczki eaten. He's Polish. Broiled tomatoes sound like they could be a Polish delicacy. For no other reason than this, I've paired the Suns with Broiled Tomatoes. Until somebody convinces me that there's more to the Suns than Marcin Gortat, I will continue to only speak about him as the only player on the team. Don't even try to tell me that Steve Nash leads the league in assists. You want to know why his numbers are so good? He's passing to Marcin Gortat.
#23. (19) Milwaukee Bucks [13-20]
Chilled Shellfish Salad
Jumbo shrimp and jumbo lump crabmeat tossed with fresh lemon and olive oil served on a bed of mixed greens, tomatoes and diced peppers.
Quick! Name the two Bucks who have played in every game this season. Brandon Jennings and...Shaun Livingston? The guy with robot knees? Yep. That pretty much sums up the Bucks this year. Injuries hurt. So do players that refuse to play hard (*ahem* Stephen Jackson). They've beaten the Heat twice, however, and for that they earn the Chilled Shellfish Salad. From the lunch menu.
#24. (27) Detroit Pistons [11-24]
Petite Filet
A smaller, but equally tender filet.
That petite filet is for Greg Monroe. Get your hands off it, Ben Gordon. Stay away, Rodney Stuckey. Brandon Knight, you're just a rookie. Mr. Monroe, I hope you enjoy your petite filet. You've earned it.
#25. (24) Sacramento Kings [11-22]
Cheesecake
Creamy homemade cheesecake served with fresh berries.
Hooray for the Kings! They finally got a stadium deal done. Sacramento Mayor Kevin Johnson can't stop doing celebratory lay-ups. Let's just take a moment and give the Kings the chance to enjoy this. Have some cheesecake, Kings fans. You deserve it.
#26. (26) Toronto Raptors [10-23]
Baked Potato
A one-pounder, loaded.
This is a one baked potato team. Sure, it's a one-pounder and it's loaded, but when your baked potato (Bargnani) is out for over a month, you're going to lose a bunch of games. Bargnani is supposed to come back soon and it'll be interesting to see if he can help the Raptors win some games. The good news is, Jose Calderon is playing well and even James Johnson is starting to mature a little more. Unfortunately, it may be too little, too late. Raptors fans are already asking themselves if it's too early to start tanking.
#27. (25) New Jersey Nets [10-25]
Sliced Tomato And Onion
A sliced beefsteak tomato on field greens, topped with sliced red onions, vinaigrette and bleu cheese.
February was not a good month for the Nets. Ten losses. That's 15% of their entire season. They did beat the Bulls and Knicks, though, so all is not lost. Once in a while, that sliced tomato and onion salad is pretty good. Usually, though, it's just a bunch of sliced tomatoes and onions.
#28. (28) New Orleans Hornets [8-25]
Barbecued Shrimp
Our signature large shrimp sauteed New Orleans-style in reduced white wine, butter, garlic and spices, on a bed of roasted garlic mashed potatoes.
Most people don't know this, but Ruth's Chris started in New Orleans. You'd think that would have some sort of impact on the one team in the NBA that plays in New Orleans, but you'd be wrong. It means nothing. Last month, the Hornets got "New Orleans Shrimp." This month, they get "Barbecued Shrimp" that comes New Orleans-style. I'll change the dish when they change their playing style, because the way things stand right now, not much is changing. Sorry, Hornets fans. Maybe it's time for one of those really fun second line funerals I see on Treme...
#29. (30) Washington Wizards [7-26]
Baby Spinach
Oh hey there, baby spinach! You're so cute. When you grow up, you'll be full of delicious nutrients and Popeye's going to love you. For right now, you've got so much to learn. The Wizards are in the same boat. They have so much to learn. JaVale McGee. John Wall. Nick Young. Oh man. So much talent. So little clue how to use it. How did they all wind up on the same team?
#30. (29) Charlotte Bobcats [4-28]
Shrimp
Six additional large shrimp.
Give it up for your 2014 Seattle Supersonics! Every time I think of the Bobcats, I envision Michael Jordan sitting stone-faced on top of a swimming pool of money as Tyrus Thomas and Boris Diaw run endless suicide sprints on a court made out of hot coals behind him. It's Bismack Biyombo time.
Previously: NBA Rankings: Cheesecake Factory Edition